Bridgeton star Regé-Jean Page started his career in 2004. But, besides his rising fame, Page also found his lover away from the entertainment world.
Thus, here, we shall tail Regé-Jean Page's girlfriend Emily Brown and her whereabouts. Also, read until the end to find out if they plan on getting married soon.
Emily Brown Is A Copy Writer
Roots actor Rege-Jean Page's sweetheart, Emily Brown, is a copywriter who has worked for notable companies like Nike, Uber, and Converse.
View this post on Instagram
Unfortunately, Brown is unavailable on any social sites and prefers confidentiality over fame. Furthermore, her LinkedIn account was recently taken down. Regardless of the privacy, she probably works as a copywriter.
Furthermore, according to Daily Mail, her LinkedIn account included descriptions from colleagues. Apparently, Emily is witty and great fun to be around.
Thus, if ya'll are sneaker geeks, you might have read her copy. Also, Rege-Jean Page's girlfriend, Emily Brown, not only knows to have fun but also can kick some balls.
Regé-Jean Page's Girlfriend, Emily Brown Athletic
How are Ross Geller's Emily and Rege-Jean's Emily similar apart from the fact that they're both British? Well, they both love soccer.
In fact, Rege-Jean Page's partner, Emily Brown, also plays part-time for Football Beyond Borders. Moreover, FBB is a charity organization that uses soccer to educate and fund young people's lives.
Talking about education, Emily Brown attended Machester University from 2009 to 2012. Unfortunately, words about her degree are yet to come out, but she had fun during her University years.
According to Daily Mail, Emily was interviewed by the student newspaper, The Tab, while studying at the University. When asked if she misbehaved, she revealed that she managed to sneak a giant vase from a club without anyone noticing.
Likewise, Rege's girlfriend remembers stealing blind for her room. Also, she noted a guy from band Faithless gave her a load of weed when she was in Ibiza. Well, others took a pill in Ibiza while she hit a blunt.
As of now, the copywriter cum soccer player is rumored to be living together. But is that true?
Living Together In England
Bridgeton star Rege-Jean Page has always been very private about his relationships. Therefore, his fans were smitten about his on-screen romance with co-star Phoebe Dynevor.
Therefore, Rege spilled about his relationship when he strictly reminded the romance is on camera. He further added that the beautiful scripts were executed with extra care, which is more than enough.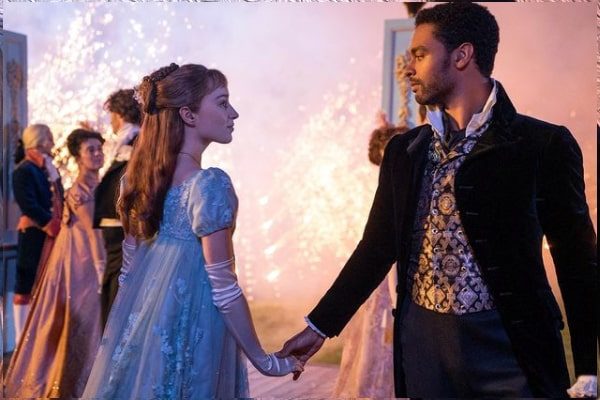 Regé-Jean Page's fans were smitten about his on-screen romance. Image Source: Rege's Instagram. 
Furthermore, Emily Brown and Rege-Jean bought their home together a few months after filming for Bidgerton in February last year. They moved into a cozy place in North London before the pandemic.
Hence, it would not be a mistake to assume the pair is serious about their relationship and probably plans to get married soon. What do you think?
Emily Previously Dated a Soccer Coach
Before Page, Emily Brown was also said to have been in a relationship with Jack Badu, a soccer coach. The former pair went to Dulwich Hamlet games and had fun.
Sadly, their romance died pretty soon, and Emily Brown met the Netflix star. Although the Duke of Bridgerton leaves a little imagination on his bedroom scenes, Rege-Jean Page's romance is grounded.
Well, Regé-Jean Page's girlfriend is witty and fun. Hence, both Rege and Emily might be one another's twin flame. So, let's wish them happily ever after.
Furthermore, let's hope that the fans get to hear the news of their wedding bells soon.
Don't Miss To Follow SuperbHub For More Updates On Celebrity Entertainment, Biography, and News.