NBA has seen several talents throughout the decades. One such prominent figure is Quin Price Synder, Utah Jazz's head coach.  The Mercer Island High School graduate has been serving Jazz since 2014 and accumulated 271 wins altogether.
Furthermore, Synder, the two-time state basketball player of the year, led the team to the 1985 state championship. Snyder went on to create several monumental records as a coach since 1992. Therefore, let's take a look into Quin Synder's coaching career and accomplishments as a coach.
Initiated His Career With LA Clippers As Assistant Coach
Dreaming about success and working for it are two different things. Those who initiate despite the risks are the real achievers. Among them is current Utah Jazz's head coach, Quin Snyder.
Snyder started his career as an assistant coach with LA Clippers. Amidst graduate work and work, he spent the 1992-93 season as an assistant coach with the Clippers.
Despite his departure from the Clippers, Snyder's keen eyes followed them eagerly. Furthermore, he made praising remarks on commendable Chris Paul's efforts that led the Clippers in the first round of the playoffs back in 2017.
Well, after the Clippers, Quin moved on to Duke and stayed for six years.
Stayed With Duke For Six Years
After Los Angeles Clippers, Quin Snyder served as an administrative assistant to Mike Krzyzewski at Duke. He worked on his dream while he completed his MBA and JD.
After achieving his degrees in 1995, Quin Snyder worked under Krzyzewski and was promoted to associate head coach in 1997.
Moreover, Snyder led his team to the 1994 and 1999 MCAA tournament championship rounds and the Elite Eight round in 1998. Furthermore, Duke also won the ACC tournament in 1999.
Well, after contributing to Duke, Quin marched toward Missouri for a lengthy career. Krzyzewski praised his contribution as a point guard as well as an assistant. Moreover, he revealed thinking Quin as a destined head coach.
Back-to-Back Success With Missouri
Marching with impressive career stats as an assistant coach, Snyder accepted the head coaching position for the University of Missouri Tiger men's basketball team. Succeeding longtime coach Norm Stewart, he led the Tigers to four consecutive NCAA Tournaments, including the Elite Eight in 2002.
Moreover, Quin's first season included a victory over Illinois and Kansas. Likewise, he was greeted with similar success during his second season as he overthrew A ranked Kansas team and led the Tigers to their first-ever win since 1995.
Likewise, Quin Snyder was named Rookie Coach of the Year by the Basketball time after the 2001 season. With the back-to-back success came a crashing downfall in Snyder's career.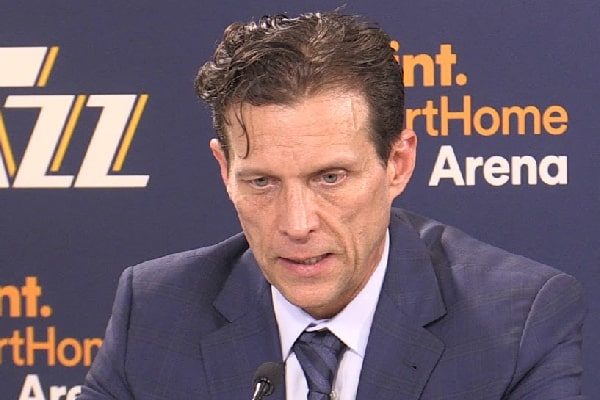 Quin Snyder was named as the Rookie Coach of the Year after the 2001 season. Image Source: Social Media.
The Utah Jazz head coach was named in 17 allegations as a part of an NCAA investigation over recruiting violations in May 2004.
Similarly, Snyder quit the head coach position on February 10, 2006, following his 26-point loss to Baylor. He further finished with a 126-91 record over seven years, reaching the NCAA tournament in his first four seasons.
Moreover, after resigning from the Tigers, he was skeptical about moving on. However, Quin Snyder took a chance with the Toros.
Accepted Head Coaching Position of Austin Toros In 2007
Ranked first as an assistant coach under Krzyzewski at Duke, he was obliged to resign as Missouri's head coach in 2006. However, he was excited to replace the late Dennis Johnson, who died on Feb 22, 2007.
Quin Snyder, who grew up watching Dennis, was excited and skeptical about joining the NBA Development League's Austin Toros.
Well, Quin Snyder took in a team that had finished seasons 21-29 and then to a 30-20 record. Hence, he maintained the pace with consecutive 32-18 campaigns and first-round playoff wins.
During the three-year glorious tenure in Austin, Snyder accumulated more numerous wins and guided more players to the NBA than any other D-League coaches. He led Toros to playoff appearances in all three seasons and advanced to the D-League Semifinals each year.
Holding a 94-56 mark, Quin led Toros to multiple playoff appearances in all three seasons and at least the D-League Semifinals each year.
Assistant Coach For Several Notable Teams Four Years
The Utah Jazz head coach walked with great pride and passion to coach. Thus, Quin Snyder's hard works were acknowledged by many leagues, including the 76ers, Lakers, etc.
After moving out of the Austin Toros, Snyder juggled his years with several teams as an assistant coach, working with remarkable head coaches.
Moreover, the former Toros' coach moved on to the Philadelphia 76ers as a player development coach on June 11, 2010. He worked under Doug Collins and began training draft prospects in workouts preceding the 2010 draft.
Likewise, in 2011, Quin worked under Mike Brown with LA Lakers. Moreover, CSKA Moscow appointed him as a head assistant coach under Ettore Messina.
Similarly, Quin Snyder worked as the head assistant coach for the Atlanta Hawks in 2013.
Throughout Snyder's impressive career, he was being considered by several leagues. He further became the favorite of players earning their trust with his convincing demeanor.
Accumulated 271 Wins With Utah Jazz Since 2014
Quin Snyder is passionate about the game and has a decades-long track record of teaching and developing young talent. Therefore, Snyder has been working with the Utah Jazz since 2o14.
Snyder was hired by Jazz on June 6, 2014, as the team's head coach. He had worked with Jazz general manager Dennis Lindsey, who worked as Spurs' general manager.
Snyder adopted Jazz during the start of a rebuilding effort. He helped transform the organization and helped them create an innovative basketball culture.
During Snyder's tenure in Utah Jazz, Quin compiled a record of 271 wins. Moreover, he took the team to the playoffs in a consecutive season. Moreover, his commitment to winning over the years made him shine as one of the most respected coaches of all time.
Besides Quin's successful work ethic and stats, he is also known for creating deep connections with his players.
Moreover, Snyder also finished as the runner-up in the 2018 NBA Coach of the Year voting. The LA Lakers legend, late Kobe Bryant lobbied for him to win the award after aiding Utah Jazz's turn around the year while winning 29 of their last 35 regular-season games.
Having an impressive career as a coach and player, the Mercer Island-born Snyder moves on with Utah Jazz with great pride. Moreover, all the hard work has proliferated Snyder's net worth to a whopping $7 million.
Therefore, let's hope to see more of his wins with the Jazz in the coming days.
Don't Miss To Follow SuperbHub For More Updates On Celebrity Entertainment, Biography, and News.