Jennifer Joy Philbin is a producer and screenwriter known for her work on the O.C drama series. Besides being Joy Philbin's daughter, she has made a remarkable contribution to the entertainment industry.
Furthermore, J. J. Philbin is also known for her high-end relationship with her husband, Michael Schur. Therefore, here is everything about the relationship between J.J Philbin and Michael Schur.
Accomplished Screenwriter & Producer
J. J. Philbin was born on August 30, 1974, to Regis Philbin and Joy Philbin in New York City as Jennifer Joy Philbin. Furthermore, she graduated from the University of Notre Dame in 1996 and worked for Mad TV as a writer.
Philbin went on to join the script department of Saturday Night Live until she moved on to an ABC drama series, That Was Then, as a writer. Likewise, according to J. J. Philbin's IMDb, she has at least seven credits as a producer and 14 as a writer.
By 2003, Philbin began working on series like Dead Like Me, The O.C., Single Parents, New Girl, Medcezir, Coupling, etc. Moreover, she worked on series like Kings, Heroes, Single Parents, New Girl as an executive and a consultant producer. Furthermore, Michael Schur's wife, J. J. Philbin just completed writing and producing a Bachelor Party. 
Besides having a successful career, J. J. Philbin is in a blissful marital life since 2005.
Married To Michael Schur Since 2005
Aforementioned, J. J. Philbin is happily married to Michael Schur since 2005. The couple was first introduced when Mr. Schur was hired by Saturday Night Live in New York back in 1998. The couple bonded quickly and eventually got married on 9 October 2005.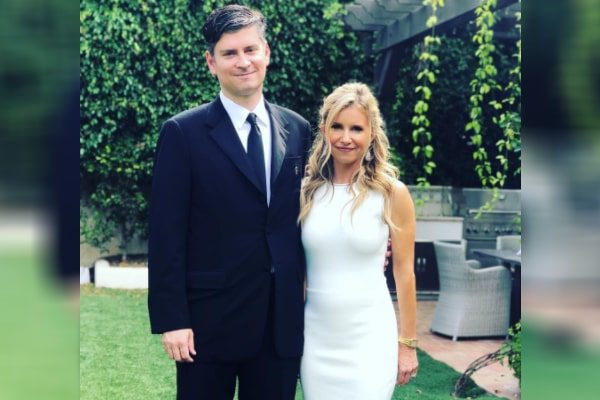 Michael Schur and J. J. Philbin got married in 2005. Image Source: Philbin's Instagram.
The Schur couple exchanged their vows at the Church of St. Ignatius Loyola. The newly-weds at the time joined family and friends for a reception that was ten months in the making. Regarding the ceremony, J. J. revealed that her mother insisted on including moments of unorthodox humor into the event.
Well, even after decades-long marriage, the couple never stops to appreciate one another.
Parents of Two Kids
Throughout the years-long marriage, the couple welcomed two kids. According to People, Michael Schur's wife, Philbin, welcomed their son, William Xavier Schur, on February 18, 2008, weighing 6 lbs. 5 oz. and 19 inches long. Interestingly, the couple named their firstborn after Philbin's father.
View this post on Instagram
Likewise, the Schur couple welcomed their second child, Ivy Elizabeth Schur, on July 14, 2010. Aged 12 and 10, J. J. Philbin and Michael Schur's children are a constant face on their social media.
Michael Schur And J. J. Philbin's Net Worth
Well, the rigorous work and dedication have skyrocketed both Michael Schur and J. J. Philbin's net worth. Furthermore, a scriptwriter's average salary is $63 732 and might hike up to $81,548. Therefore, it is rightful to assume that J. J. Philbin's net worth is substantial.
Likewise, we all know J. J. is not the only successful one in the family. Her husband, Michael, is equally fortunate to have a successful career. According to Celebrity Net Worth, Michael Schur's net worth is a whopping $100 million at age 45. Moreover, Schur's 5-year deal at Universal worth $100 million made his wealth proliferate astronomically.
Despite the majestic wealth, the Schur couple does not forget to work hard and remains grounded. Thus, let's hope they continue to prosper and grow more as a power couple.
Don't Miss To Follow SuperbHub For More Updates On Celebrity Entertainment, Biography, and News.