Lindsay Ell is a Canadian country singer and guitarist from Alberta. Her music is influenced by the elements of rock, blues, and pop within the country genre.
Signed by label Stoney Creek Records, Lindsay's debut EP, Worth the Wait, was released in 2017. Moreover, her first full-length album, The Project, came out in August 2017, which charted to #1 on the Billboard Country Album Sales chart.
But what about Lindsay Ell's relationship status? Interestingly, Lindsay did find love with 35 y/o artist cum poet Adam Roa. But are they still together? Stick until the end to find out.
Started Dating In Pandemic
The global pandemic caused massive distress in people's life, forcing them to feel alone and made them understood the value of love & companionship.
Covid also made Lindsay Ell announce her relationship with artist Adam Roa. She confirmed their relationship via an Instagram post, captioning, "every moment spent with you makes me smile."
Lindsay and Adam spent several months together with both making trips between LA and Nashville. Before making their relationship public in October, the then-new couple led a songwriting workshop called Write from the Heart together.
While 2020 was a roller coaster for everyone, she rode high after finding love amidst the pandemic. According to ET Canada, the pair met through her guitar player. They all met up for a drink, and the pair hit it off right away.
Furthermore, Lindsay was sure about being by herself in four walls for hundred days but admitted that meeting Roa was a blissful surprise.
Unfortunately, the lifeline of this budding relationship was soon to die.
Broke Up In Late December
Just a few months after Lindsay made her relationship official via Instagram, she seems to be single again.
The 'Want me Back' singer, Ell, revealed that the former pair wanted different things, and hence, she wishes him all the best.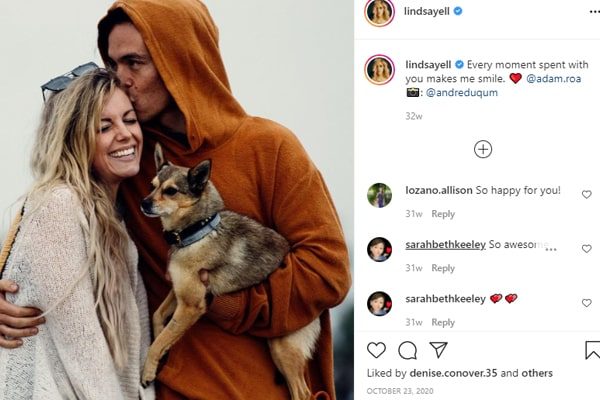 Lindsay Ell and Adam Roa broke up over the holidays in 2020. Image Source: Lindsay's Instagram.         
According to People, the breakup occurred over the holidays as she was home alone, unable to travel back home to Canada for the first time in years.
Lindsay Ell's ex-boyfriend, Adam Roe, is an artist, poet, and life coach. He is the founder of C.R.E.A.T.E, a non-profit organization, Surrendered Artist, and The Deep Dive Podcast.
Moreover, Lindsay was previously in a relationship with radio star Bobby Bones. However, the pair broke up in 2017 after a very public relationship. Moreover, Ell's most recent album, Heart Theory, somewhat reflects her romantic roller coaster ride.
Breakup is painful, but it opened a door for four-legged, furry, and adorable love for Lindsay.
Lindsay Ell Fell In Love With Dog Instead
Ell joked with People about being 'the quintessential break up with your boyfriend and get a dog kind of girl now.'
Well, that's how the situation unraveled for Lindsay and Adam. After the pair broke up during holidays, she adopted a rescued pomeranian and named it Hendrix.
Furthermore, Ell adopted the 1-year old pomeranian mere days before Christmas.
Additionally, Ell was pretty sure to break up over the holidays, and not compensating it with family time would be hard. Thus, she recalled doing a little prayer, and a few hours later, she was introduced to Hendrix.
Ell and her bandmates drove down to Take Paws Rescue in New Orleans, picked up the rescue dog, and named it after the legendary Jimi Hendrix.
View this post on Instagram
If ya'll don't recall, Ell has been a dog person for very long and always had Shelties while growing up in Canada. However, she hesitated to adopt a fog because of her career that demanded her time for nearly 230 shows.
However, getting used to dogs around the house again during her relationship with Adam reminded love for dogs. Although Ell will be on the road but hopes to spend a lot of time with her dog.
Although 2020's ending was a bit rocky, followed by Lindsay Ell and Adam Roa's breakup, she kick-started her 2021 embracing the chaos and learning to re-live her love for dogs. So, Ell is very grateful for her experience and is looking forward to working hard on tour.
Don't Miss To Follow SuperbHub For More Updates On Celebrity Entertainment, Biography, and News.