Frank Wayne Sinatra, professionally known as Frank Sinatra Jr., is the most celebrated music mogul even after his death on March 16, 2016.
Born to singer cum actor Frank Sinatra and his first wife, Nancy Barbato Sinatra, Frank Sinatra Jr. also followed his father's footsteps into the music world. He passed away experiencing life to the fullest on March 16, 2016, and only got married once in his lifetime.
Therefore, here, we shall talk about Frank Sinatra Jr.'s ex-wife, Cynthia McMurrey, who divorced two years after their wedding. Thus, please get to know Cynthia a little better because she seems to be a fun personality.
Frank Sinatra Jr.'s Ex-wife Cynthia McMurrey Is An Attorney
Frank Sinatra's son, Frank Sinatra Jr., married a great personality, a lawyer. Yes, Frank Jr.'s ex-wife, Cynthia McMurrey, is an attorney who has been working for Sinatra Law since 1990.
Moreover, Cynthia studied law at the University of Texas and the South Texas College of Law. The member of the American Bar Association refers to herself as the personal legal advisor to Frank W. Sinatra. She looked into matters related to international and intra-state contracts and copyright issues for Frank Sinatra Enterprises.
Furthermore, Cynthia Sinatra also mentions that she worked as a legislative consultant for Penzoil Corporation and Service Corporation International for four years and a few months.
Besides practicing as an attorney, she also owns Sinatra & Sinatra Law in Texas since July 1990. Frank Sinatra Jr.'s former spouse also mentioned her experience as an international war crimes advocate and lead counsel in a few trials assigned by the UN to defend people accused of crimes against humanity.
Thus, during her decades-long experience as a criminal lawyer, she also happened to support a man who was found guilty of forcing siblings to perform oral s*x on each other.
Made Headlines After Defending A Sex Offender
According to Cynthia McMurrey's LinkedIn, it reveals her experience as an international criminal tribunal for the former Yugoslavia for 24 years.
While doing so, Frank Sinatra Jr.'s ex-wife, Cynthia, had to defend a s*x offender.
According to The Wall Street Journal, Cynthia Sinatra defended a correctional officer named Esad Landzo. He was sentenced to 15 years in prison for a rape and murder case while working at Celebici prison camp.
Similarly, Landzo reportedly beat a 60-year-old prisoner to death and nailed a mental badge to another cell mate's "forehead."
Moreover, he also allegedly lit a fuse around a prisoner's genitalia. And Landzo also forced another to perform oral s*x on his own brother. Summing up Landzo's warrant, he allegedly killed four prisoners and abused 11 others.
Thus, Frank Sinatra Jr.'s former spouse planned to make her client less intimidating by persuading him to stop shaving his head.
Despite the cunning plans and appeals, the court did not buy her ideas to present mental capacity and sentenced Mr. Landzo to 15 years. Mrs. Cynthia Sinatra later requested that the verdict be thrown out because "one of the judges was asleep."
While defending her client, Cynthia also lost a dear friend and a valuable co-counsel, John Ackerman. Well, work is not always fun.
Cynthia Sinatra Was A'One Time Actress'
While Frank Sinatra Jr.'s ex-wife, Cynthia McMurrey, bagged the case above, she hadn't been a lawyer for that long. She had only worked for a personal-jury firm and caught the eye of defense attorney Mike Ramsey.
Before pursuing her career as an attorney, Cynthia pursued an acting career that included two insignificantly memorable films and a Schlitz beer commercial.
Similarly, The Wall Street Journal noted that Cynthia also ran antique stores and also had two kids from two different marriages. Furthermore, she also welcomed a daughter while in law school and earned her degree in 1990.
Ran For Congress in Her Home State and Had A Brief Affair With Democratic Congressman
Frank Sinatra Jr.'s former beau, Cynthia, is reportedly a republican. She further challenged former Republican presidential candidate Ron Paul in 2006 for his Texas congress seat.
Furthermore, Cynthia's former partner, Frank Jr., came during the campaign, and she still referred to him as her husband despite their divorce. All the tricks did not work, and she ultimately failed.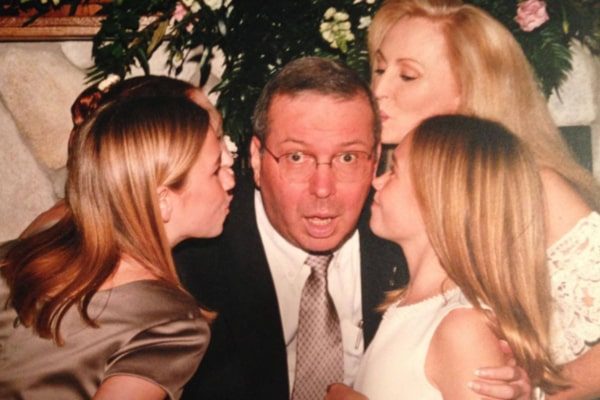 Frank Sinatra Jr.'s Ex-wife Cynthia McMurrey mentioned him as her husband despite their divorce. Image Source: Cynthia's Facebook.
Besides the fun finales of the congressional campaign, Frank Jr.'s former sweetheart also had a brief relationship with Tennessee Congressman Steve Cohen in the 1980s.
Steve later realized that Cynthia had a child a few months after their affair, Victoria Brink.
Married For Only Two Years In 1998
Frank Sinatra Jr. and Cynthia McMurrey met in Las Vegas in 1992, where he was performing. The Wall Street Journal mentioned that her blue eyes struck him. Hence, Cynthia's ex-husband, Frank Jr., referred to her as 'The Weapons' as he said her eyes were lethal.
The former Sinatra couple were proud and very supportive of one another. Moreover, Frank Jr. was pleased about Cynthia's eagerness to take on challenges and said, 'The Weapons doesn't do anything halfway.'
Cynthia & Frank Harrah's 2009

Posted by Cynthia Sinatra on Wednesday, 23 March 2016
After a short and valuable courtship, Frank and Cynthia Sinatra exchanged vows on 15 October 1998. They had a small ceremony at McMurrey's home in Wharton.
While it was Sinatra's first wedding, McMurrey was a divorcee. Unfortunately, their wedding did not last long as they ended up parting ways just two years of marriage.
Thus, Frank Jr. and Cynthia Sinatra's divorce was finalized on 29 March 2001. The pair did not have any children together since Cynthia already had three kids from her previous marriages.
Moreover, one of Cynthia Sinatra's daughters, Jessica Lauren, is also a lawyer who works for her mother in Sinatra Law.
Despite the ups and downs Frank Sinatra Jr.'s ex-wife, Cynthia McMurrey, experienced in her life, she remained hopeful and maintained a good relationship with her former partner until he died in 2016.
Don't Miss To Follow SuperbHub For More Updates On Celebrity Entertainment, Biography, and News.