NXT's Ember Moon's husband Matthew Palmer once caused a controversy behaving racist, but the good part is, he later regretted it and was sorry for his attitude and behavior.
Matthew Palmer is a famous American professional wrestler who is also known as "The Son of Anarchy".
The American wrestler is the husband of Adrienne Reese who is widely known by her pro wrestling name "Ember Moon". Just like some romantic movie, Matthew proposed his girlfriend Ember Moon in the Austin wrestling ring with hundreds of people watching and cheering him.
Matthew Palmer behaved Racist and Regretted
Husband of NXT's Ember Moon, Matthew Palmer had released a green and yellow t-shirt with the caption "King of the Black Women" along with a picture of himself lifting a woman up above his shoulders.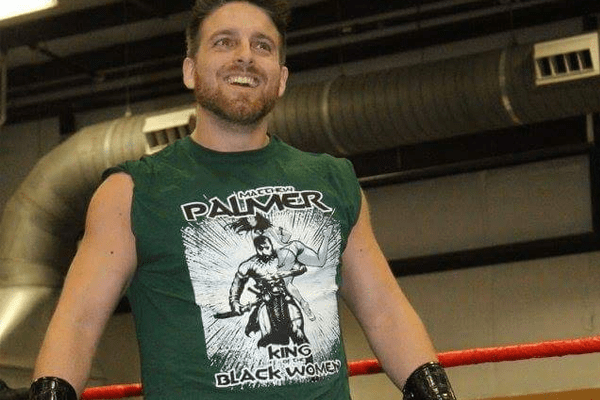 NXT's Ember Moon husband Matthew Perry showing his "King of The Black Women" T-shirt. Photo Source: Lipstick Alley.
People on Twitter claimed that his new t-shirt was interesting. The news about Moon specifically giving her approval for the shirt or not is yet to be known.

Before fans took notice about the shirt, Palmer had no qualms in wearing it for months to the ring.
When some fans questioned him, he even tweeted that he plays a racist, sexist character and he is a bad guy.

The t-shirts were made available for fans on Pro Wrestling Tees in collaboration with Palmer and the promoter he was working with.
After fans and other people started to blow up with negativity towards Palmer regarding the shirt and what it represented, he announced on Twitter that he will be removing the shirt for good and later posted that the shirt is gone.

Looking at the tweet we can assume that Matthew meant no disrespect towards any community and he didn't mean to hurt the sentiments of anyone.
In the tweet, we can read that the shirt was intended for just a promotional purpose and he will not be accepting any money from the sales of the t-shirt.
For more News and Entertainment follow SuperbHub.