Chris Simms, a former American NFL football quarterback, is married to Danielle Marie Puleo since August 2004. Danielle and Chris had their first meeting in high school since 1996. Chris got married to wife Danielle just before starting his first season in NFL.
Chris Simms is the son of Phil Simms who is also a former American football quarterback and the winner of Super Bowl  XXI(1987). He was born on 29 August 1980 in Ridgewood, New Jersey, USA.  Phil Simms had worked for 14 years with the New York Giants. In addition, Phil is also an actor famed for How I Met You(2005) and Madden NFL 13.
Phil Simms Son, Chris Simms
Chris Simms and Phil Simms are a former football Quarterback. Chris Simms had worked in NFL from 2004 to 2010. In the journey of seven years in NFL, Chris worked with the team; Tampa Bay Buccaneers, Tennessee Titans, and Denver Broncos.
In between 1999 to 2002, before coming into NFL, Chris played collegiate football at the University of Texas. He was also tagged as The USA Today High School Offensive Player in 1998.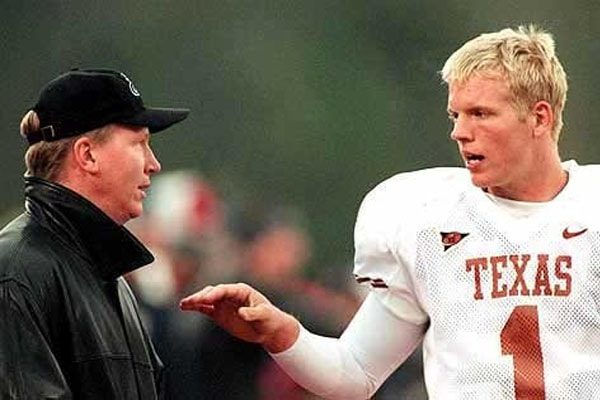 Chris Simms With Father Phil Simms.
Image Source-TravelTempters
Both father and son had contributed to football quarterback for years. As, Son Chris had played for eight seasons in NFL, whereas Phil played for 15 seasons for New York Giants. Father Phil Simms (Super Bowl Winner) was nominated for four times in Sports Emmy Award during his career. They played at the different times, but both gave the same sort of effort and contribution in football quarterback history.
Son Chris Simms and dad Phil shares a close bonding. Chris always admires father Phil as his first couch.
Chris Simms and wife Danielle Marie Puleo
Former NFL quarterback, Chris Simms, and his wife Danielle Marie are married since 2004. They met each other at Ramapo High School in Franklin Lakes back in 1996. The couple gave birth to their first child (daughter) Charlotte Elizabeth in 2006 and second child(son) Phillip in 2010.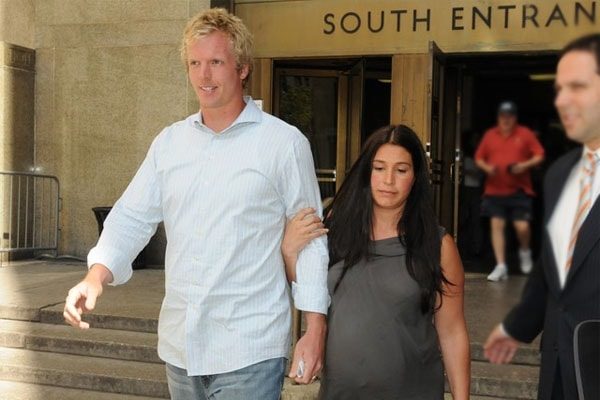 Chris Simms With Pregnant Wife Danielle Marie Puleo.
Image Source-Soonerfans
In 2010, the couple came into news when Chris was arrested for smoking marijuana while driving. Danielle was also in that car, she was in the passenger seat and eight months pregnant. The couple told that there were two other friends with them in the car and the friends were responsible for marijuana.
The case was carried in Manhattan criminal court for further investigation. Later Chris turns down the case by pleading guilty for driving while impaired by Drugs to avoid the case.
SuperbHub for more Celebrity News and Entertainment.