Nancy Grace is one of the most prominent faces on television who hosted Nancy Grace and current affairs show on HLN. The former prosecutor, Nancy, co-wrote the book Objection!: How High-Priced Defense Attorneys, Celebrity Defendants, etc. Besides having a successful career as a legal commentator and tv journalist, she enjoys a blissful marital life with her husband, David Linch.
Nancy Grace's husband, David Linch, is a businessman and an investor. They have enjoyed their married life in private and welcomed two adorable twins the same year they exchanged vows through sickness and death.  Although David rose to fame as Nancy Graces' beau, he is a remarkable personality in his field. Therefore, here's everything about David Linch, a successful businessman, husband, and a doting father of two.
A Businessman
Journalist Nancy Grace's husband, David Linch, is an Atlanta investment banker. The founder and Managing Director of Linch Capita have over two decades of investment banking experience.
Nancy Grace's spouse, David Linch, formerly served Stephens Investment Bank as a Managing Director in the regional coverage group. Furthermore, during his long time in Stephens, he also worked in the Financial Technology and Specialty Finance Groups.
While going through the extensive resume, David also worked in the Media and Communications Group at RBC Capital Markets for two years. As the founder of Linch Capital, he co-founded ELM Capital Group, whose priority is companies' growth in the Southeast.
Moreover, Nancy Grace's partner received his MBA from The Wharton School and BBA from Mercer University. Besides being a dominant figure in the banking/investment world, David is enjoying a blissful marital life since 2007.
Exchanged Vows in 2007
Marriage, sometimes, becomes profusely overwhelming and sometimes is planned suddenly. Similarly, Nancy and her partner David shared their vows in April 2007 in an intimate ceremony.
The Linch couple first met while Nancy was studying at Mercer University in the 1970s. Regrettably, David Linch's wife had given up on marriage after some tragic event, but her connection with David reignited the flame.
View this post on Instagram
According to the NY Post, Nancy recalled how they were in touch for several years but separated by geography and time. She further told her that the decision to get married was 'a spur-of-moment' thing and had told her family two days before the wedding.
David's beautiful bride further told New York Post that her wedding was simple with their family. Nancy's pastor conducted it from a little Methodist church in Macon.
Father Of Twins
Well, like a boomerang, happiness always finds it's way back after a few moments of sorrow. Likewise, David Linch's sweetheart, Nancy's life took a U-turn when she became pregnant with her twin kids in 2007.
Nancy and David kept their happiness a secret before announcing her pregnancy via CNN's show, Nancy Grace, in June 2007. She later revealed her twins' gender in September. Moreover, David held his first child, John David Linch, in November 2007 at 1:54. David Linch's daughter, Lucy Elizabeth Linch, was born at 1:55.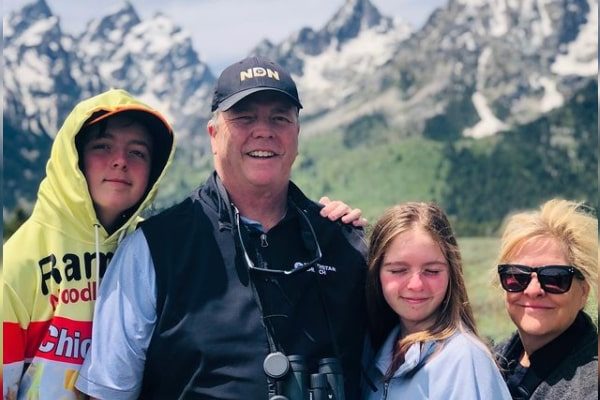 Nancy Grace and David Linch welcomed their children, John and Lucy in November 2007. Image Source: Lucy's Instagram.
Moreover, Nancy Grace's husband is a proud father of twins growing up in a steady family environment. Furthermore, his children are involved in outdoor and social activities. While Nancy and David are enjoying great parenthood, there was a time when she thought 'motherhood,' and 'wife' wasn't a part of God's plan for her.
However, the blessings were bestowed upon her at age 47, which raised several questions regarding her fertility treatments.
David Linch's Wife Nancy Grace Was A Suspect
Aforementioned, David Linch's wife, Nancy, had to experience a significant loss that made her question her destiny. She lost her fiancé, Keith Griffin. The 23-y/o geologist was murdered by his former co-worker months before their wedding date in 1979.
Furthermore, Nancy talked about the allegations and the trial to make it support her image. She described the tragedy as the most heartbreaking and impetus for her career as a prosecutor. Thus, driven by the misfortune, Nancy publicly refers to the incident.
Moreover, Grace was openly criticized for using her fiance's death in her book. In response to her book, Keith Olbermann claimed that someone who adorns the story of their own fiance's murder should spend that hour on a psychiatrist's chair and not on television. 
In response to such a nuisance, Nancy stated that her degree from law school and her fight for victims was not to waste in the war of words. She further told New York Observer that they've never met, and she'd not waste a moment on silly fights.
Well, Nancy Grace's fiance, Keith's murder, Tommy McCoy, received life imprisonment for murder. He was later released on parole from the Georgia Department of Corrections on December 5, 2006.
As of now, Nancy has overcome her sorrow and married her partner, David. She embraced motherhood and now is enjoying a successful career as a tv journalist. Despite the happiness, David's entire family contracted noble coronavirus in 2o20.
David Linch, his wife, Nancy Grace, and their twins, John David and Lucy, tested positive for the coronavirus in December 2020. According to Daily Mail, David's mother-in-law, Elizabeth Grace, also tested positive and was rushed to the hospital in Georgia.
Nancy Grace's husband, David Linch, experienced severe headaches and lost the sense of his smell. Furthermore, David's family was isolated at home while Elizabeth recovered in hospital.
As of now, everything is back to normal. David mostly remains away from social media and rarely appears on Nancy Grace's Instagram.
Don't Miss To Follow SuperbHub For More Updates On Celebrity Entertainment, Biography, and News.