Nick Carter's fans must be aware of the beautiful American actress and model, Melissa Schuman. Better known for her role in the all-girl teen band Dream, Melissa has come a long way since her debut in the entertainment industry since 1998.
Do you want to know more about the "The Hollow" actress and what is her connection with the Backstreet Boys' heartthrob, Nick Carter? Let's stay connected until the end of that.
Who is Melissa Schuman's Husband?
Melissa Schuman is a gorgeous woman committed to a man for over fourteen years, and her relationship is still as strong as steel. Melissa Schuman's husband, Brandon Henschel, is a choreographer and a former back up dancer for the legendary pop singer, Britney Spears. He currently works as a dancer of Lip Sync Battle.
View this post on Instagram
Schuman's spouse is known as one of the most versatile choreographers in the industry. He has trained in classical ballet, jazz, hip hop, and many more. According to IMDb, Brandon has helped celebrities for their dance, including Tobey Maguire, Brad Pitt, Angelina Jolie.
The beautiful couple met in 2003 and soon started their romance. After three years into relationship and building courtship, the couple finally got engaged in January of 2006. Few months after their engagement, the couple shared their vows on June 7, 2006, at Long Beach, CA, surrounded by friends and families.
Today, the couple shares a beautiful son, Elin Elijah Henschel, who they welcomed on July 18, 2010. The family of three is in peace and loves one another's company.
What Is Melissa Schuman's Net Worth?
Since Melissa Schuman's debut career, she has been hustling continuously and has attempted in the musical industry and tried her luck in Hollywood. Since 1998 till the present day, Melissa Schuman's net worth must have escalated sky-high. Despite the exact numeration in under wraps, we can see her living in comfort and enjoying her life in luxury.
The childhood dream of Melissa became a reality when P. Diddy signed her along with three girls in his music label, Bad Boy/Universal. The group of four females would be called "Dream." Bad Boy/Universal Records released their first single, "He Loves U Not."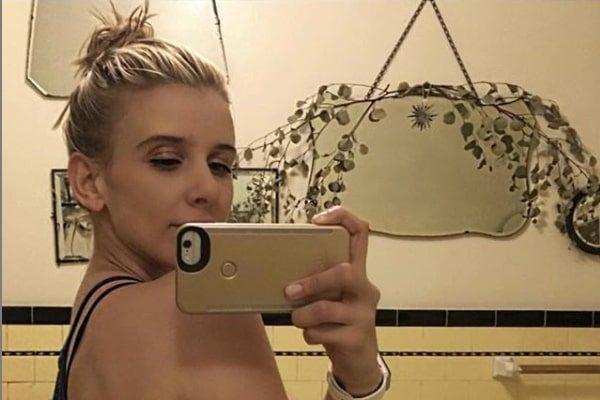 Melissa Schuman's wealth is expanding every day. Image Source: Melissa Schuman's Instagram.
The album was a huge success and had a sale of over 500,000 copies. Melissa, along with her Dream members, performed at the concert Wango Tango. The band also toured across the country with groups like 'NSYNC. Therefore, Melissa Schuman's net worth must have been substantial to afford luxury today.
Along with cash and fame, the band was also featured in high-end magazines such as Teen, YM, CosmoGirl, Harper's Bazaar, etc. Unfortunately, Melissa announced her departure from the group in 2002 and tried her luck in acting.
Melissa appeared in movies like Love Don't Cost a Thing, The Hollow, Silent Scream, Actress(es): A Web Series, Pool Guys, Tiger, Anna's Dream, and many more. This must-have allowed Schuman's fortune to grow considerably. Furthermore, she recorded a song with The Hollow star; Nick Carter called "There For Me" in 2004.
Did You Know About "Dream" Short Comeback?
The members of Dream found themselves in a room for a reunion on May 11, 2015. Likewise, they announced their comeback on May 29, 2015, and launched their social media accounts. The group released a studio recording of "O Holy Night" in the same year.
Furthermore, the group went on to join Y2K bands on the My2K  Tour. The girl group performed in 39 cities across the US. Thus, it is evident that Melissa Schuman's net worth is heavily influenced by her tours as a "Dream" member and partly accompanied by her earnings as an actress.
Dream released their first single titled "I Believe" on iTunes and Spotify on August 2, 2016. Unfortunately, to their fans' dismay, "Dream" members announced their disperse via Snapchat and Facebook. Besides Melissa Schuman's persona as a pop star, she has a YouTube account that has 1.03K subscribers. The channel was launched in 2012, but the uploads are occasional.
Melissa has started uploading yoga videos and live streams through her blog and YouTube. So who knows if Schuman's wealth will rise with her new sought career as a YouTuber?
Who Are Melissa Schuman's Parents?
in San Clemente, California, USA, as Melissa Amber Schuman. The gorgeous woman has kept her family background pretty much non-existent. However, she has mentioned them occasionally in her blogs.
In one of her blog posts, Melissa revealed that she was a theatre nerd during her elementary school. Nor did her mates had the same music taste like hers. Although Melissa
Moreover, Melissa
Melissa Schuman's Claim Of Being Raped By Nick Carter
One of the most challenging time a woman face is physical abuse. The former teen group "Dream" singer, Melissa Schuman wrote a blog post referring, Backstreet Boys' Nick Carter had raped her when she was just 18. She describes the incident she'd have to carry her entire life and confronts that this was the healing she desperately required.
According to Melissa's claim, Nick Carter, 22 at the time, performed unwanted oral sex on her in his bathroom before demanding it on him. The incident was dragged into the bedroom and ended up in forceful intercourse despite Melissa, begging him to stop and confessing him that she had held her virginity as a "virtue" for her "future husband."
Years later, to Melissa's nightmare at Carter's Santa Monica apartment, they worked in a horror movie, "The Hollow."  
However, to Melissa Schuman 's surprise, Nick Carter denied all the allegations and confronted that the sex between the two was consensual. According to TMZ, Carter said that he was shocked and saddened by Schuman's accusations.
Fun Facts
Melissa Schuman was the oldest member of "Dream."
Has Mezzo-Soprano with a three and a half octave range.
Melissa was cast in "Fiddler On The Roof," but the show was shelved because of insurance issues.
Schuman and her former bandmate, Ashley Poole, announced of forming a new music group in 2008 and called it Lady Phoenix, which later disbanded.
Don't Miss To Follow SuperbHub For More Updates On Celebrity News, Entertainment, and Biography.