Rodney Lazell Shaw, better known as ZellSwag, is a filthy rich culture stylist who rose into fame after starring in Love & Hip-Hop. ZellSwag's net worth as of 2018 is $2 million.
The stylist is known for his eccentric style in the world of high fashion, casual streetwear, and hip-hop. The artist was a part of the famous VH1 show, Love and Hip Hop.
The Gay artist, ZellSwag was recently rumored to have cheated on by his ex-boyfriend, Joe Exclusive. Moreover, Joe also accused the 30-year-old icon of being a fraud and a thief.
ZellSwag Net Worth and Earnings
ZellSwag is the creative director for his own fashion streetwear brand, Zell Swag Culture with clothing items ranging from $24-$50. The breakout star of Love & Hip Hop has earned fortunes with his clothing brand
| Products | Price |
| --- | --- |
| The Devil Sweatshirt | $40.00 |
| Booked to broke red tee | $50.00 |
| Booked to broke hat | $28.00 |
| Polkadot zell black | $40.00 |
| Polkadot zell | $40.00 |
| The devil iPhone case | $24.00 |
Although the fashionista earns millions as his salary which contributes to his Net worth of $2 million.
ZellSwag has worked with some of the most notable and rich figures in the hip-hop industry including Marcus Black, Alexis Sky Brooke Valentine, and Misster Ray.
The fashion icon has over 350k followers on his Instagram.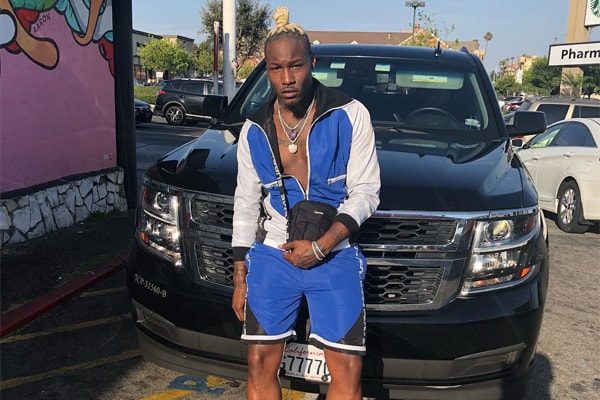 ZellSwag has amassed his Net worth from his clothing line and TV show. 
Image source: Instagram/ ZellSwag
Opening about sexuality
ZellSwag is open about his sexuality. In the web exclusive, Love and Hip-hop, he spoke about his sexual identity.
The icon shows resentment about the question. The icon admits to having girlfriends when he was young but always wanted to play for the other side. Now, ZellSwag is more than comfortable in his own skin.
There are a lot of challenges with his family about his sexuality but the stylist is happy with what he is today. ZellSwag's mother wants him to have children of his own. But, the celeb stylist admits that sometimes he feels guilty about his sexuality.
In the interview, he says that he's neither gay nor straight but just ZellSwag.
The stylist has had dated the socialite, Joe Exclusive, in the past. The couple dated for a reasonable amount of time before they broke up. The couple had a nasty breakup with a lot of controversies.
Ex-Boyfriend Joe Exclusive
ZellSwag and his ex-boyfriend, Joe Exclusive had a recent feud which created a major controversy.  Joe and ZellSwag were dating for a long time but the relationship got shaky overtime.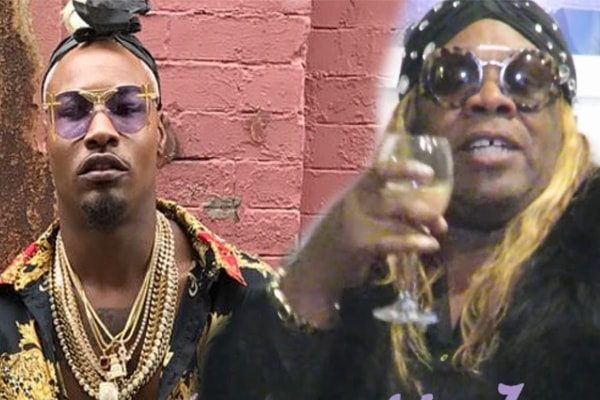 Joe Exclusive is ZellSwag's ex-boyfriend. 
Image source: YouTube
The couple could not preserve their relationship and things turned ugly at the time of breakup. Things got worst when Joe, a fellow stylist, accused ZellSwag of cheating, thieving and being a fraud.
Joe is a costume designer and is best known for his work on The Skinny. After the unsettled breakup, ZellSwag's ex-boyfriend ranted about their dispute on his Facebook.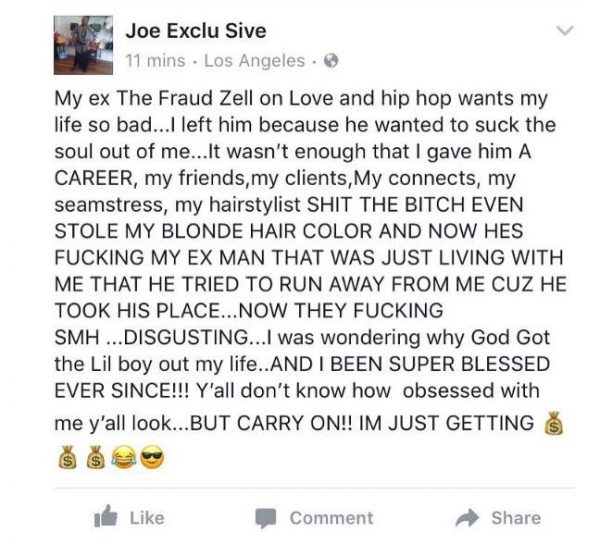 The fashion icon was mute despite all the accusations from his former lover. ZellSwag posted a care-free video on his Instagram. Although ZellSwag did not tag his ex-boyfriend nor mentioned Joe's name in the video. It was obvious that the video was meant to diss Joe Exclusive.
ZellSwag Feud
ZellSwag has made his identity known to the public in a very short amount of time. On September 20, 2017, The cast of Love & Hip Hop: Hollywood gathered in New York. Things got a little heated up between Misster Ray (Ray Cunningham) and ZellSwag. The fight got physical and ugly up to the point that the production was shut down.
Besides that, the fashion icon has a beef with various personalities like Joe Exclusive, Masika Kalysha, and so on.
SuperbHub for News and Entertainment