Kyla Weber, the 39-year-old Canadian resident is primarily known to the media world as the wife of a famous American actor/comedian, Vince Vaughn. Kyla decided to spend the rest of her life with Vince when the couple walked down the aisle together in 2010.
Born on July 1, 1979 as a daughter to Ken Weber, Kyla has put herself into the frame as a successful realtor.  Her tremendous work ethics has not only garnished her with the hefty net worth but also given her unique identity let along being the better half of a famous actor.
Kyla Weber's Net Worth, Career
Though Kyla Weber has carried her professional charisma as a real estate agent, her low-key media presence keeps the information about her earnings under the radar.
However, Weber's career success is often highlighted on social media. One such instance was in 2007 when the Calgary-area realtor was referred to as a 'manager with Coco Homes in Cimarron and a resident of Okotoks' in an article in New Home Living.
Besides, Kyla possesses a luxurious lifestyle thanks to the hefty net worth of her famed husband. Reportedly, Vince's earnings dwell above $50 Million—all accumulated from his entertainment gig.
On top of that Kyla Weber's husband is often known selling and buying million dollar properties. In 2016 alone, Vaughn sold his 12,000 sq. ft penthouse at $12.1 million. And also sold an extravagant residence which he renovated after purchase in LA Canada-Flintridge for around $4.8 million.
Vaughn seems to be interested in properties just like his realtor wife Kyla Weber.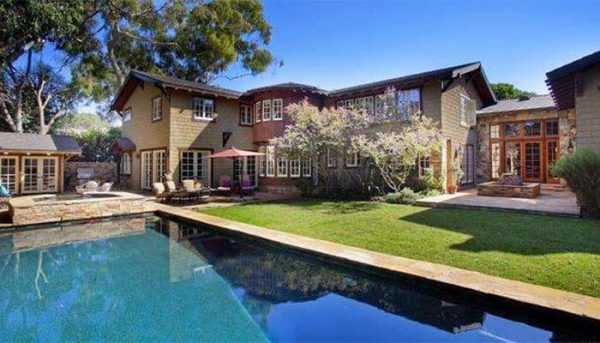 Kyla Weber and husband Vaughn owns a 7,308 sq. ft. home in Manhattan Beach, California.
Source: Fox Sports
Kyla Weber along with husband and family lives and owns a Craftsman inspired 7,308 sq. ft home in Manhattan Beach, California. They purchased this home at $6.447 million from Lane Kiffin, former US Football coach.
Relationship and Family Life
The dedicated realtor tied the wedding knot with prominent actor Vince Vaughn in January 2010. Illinois' Lake Forest Academy was the venue where the couple promised to be in their thick and thin for the rest of their lives.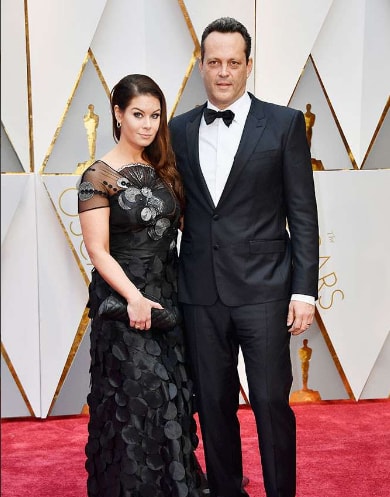 Kyla Weber makes red carpet presence with her husband, Vince Vaughn in Oscars 2017 
Source:  E online
Kyla and Vince dated for a year and a half before Vince proposed her with a gorgeous $125k worth 4-carat diamond ring. Overjoyed with excitement and surprise, Kyla gave the green signal which led to the couple's engagement on Valentine's Day of 2009.
Six months after their wedding, the couple revealed that they were expecting their first born. Finally, the good news arrived in December 2010 when Kyla and Vince were blessed with a beautiful daughter whom they named Locklyn. The moment was precious as it added more charm to their soothing relationship life.
Subsequently, another precious gift knocked on the door of Kyla and Vince's life in August 2013. This time they welcomed their baby boy named Vernon.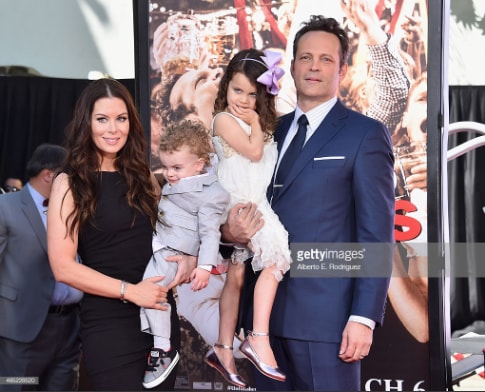 Kyla Weber alongside her husband, Vince Vaughn, her daughter, Lochlyn Kyla Vaughn and her son, Vernon Lindsay Vaughn at the 280th hand and footprint ceremony immortalizing Vince Vuaghn at the TLC Chinese Theatre IMAX on 4 March 2015
Kyla often attends numerous ceremonies with her actor husband. Besides, the couple can be frequently spotted with their children in handful events.
5 Facts About Kyla Weber
Kyla got married to Vince in Chicago keeping their wedding private from the prying eyes.
During the time when Kyla was pregnant with her first child, she accompanied her husband in the sets.
Amid of keeping her family life away from the limelight, Kyla made a family presence when she walked down the red carpet in TCL Chinese Theatre IMAX alongside her husband and two kids in March 2015.
Kyla, who stands at a decent height of around 5-and-a-half feet possesses white ethnicity and carries Canadian nationality.
Kyla loves to attend sporting events with her husband. The couple was previously spotted enjoying the NHL finals together in May 2010.
Stay with SuperbHub and get entertained with celebrity news, articles, entertainment and bios.