Do you love the buzzing sound of the trumpet? The one behind producing such sounds is a trumpeter. There are several well-known jazz trumpeters in the world and the talented Keyon Harrold is among one of them.
Keyon Harrold is an American jazz trumpeter, music composer and producer who has been compared with the legend trumpeter Freddie Hubbard. Let's dig on more information about Keyon Harrold.
How Keyon Harrold Came To The Musical World?
Harrold was born on the 18th of November 1980 in Ferguson, Missouri, United States. Having a passion and love for the music, Missouri born trumpeter Keyon Harrold is one of the 16 children of his parents. Keyon Harrold's parents were pastors.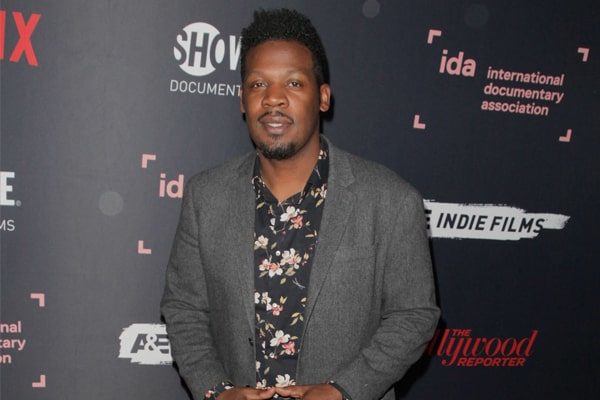 Keyon Harrold was born on the 18th of November, 1980. Image Credit: Getty Images.
His grandfather was a retired police officer who later founded the local group, Drum & Bugle Corps. Keyon was also a member of the group who started learning trumpet and began showing his affection to it. Keyon Harrold regards his late grandfather as the source of inspiration and motivation.
The soul-killing trumpeter joined high school where he used to show his musical skills, and after graduating from high school, Keyon became an accomplished performer.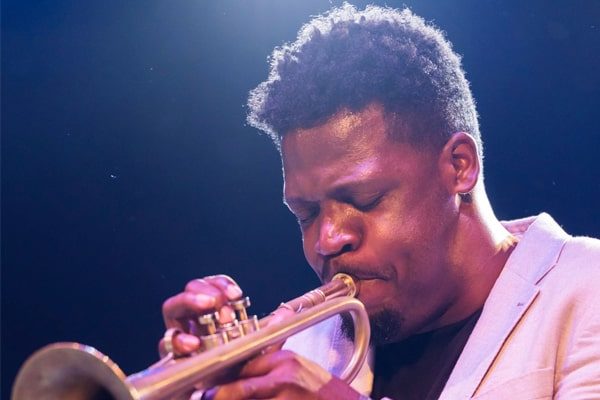 Keyon Harrold was a member of the group, Drum & Bugle Corps. Picture Source: Getty Images.
Moreover, at the young age of 18, Keyon left Ferguson and went to New York City to pursue his musical career and graduated from the New York-based The New School of Jazz.
Prosperous Career
After graduating from The New School of Jazz, Keyon Harrold earned a golden opportunity to tour with many famed personalities. He toured with trumpeters, R&B singers, and jazz artists such as Charles Tolliver, James Carter, Common, Erykah Badu, and many others.
Well, Harrold's talent helped him work with several hit musical artists. Later on, he began performing with Eminem, Anthony Hamilton, Rihanna, Beyonce, Maxwell, Jay-Z, and Snoop Dogg.
In the year 2009, Keyon Harrold released his solo debut, Introducing Keyon Harrold on Criss Cross, in which everyone praised his trumpet performance. Furthermore, he also has toured along with Michael Jackson in The Immortal World Tour. Likewise, Harrold also supplied the trumpet work for the Grammy-winning soundtrack to director Don Cheadle.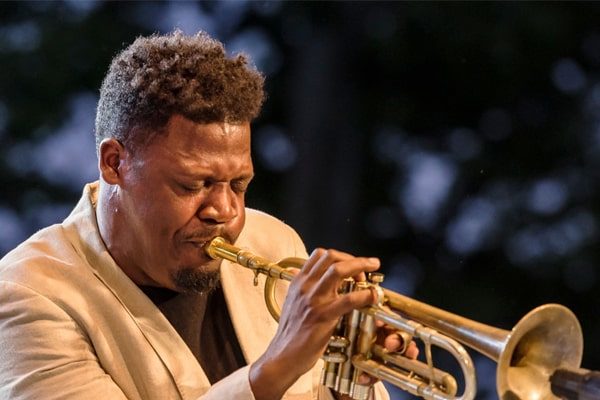 Keyon Harrold released his debut, Introducing Keyon Harrold on Criss Cross, in 2009. Image Source: Getty Images.
In the year 2017, he came back to his solo work and released his sophomore album, The Mugician. And in 2018, he worked in collection Antonio Sánchez A Day In The Life: Impressions Of Pepper, with several other musical artists.
Keyon Harrold has worked with several records label companies such as Legacy Recordings, Criss Cross Jazz, and Mass Appeal. Some of the hit Keyon Harrold's songs are MB Lament, Voicemail, Peace, The Awakening, Junior's Jam, Gone 2015, and many others.
Furthermore, he has also worked in series, Verses & Flow as a musician and as an actor in the series The Nature Place. As of now, the accomplished trumpeter is touring all over the world. Surprisingly, the legend virtuoso trumpeter, Wynton Marsalis, denoted him as, 'The Future Of The Trumpet.'
What Is Keyon Harrold's Net Worth?: Know His Source Of Income
Keyon Harrold's net worth is estimated to be of an impressive amount by looking at his successful career. Talking about Keyon Harrold's sources of income, he gathers his wealth from sales of his songs and albums and concert tours.
Keyon's main source of income is from the sales of his songs and albums. Some of Keyon Harrold's albums with their prices are given below:
| Albums | MP3(PRICE) | Audio CD(PRICE) | Vinyl(PRICE) |
| --- | --- | --- | --- |
| Introducing Keyon Harrold | $7.92 | $18.98 | - |
| The Mugician | $10.99 | $7.31 | $16.51 |
| A Day In The Life: Impressions Of Pepper | $9.49 | $11.49 | - |
| Revive Music Presents Supreme Sonacy | $9.49 | $11.78 | - |
Similarly, the Missouri born trumpeter also earns an enormous amount of cash from the concert tours worldwide. And he also has a website, from where we can buy his concert tickets and also listen to his songs.
Keyon Harrold is also a man with a golden heart as he is involved in several charitable works and helps to raise funds for poor and needy people.
Is Keyon Harrold Dating Anyone?
Yes, the excellent looking trumpeter Harrold is dating his partner. Keyon Harrold's girlfriend Rebecca Lee Sanchez is a journalist who works for National Geographic and is a former photo editor at NBC News.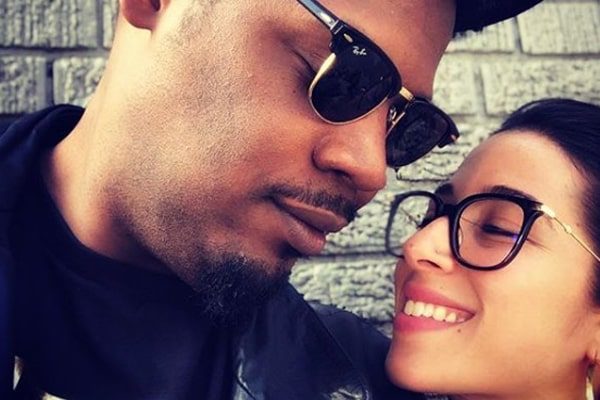 Keyon Harrold is dating Rebecca Lee Sanchez. Photo Source: Keyon Harrold's Instagram.
Furthermore, Keyon Harrold is also a father. He has a kid named Keyon Harrold Jr, who has followed in his father's footsteps. Keyon Harrold's son is a drummer and has a dream of being well-known like his father. Likewise, it's under wraps about who Keyon Harrold Jr's mother is.
Keyon Harrold's Son Falsely Accused Of Theft
Keyon Harrold made headlines after a woman tackled his 14-year-old son in a New York hotel lobby. The woman further accused the teen of stealing her phone.
The Jazz trumpeter further posted a video of the confrontation at the Arlo Hotel on Saturday. Furthermore, the video shows that the unidentified woman was seemingly agitated and demanded her phone while a hotel manager tries to settle the situation.
Moreover, during an interview, Harrold addressed the appalling video and said his son, Keyon Harrold Jr. is the sweetest and most genuine child. Following the incident, the hotel confirmed that the phone was returned by an Uber driver shortly after.
Well, given the racial awareness rallies and programs, incidents like this one are deeply troubling. Therefore, let's hope the Harrold family is doing well.
Some Facts About Keyon Harrold
Is one of the 16 children of his parents.
Has worked with various well-known musical artists.
Has played in some of the series too.
Gave a radio interview on the Virginiatrioli Show.
He has a talented son like him.
For more Updates On Celebrity News, Entertainment, and Biography Seek Out SuperbHub.