Justin Chambers is an American actor and former model. He is one among five, son of John Chambers and Pam Chambers. Justin is well-known for his role in ABC's Grey's Anatomy as "Dr. Alex Karev". He represented the huge brands like Calvin Klein, Armani, and Dolce & Gabbana. Currently, he is busy in fourteenth season of Grey's Anatomy, TV series, on ABC which telecasts every Thursday at 9 P.M. Justin Chambers wife Keisha Chambers has been his support of all time.
Justin Chambers, born on July 11, 1970, in Ohio, America, is currently residing in New York with his wife, Keisha Chambers, and their five children including twins.
Chambers career notably began with the movie Liberty Heights as Tray, alongside Adrien Brody. Afterwards, TV series Grey's Anatomy gave him fame and won People Choice Award Favorite Dramatic TV Actor in 2017.
Chambers father and mother, both were deputy sheriffs and was brought up in Springfield, Ohio.
Justin and his non-identical twin brother Jason often visited hospital due to Pneumonia.
He completed his high school education from Southeastern High School and later studied at HB Studios and Ron Stetson Studios for four years.
During High School, he used to sell orthopedic shoes.
He had a crush on Lindsay Wagner, who is an acting teacher, since childhood and he recently visited her to take an acting class just to meet her.
Child Justin wanted to be a dentist and he used to play tennis as his hobby.
Justin Chambers got married in 1993 with Keisha Chambers and living happily for last 24 years.
They together engender five children, daughters, Isabelle (24 yr. old), Twins Maya and Kaila (20 yr. old), Eva (18 yr. old) and son Jackson (15 yr. old).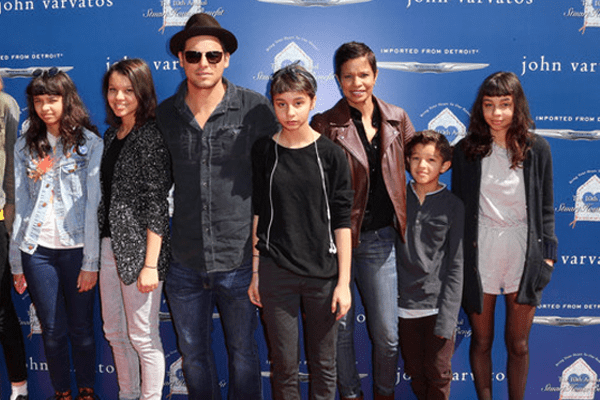 Picture credit: ZimBio
Justin Chambers wife,Keisha is a housewife and takes care of family along with a rescued dog and owned Beagle.
Justin and Keisha often are captured in award ceremonies along with their five children or without those.
Recently Keisha was spotted in People Choice Award 2017, held in Los Angeles, where Justin won the award for Favorite Dramatic TV Actor. 
How did Justin and Keisha fell in love and get married?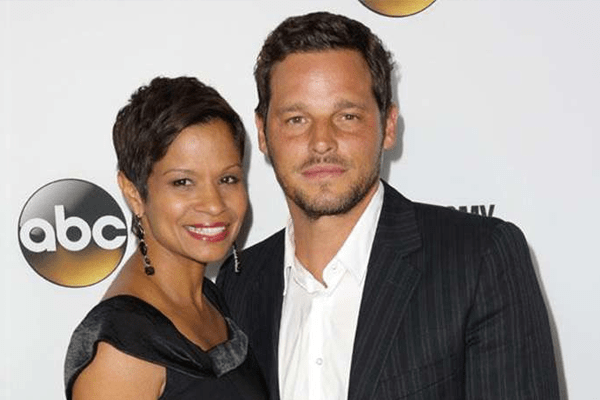 Picture credit: ArticleBio
While Justin Chambers was working on an ad campaign with Calvin Klein, he met with former model agency booker, Keisha Chambers, there.
He ended up spending time with her.
They dated for months and decided to get married in 1993. It is known that they tied their knot secretly.
One year later, in December, Keisha gave birth to baby girl Isabella.
What is the secret behind the 'hard to break bonding' with Justin Chambers wife?
They have been together since their marriage in 1993 and are spending quality of time since then. He once stated that every relationship face ups and downs and both must contribute equally to overcome those.
In an interview with Goodhousekeeping in 2007, Justin said "We've been together for so long that I really don't know any other way to be."
"I can remember lying in bed with her years ago and having conversations about our grandparents; and now our grandparents are gone. We've gone through that together, and now our parents are getting older and we're going through that together."
He continued, "I just feel really fortunate to have found someone who will be my partner on this journey".
An understanding level between Justin Chambers wife and him, and the ability to maintain balance in the family is quite commendable.
Justin acting career soared with his first music video "Art Marching" by Dave Matthews Band in 1995.
After the startup, he worked on some television show including soap opera in Another world.
He has acted in more than fifteen movies, where the character of D'Artagnan in the movie "The Musketeers" and Inspector Matt Parish in "The Zodiac" are most recognized.
Also, he has been on more than twelve TV shows, where the character of Dr. Alex Karev in a series Grey's Anatomy is most famous.
Why did Justin Chamber visit UCLA's psychology ward in Los Angeles?
Grey's Anatomy star, in late January 2008, revealed that he is suffering from sleep disorder as he often visited UCLA psych ward in Los Angeles to treat the sleep disorder.
In his first interview since the disorder, he told people that "when your body is tired and brain still working, it wants to sleep but it can't. This is kind of sleep disorder". 
He also stated that he was sleeping no more than an hour a week two months before he visited UCLA.
We hope he's getting fine after the treatment.
Justin Chambers is the owner of worth $1.4 million.
He purely earns from his acting and his celebrity status.
He charges about $125,000/ per episode.
Justin believes that his family is the highest worth he had ever had.
Actor from Grey's Anatomy is one of the popular faces in social media.
In Instagram, he is followed by 1.4 million followers and 84,962 followers in Twitter desk, who follows his every post.
He has a great following in social media. However, Justin Chambers wife, Keisha, doesn't seem actively participating in the social network.