The Swedish-born sensation, Jessica Olsson is renowned among the paparazzi as the wife of a German professional basketball player, Dirk Nowitzki. Defying all the odds stacked up against interracial marriage, Jessica found her world in Dirk when the couple shared the wedding vows in 2012.
Besides being the better half of the Dallas Mavericks' power forward, Jessica comes from the sports-fanatics family where her twin-brothers are professional football players. Martin Olsson is associated with the English club, Swansea City, whereas Marcus Olsson plays for English club Derby County.
Born to Swedish father and Kenyan mother, Jessica is hugely enticed by the evolving colours of art. Courtesy of that, she currently serves at the Dallas Art Gallery. Besides, she is also the associate director of the Goss-Michael Foundation: an art research library.
Jessica Olsson's Net Worth
Jessica Olsson is undoubtedly going well with her art career; however, it is her sports-star husband who bags tremendous earning courtesy of his basketball career. Dirk's net worth dwells above the whopping amount of $140 Million with his salary surfacing around $22.7 Million.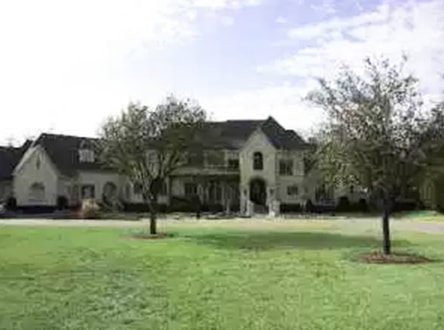 Jessica Olsson's husband, Dirk Nowitzki owns $8 million worth mansion in Dallas, Texas.
Image Source: Virtual Globe trotting
Moreover, Jessica owns an expensive mansion with her beau in Dallas, Texas which is worth $8 Million. The 9,215 square feet mansion consists of six bathrooms, a three-car garage with inbuilt tennis court and two basketball courts.
On the top of that, Jessica loves to travel in her husband's car collection which includes Audi R8, Mini Cooper S, BMW and Audi Q7.
Blissful Relationship Life, Family
The date 20 July 2012 not only marked the day of Jessica's wedding with Dirk, but it was also the moment when love edged over racial muddle. Possessing the mixed ethnicity of her Swedish dad and Kenyan mom, Jessica vowed to carry the bond unceasing bond forever when she walked down the aisle with the basketball star in his Dallas area home situated in Preston Hollow, Texas.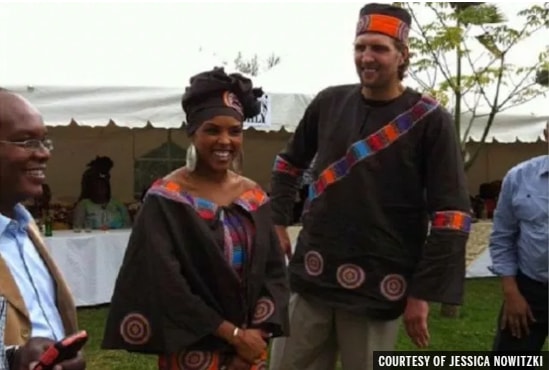 Jessica Olsson and Dirk Nowitzki on their wedding day in Dallas, Texas. Image Source: The Undefeated
The wedding ceremony was organized in both Germany and Kenya which gave the couple to understand and get accustomed to each other's tradition.
Jessica and Dirk's romantic journey began way back in 2010 when the future-couple first met eyes at a charity organized for the Sports for Education and Economic Development (SEED) Project. Gradually, they became irresistible to one another and began dating before deciding to get engaged some two years later.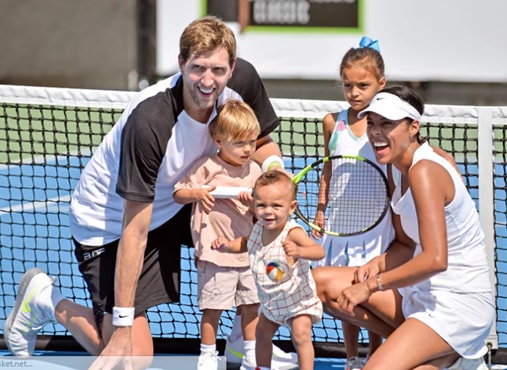 Jessica Olsson enjoys family tennis alongside her husband and their three beautiful kids. (Image Source: Sportsday)
Currently, Jessica is steering her married life with the company of her husband and their three beautiful kids; one girl and two boys. The couple welcomed their elder daughter named Malaika in July 2013. Subsequently, the pair was blessed with a baby boy named Max on 24 March 2015. Finally, their youngest son came to this world on 11 November 2016, whom they named Morris.
Some Facts About Jessica Olsson
Jessica Olsson, who carries Swedish-Kenyan descent and mixed ethnicity, stands tall over the height of 1.58m.
Though being the wife of a famous basketball star, Jessica likes to keep her distance from the social networking sites. She is not active on social media.
While having a marriage ceremony in Sweden, the country's tradition was quite new for Jessica and Dirk; however, the couple deftly pitched themselves in.More Biography and entertainment updates only in SuperbHub.