Bryan Lanning, a real artistic talent, is a self-made man. He was born in an averaged family having hard times. His interest in music and compositions like Idaho and This Is Home songs helped him move ahead. Lanning, his wife, and kids are now celebrity family popular for their vlog Daily Bumps.
Born to a single mother on January 20th, 1990, in San Diego, Bryan grew up with elder sister Bev. His mom had to work two to three jobs to support their living. 
Lanning never knew his father. But he mentioned that his sister knew hers which gives an assumption that Bev was his step-sister. He had also mentioned in his Vlog, Draw our relationship, that Bev's father sometimes came to pick her up and asked him to join too. Watching Bev with her Dad, Lanning used to be sad.
His mother had boyfriends who visited home occasionally but they were not nice and their relationship with his mother didn't work out.
He became really happy when his grandma came to meet him. And was happily surprised when she packed his and Bev's stuffs and took them along with her to Boise. He remembers having so much fun with her. She had a big house, large land and loved the dinner she made.
Eventually, his mom got married, and he had a step-father. He didn't like him and never considered him as his dad because he was abusive to him. So, he spent most of his time hidden inside his room reading Harry Potter Novels. He also ended up being a loner in school.
By the time, he went to high school, he started getting into music. He dyed his hair, wore rough clothes and sang at rock concerts.  He initially got trained to be a videographer. His interest and passion towards music gave him a new turn.
Bryan met her at a local carnival. All thanks to their friend Jessica who introduced him to Missy.
Jessica was actually complaining that her friend, Missy, ditched her so that she could spend time with her boyfriend. His first question to her was,"Why did you ditch your friend? She replied, 'You're kind of a jerk." At their first meeting, Missy thought Bryan was a bit weird.
Soon, they started meeting often with a group of friends while hanging out, watching movies, driving around and going to concerts. They realized that their friendship had become something more. However, Jessica, the girl that introduced Missy and Bryan, had a huge crush on Bryan. They didn't want to hurt her feelings but couldn't stop getting close to each other. One night in a spin the bottle game, Jessica knew about them. But, she was fine with it that they were a couple.
At the night of Bryan's 17th birthday, he had a huge fight with his father. The same night, he left his home and went to live with his friend. Then, with his grandmother. He worked hard and was busy with his studies. He often felt lonely except when he was with Missy and her Christian family.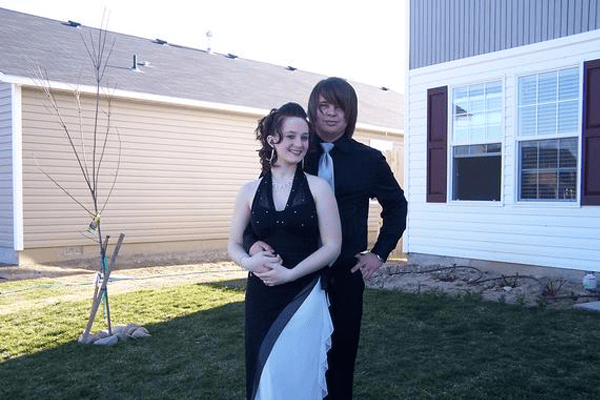 Image Source: YTMD
At the age of 18, Missy and Bryan bought a house in Maple and lived together. But their family didn't approve them living without marriage. Bryan knew that he wanted to spend his life with Messy. So after getting her parent's approval, they married on August 8, 2008.
Missy Lanning made a video, My Wedding Ring Story, which was published on Jan 6, 2014, on YouTube.
Bryan then started studying Computer Science, but later realized that it was not his subject. He then studied Art, Photography and got busy. Both Missy and Bryan became busy with their lives, working and studying.
But, they soon were signing divorce papers after four months of their marriage. They lost focus, they lost themselves and they both needed space. They realized that they married too young. And Bryan moved out.
They had separate lives. But, something was missing. They felt lonely. Bryan kept on having bad dreams about Missy and finally, he gave her a call after few months. They met and felt that they longed each other. They talked and decided to work out in their relationships. Now, they realized the importance of communication. They lived as if they never had a divorce for few years in Ohio and then moved to California.
Bryan Lanning's biography really has ups and downs and teaches us a lot. The Lanning couple had shared the bumps in their daily life in vlog Draw our relationship published on June 14, 2013.
Kids made Lanning's Family Complete 
They wanted something more. Lanning couple's parental feelings were developing. A couple of days before Christmas in the year 2011, they got the happy news. Missy was pregnant. Unfortunately, they lost the child. They knew from the doctor's report that he was a boy and named him Gabriel.
Missy shared her feelings and stories on YouTube. And surprisingly, she gained an amazing number of subscribers. Many of them shared their stories with her. They even said that her stories helped them to heal from their loss.
After two more years of trying and waiting, the Lanning couple had their first child, Oliver James. The couples launched their vlog 'Daily Bumps'  in the same year their first child was born. The couple welcomed their second child, Finley, in 2015. They became the happiest parents.
Lanning has been posting his music videos, songs and other vines on social media. His songs were famous but their vlog made the whole family popular. Bryan is now known as a singer, YouTube personality, Videographer, songwriter, and Viner.
What is interesting in "Daily Bumps"?
Well! The hosting of the couple is quite impressive, but the thing that attracts the audience is the cuteness in the video. Yes, cuteness. The way they show the day to day moments of life with their family attracts the audience as it is filled with emotions. The videos let us know about their happenings. In most of their Vine videos, they add the charm of their children.
Bryan is seen composing Lullabies for their children in the videos which are really soothing and adorable.

The channel "Daily Bumps" has precisely 3,090,942 subscribers as of 20 January 2018. Combining views of all videos the YouTube channel has more than 1.9 billion views.
More about Lanning and his success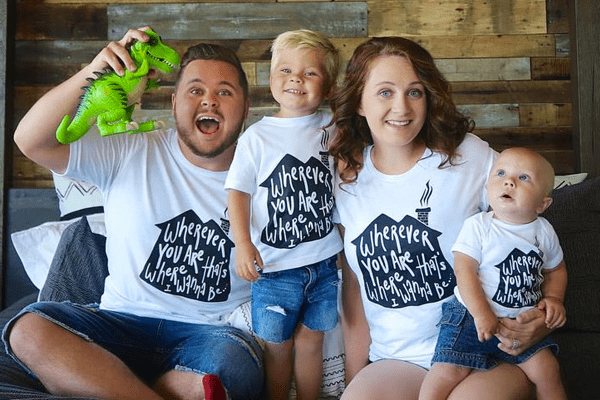 Image Source: Pinterest
Bryan Lanning biography let us know how down to earth person he is despite his tremendous success.
Lanning mostly focuses Pop genre, but sometimes he sings the melody as well. He has achieved a lot with his voice and hosting capabilities.
His music video "This is Home" featuring his child was an immense hit in 2015. This music video got more than six million views. Later in 2016, "Idaho" his another music video was a hit song getting 2 million plus views.
In 2017, he published his album "US"  containing fourteen outstanding songs. This collection was released on his birthday: January 20, 2017.
His dedication and wish to make every song unique may be the key to his success. The natural way he uses to create videos, without using much graphics is fascinating.
He is loving and straightforward personality. Bryan is decent and desperate towards his family. We can see his love to his family in the dedication that he makes in his video.
Bryan dedicated the song "This Is Home" to his wife and children saying "This song is dedicated to my sons and beautiful wife Missy,  who inspire me daily. They are my world and my home."
Net Worth
Amazingly, Bryan Lanning is a singer, songwriter, YouTube Viner and much more. So, it's evident that he must have healthy Net Worth.
He and his wife have mutual YouTube account "Daily Dumps" that earns them approximately $80,000 per month.
His Twitter account suggests that he has traveled the world for shows and recorded, played and filmed videos all over the world. It means he has some extra earning from that as well. Bryan Lanning's net worth was approximately $2.4 million as of 2017 according to The Net Worth.
Lanning couple also has worked for charitable causes. They associated with Karma and made money for the organization by selling iPhone cases. They also supported ailing horse ranches in the USA. The couple has also supported Anchor Cambodia Fund which helps the poor children in Cambodia.
Social Media following
Bryan Lanning has 193k followers on Twitter 555k on Instagram. He has 65k likes on his Facebook Page as of Jan 2018.
Recently on January 5, 2018, he posted a video on Twitter which shows his love towards his sons.