The 98th most powerful women, Beth Brooke-Marciniak is well recognized for being one of the Global Vice Chair of Public Policy of EY (Ernst & Young), one of the largest professional services firm in the world. Beth Brooke-Marciniak net worth is known to be high and accumulated from the success of her firm Ernst & Young.
American business women is also an EY (Ernst & Young)'s global sponsor for Diversity and Inclusiveness. She is also known for her affiliation with the multinational firm EY (Ernst & Young).
Beth Brooke-Marciniak was born in 1959 in Kokomo, Indiana. Beth Brooke-Marciniak completed her education from Purdue University in 1981.
She has a bachelor's degree in industrial management and computer science. She went to Purdue University as the university awarded her a basketball scholarship. She was the first woman ever to get the scholarship.
Beth Brooke- Marciniak began her career by working in the U.S. Department of the Treasury for two years, as she was mainly responsible for all tax policy and other related to insurance and managed care.
Following to her success and achievements she became a vital member of EY (Ernst & Young). She is also a member of the firm's Global Executive Board.
Her overseas public policy for the firm's operations in over 150 countries. Moreover, Beth is a global sponsor for EY's Diversity and Inclusiveness (D&I) efforts.
She is so popular that her name appeared on Forbes "World"s 100 Most Powerful Women" in the world. Later, she was inducted into the Indiana Basketball Hall of Fame.
She is more passionate about using her leadership platform to make a difference in the world. She is also a member of the different company and devoted advocate for the advancement of women.
She has served on the US Delegation to the 53rd and 54th United Nations Commision on the Status of Women.
Under her leadership, EY annually joins with Forbes to recognize the accomplishments of women on the Forbes 100 MPW list.
Furthermore, she has actively engaged in numerous civic and business organisation. Besides, Beth has served on the boards of Vital Voices and The Conference Board.
Beth Brooke-Marciniak is a married woman. She is married to entrepreneur Michelle Marciniak, who was also a basketball player in the past. The couple got married in April 2014.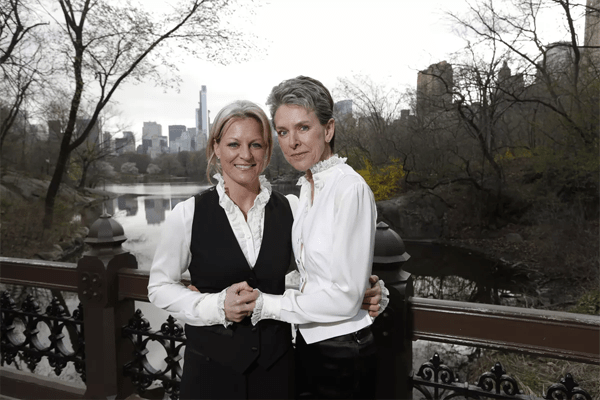 Caption: Michelle and Beth Brooke Marciniak.
Image source: Out Sports
Beth Brooke-Marciniak is mostly active on social media including Twitter and Instagram.
She uses it to express her opinion related to various business talks and persons. Her twitter account has more than 6,500 followers till date.
Beth Brooke-Marciniak net worth is estimated to be around $1.7 million. Beth source of income is usually from her profession.
She is the Global Vice Chair of Public of EY. According to Glassdoor, the Global Director salaries at EY can range from $193, 808-$208,917.
The salary is based on 1 EY Global Director salary reports. Moreover, she receives a massive amount of being an active member of various others organisations including Audit Advisory Committee for the U.S Department.
Moreover, she is a global supporter of Diversity and Inclusiveness. She is also a prominent advocate for the benefits of inclusive leadership and growth.
Beth Brooke-Marciniak net worth is most likely to increase in the following years through her potentially successful endeavours and her various investments.
Beth Brooke-Marciniak is one of the successful women, who has been honoured many times for her remarkable work. She has been the recipient of numerous honours and awards over the years.
In 2017, She received the Theodore Roosevelt Award for the NCAA's. Besides, Forbes listed her as the 98th most powerful woman in the world in 2014.
In 2016, she is ranked at the 99th position in the same list by Forbes. Beth Brooke-Marciniak has been a massive inspiration to many aspiring young business leaders who want to be as triumphant as she is in the field of business and management.
Be connected with SuperbHub, for more update regarding Celebrities Biography.