When one thinks of a relationship, it's a complicated feeling. Half your life, one grows up impressing unknown, and the other half you become used to neglecting the one who adores you for the unknown. It's unusual, but the feeling of having fallen in love with someone is priceless. Such relationships take a million steps and go miles further.
Such is the relationship between Sophie Skelton and her boyfriend. If you are curious about who The Outlander star is dating at the moment, let's roll down a little.
Who Is Sophie Skelton's Boyfriend?
Yes, Sophie Skelton and Jeff Gum are still together. The couple is together since 2017 and was always open about the relationship through their social media handles. Sophie Skelton's partner is no joke.
Jeff has been in the industry for a while now. Furthermore, he has worked as an actor with many big names and has and experience as a producer as well.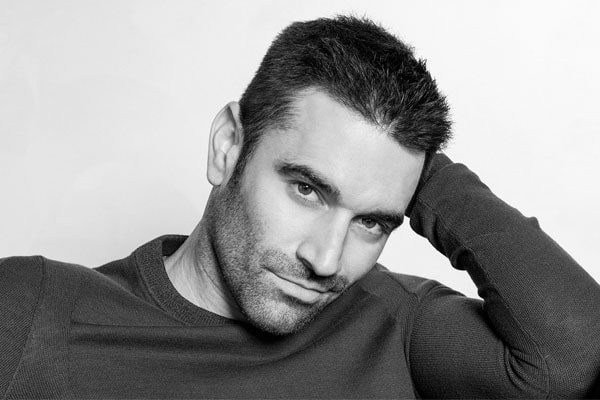 Sophie Skelton's beau is a talented man who has worked with many known faces including James Franco. Image Source: Steven William.
Sophie Skelton's partner is known for his work in The Forgiven, Rambo: Last Blood and New Girl. He has worked alongside his sweetheart, Sophie, in "Day of the Dead: Bloodline." Moreover, he studied acting at Playhouse West in North Hollywood.
Jeff Gum's work is heavily influenced by many actors who he admires. Among them includes Daniel Day-Lewis, Gary Oldman, Tom Hanks, and Denzel Washington, etc. "So Awkward" star, Sophie Skelton's boyfriend has 16 movie credits under his name such as The Forgiven, The Vault, Bleak, The Smell of Success, etc. Similarly, Jeff has managed to bag a few credits as a producer as well.
View this post on Instagram
Sophie Skelton's better half looks like a fantastic person to hang out who commands 18.3k followers on Instagram. Jeff knows to appreciate his woman and conveys love through posts as well.
The Loving Relationship Of Sophie Skelton and Jeff Gum
One roams around gazillions of times until s/he finds the one s/he truly feels for. After that, it's a full stop, and stability begins to creep in your nerve. Similar is the story of the young actress, Sophie. Skelton's partner crossed her path professionally, and the couple fell in love with one another genuinely.
The lovely couple of Sophie and Jeff attend different famous award shows such as SAG Awards, and many more. The duo looks good together, and even their pictures have a comfortable vibe to it. Moreover, both the individuals are at the peak of their career. Hence time management must have been key to the relationship.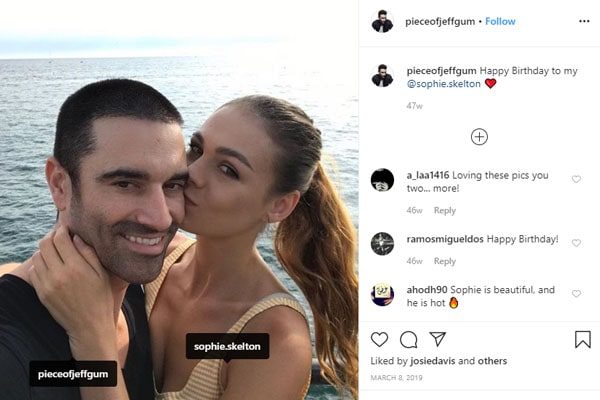 The couple is together for a while now and shares a deep love for one another. Image Source: Jeff Gum/Instagram.
However, it is understandable as both of them are working hard to build up their career. Despite the tight schedules, the loving pair manages to squeeze in little fun dates and walks through the streets, which is pretty applaudable. After all, it's small things and details that matter.
Let's hope the couple manages their relationship just as this and walk more million miles together.
Richard and Sophie are not REAL
Unfortunately, the on-screen chemistry could not always be true in reality. Seeing their chemistry on the epic series, Outlander, it is impossible to digest that Skelton and Rankin are not a couple. The scripted and directed movements did not make Sophie and Richard Rankin fall in love. Instead, they became excellent pals.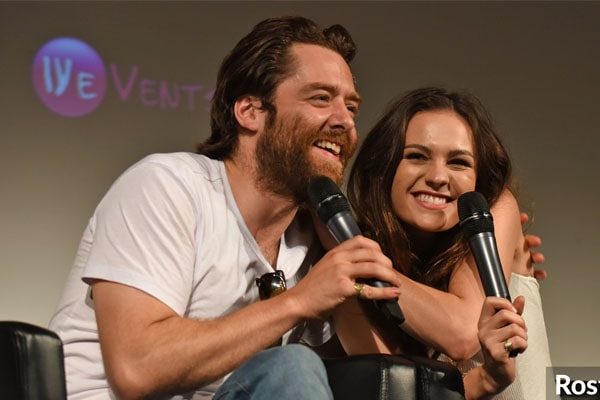 Sophie Skelton and Richard Rankin are very good friends in real life. Image Source: Pinterest.
Although the "Outlanders" is all about love, whether it be Claire and Jamie portrayed by Sam Heughan and Caitriona Balfe or their off-screen daughter Brianna and Roger, their chemistry on television was impeccable. Thus, it is not impossible to think if the on-screen romance followed is alive off-set.
However, not every on-screen couples make it to the off-screen drama. Thus, fans need to swallow the hard pill and stay put supporting Sophie's actual relationship.
Although celebrity's on-screen couple can over-shadow their actual private life, let's hope Brianna, aka Sophie's relationship, remains as strong as it is today. Let's wish the couple hits milestones together, and we get to hear them share their vows soon.
Dont's Miss To Follow SuperbHub For More Updates On Celebrity News, Entertainment, and Biography.