Whether as a sibling or as a great friend, there is one thing that always ties people together, a good wrestle. Wrestling, whether as a viewer or as a wrestler, has often made deep connections for people. Such was the case for Alexa Bliss and Buddy Murphy.
Both wrestling stars became so close from their NXT moments that they ended up engaged. Sadly, the couple did not get married. From how they got together, to what they are doing now, let's find out how it all happened.
Getting Together
Alexa Kaufman, known to her fans as Alexa Bliss, first paired up for NXT with Buddy Murphy and Wesley Blake as a tag team. Bliss would often intervene in the matches and help her tag team partners Blake and Murphy win.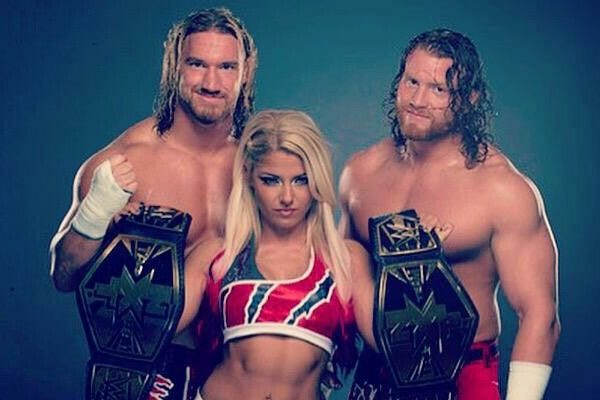 Alexa and Buddy were members of the same tag team in the NXT. Image Source: Pinterest.
According to a WWE interview, each member of their team was a winner, and winners usually gravitate towards each other. As an unstoppable group, they worked well together, trusted each other, and knew each other's strengths and weaknesses. This made their relationship great from the get-go.
Engagement Of Alexa Bliss And Buddy Murphy
The fact that Alexa Bliss and Buddy Murphy were engaged was publicly made clear in January 2017. Speculations were already being made about their engagement since 2016 and were backed by quite a lot of evidence. The most important one is a photo posted to Buddy Murphy's Instagram in March 2016, where Alexa is wearing an engagement ring.
View this post on Instagram
While speculations were being made in 2016, it was later revealed in an interview with Gorilla Position that the couple got engaged in Christmas of 2015. It surely was a wonderful moment for both of them.
Getting Separated
As a tag team, Alexa Bliss, Buddy Murphy, and Wesley Blake would meet seven days a week and work for six days a week. Even after the engagement, the couple did not think meeting every day would change. Sadly this was not the case.
While Buddy Murphy remained on NXT, his ex-fiance Alexa Bliss got drafted towards SmackDown Live. The couple traveled a lot, and so, from 6-7 days a week, they started seeing each other for about 6hrs a week. While it did seem not to affect them in the beginning, it seems to have taken a toll on the relationship later on.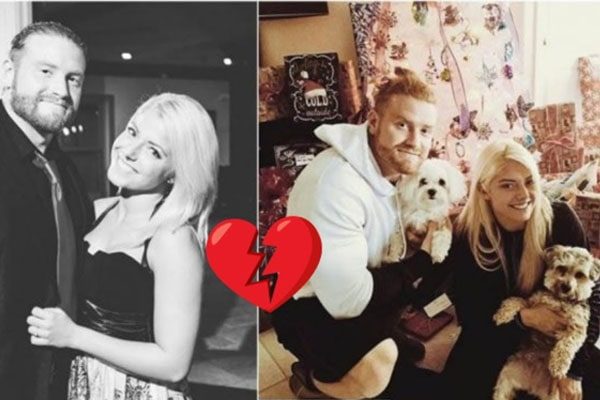 Seeing very little of each other takes its toll in a long-distance relationship. Image Source: Pinterest.
According to WrestlingInc, Alexa Bliss and Buddy Murphy called off the engagement in the fall of 2018 and have been living apart since September of the same year.
How Are They Doing Now?
Even after the separation, both wrestlers seem to be a fan of each other. The formerly engaged couple played an essential part in each other's lives. Alexa helped Murphy in speaking and taught him heaps, and Murphy supports her and helps her in the ring.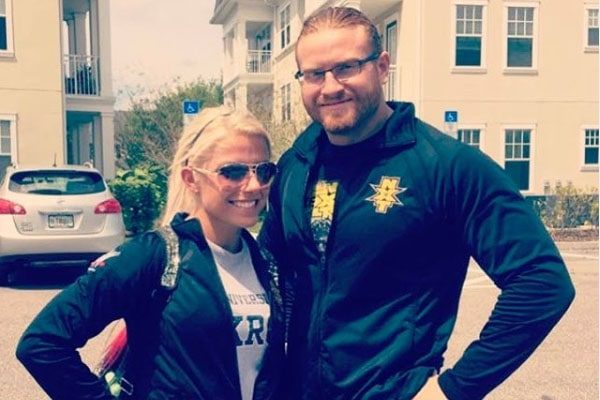 Even after their break up, the wrestlers are a fan of each other. Image Source: Buddy's Instagram.
Where most broken engagements end up with a bad memory, the ex-pair of Buddy Murphy and Alexa Bliss are treasuring their memories. Both Buddy and Alexa are great friends, and all the fans wish for a beautiful future ahead of them.
If You Enjoyed Reading This Article, Stay Connected With SuperbHub For More News, Entertainment, And Biography.