Picture credit: Variety
Male fans of Bianca Santos may succumb to minor shock as interesting personal facts of her personal life come into view.
Bianca Alexa Santos, the star of "the fosters","Ouija" and upcoming movie "SPF-18" is currently upon controversies regarding her dating status and whether there could be a wedding day ahead for this Lexi Rivera representing actress. So, let's peek more regarding her dating affairs.
Bianca Santos Dating Affairs
Bianca Santos, is the star from the TV series, The Fosters and afterward featured in other movies. But her excitement upon her first role was indeed exciting for her, as she shared her excitement during an interview in 2013.
"Everything has exploded for me! I still remember getting the part on The Fosters and then raving out! Afterwards, it got normal because we just started shooting. But then the show aired and I was like, 'whoa my Instagram and my Twitter are blowing up.' All the feedback has been so positive. The fans and everyone have been like 'you're a great actress and we love you on the show'. They don't understand how, ugh I might cry. They don't know how great that is!"
On her first scene on the set, she kissed her co-star Jake Austin, who was famous for his role in Wizards of Waverly Palace.
Their on-set chemistry was noted by the audience and much appreciated. They were even rumored to be a real couple. Bianca, herself confessed having a crush on Jake in early days.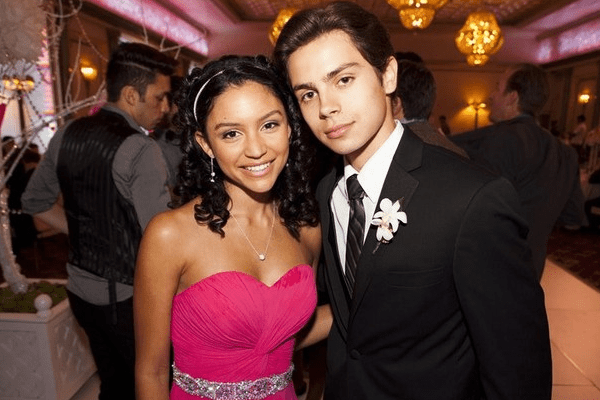 Image Source: justjared
But, Bianca isn't the only one sharing the controversy surrounding Jake Austin, as co-stars Bella Throne, Mckaley Millar, and Maia Mitchell were also involved in the list of rumors. Most Recently, from 2016, he is known to be dating Danielle Caesar. Being die-hard fan of Jake, she began tweeting him for almost a decade . Finally, she and Jake genuinely met and gradually fell in love. 
Rumors are rumors indeed but still, we can establish they shared a close relationship looking at the pictures Bianca Santos shared on her Instagram
After Austin left the show in 2013, the buzz cooled down. However, Bianca and Austin celebrated the 'Thanksgiving' together and even shared the glimpse on Instagram.  
Of course, everybody guessed them to be a couple, but as the time passed, the rumor has almost been wiped out.  And until now, she hasn't talked about her boyfriend or her possible husband-to-be out to the media. So, for the time being, die-hard fans of Bianca can relax!