Life is incomplete without a Life Partner, in fact, a perfect partner. It looks like Van Jones got a perfect match for him. His wife Jana Carter has made Jones' life complete. Jones is also a father of two sons. Perfect family!
Van Jones is a political commentator at CNN and author of few including two New York Times best-selling books. Even Though Van Jones is defined by journalism sector, he is too good at keeping his private life secret.  Van Jones wife, Jana Carter, is a Director Operations and Producer at Magic Labs Media with Van Jones being the president. Now, this couple is not only living but working together too.
Van Jones marriage, wife and children
Van Jones wife, Jana Carter is the mother of two sons, first child Cabral Jones and second son Mattai Jones. Cabral  Jones is about 13 years old while Mattai Jones is 9 years old.
The exact wedding date, their dating history is not public yet. Though he doesn't speak much of his family life, Van Jones often visits award shows and social events with his wife, Jana.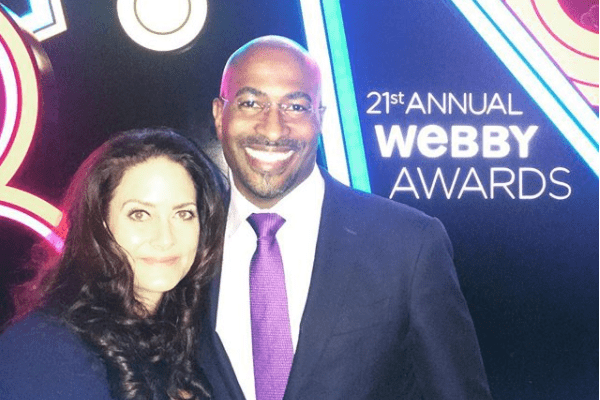 Van Jones with wife, Jana Carter at 21st Webby Awards.
Image source- Instagram
Van Jones love towards his family
Apart from professional career Van Jones wife, Jana Carter, is a perfect housewife. In 2009, on Oakland Magazine, Jones mentioned Jana Carter as capable of holding the family fort and being an independent woman. Undoubtedly, Van Jones wife, Jana Carter is appreciated by her husband, for her work. This is one of the better parts that hold a relationship.
Also, Jones never misses the chance to show love towards his children. Recently, he posted a picture on Instagram where he is holding his youngest kid, Mattai Jones.
Jones Captioned,
Love my littlest guy so much. He is headstrong, stubborn and emotional like I am. So sometimes we clash. But he is my heart and I can't wait to see what all of his passion produces in the world.

Van Jones wife, Jana Carter and Jones look great together. We wish them to stay a great, happy and healthy family as they are now.
For more Entertainment updates stay with us on SuperbHub.