Not many may know this but the "Now Apocalypse" star
Tyler Posey
 loves to speak about his tattoos, and with sheer enthusiasm. Apart from his controversial fallout with ex-fiancé
Seana Gorlick
, Tyler is a fan of tattooing cool designs on his body.
Tyler Posey is famous for having lots of tattoos on his body. It's no secret that he's got his body full of ink. Here's what "Twilight" actor Tyler Posey's tattoos mean to him and the reason he goes through such pain to ink those cool tattoos on his body.
Tyler Posey Talks About His Tattoos
In a video with Teen Vogue, Tyler talks about his journey into the tattoo world and the things that inspired him to do it.
Tyler was into tattooing since he was 10 years old. It's clear that he loves to fill his body with ink and show them off in public when he gets the chance. Tyler is not afraid to reveal his tattoos or talk about them.
Teen Wolf Nipple Tattoo
Tyler Posey reportedly flaunted his nipple tattoos at an MTV live stream of Comic-Con 2013. Tyler's nipple tattoos were themed after his show "Teen Wolf". Further, they were temporarily inked only for his show's promotion.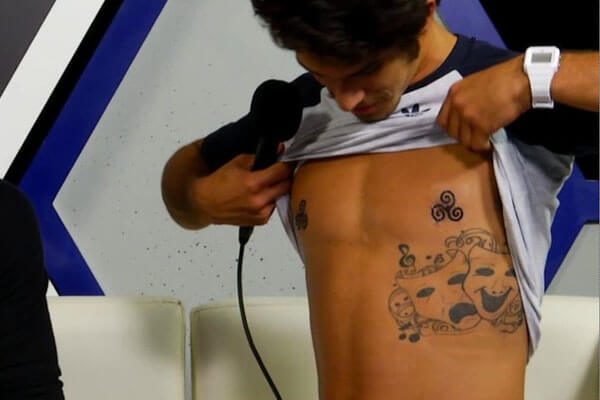 Tyler Posey's nipple tattoo is a promotional tattoo for his show Teen Wolf. Image Source: LOGO Tv.
The meaning of his nipple tattoos is rather simple. It's just meant to represent his dedication to his show Teen Wolf, where he played as the young and hot Scott McCall.  When asked why he has nipple tattoos, Tyler further joked that his nipples have been too bare for too long.
Blink-182
Tyler Posey once remarked that his tattoo collection was inspired by his favorite music band, Blink 182. Well, that turns out to be true, as Tyler has got a bicep tattoo on his left arm related to the famous band.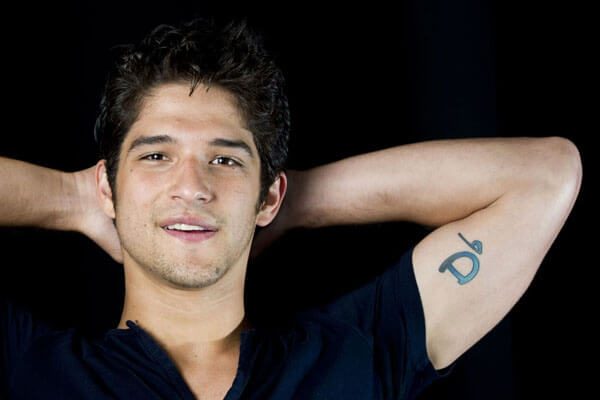 Tyler Posey's tattoo on his bicep represents a single note of Blink-182's song. Image Source: Pinterest
The tattoo on Tyler's bicep represents the first note of a Blink-182 song. However, we don't know the song's name yet, whose first note is imprinted on his bicep.
Tattoos On Right Leg
Tyler Posey has hot fascinating tattoos on his right leg, mostly below the knee. Let's take a close look at Tyler's leg tattoo and their meanings.
Tyler Posey has got cool things inked on his right leg. Image Source: Glitter Magazine
Skull
Tyler Posey has a skull tattoo on his right leg.
Umbrella
Tyler also has an umbrella tattoo just beside the skull tattoo on his right leg. The umbrella represents cool shade when Tyler is working in the scorching sun.
Dagger
Tyler Posey has a dagger tattoo on his right leg too. It represents a "dagger" for the skull tattoo right next to it.
Hot Air Balloon
After his visit to the beautiful state of Hawaii, Tyler was inspired to get a hot air balloon tattooed on his right leg. Tyler similarly loves Hawaii culture, so he is glad to have a tattoo representing the US state.
Gypsy Lady
Tyler Posey's shoulder tattoo is another one of his exotic tattoos.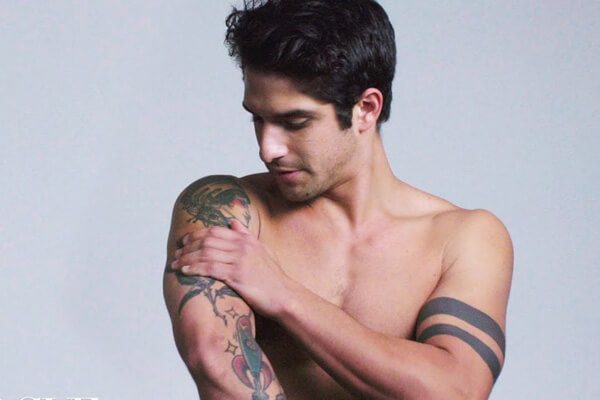 Tyler Posey has a gypsy lady inked on his right shoulder. Image Source: Teen Vogue
The tattoo on Tyler's shoulder is that of a beautiful gypsy lady. It's for good luck. Now we wonder if Tyler is planning on adding any new tattoos to his collection. Plus with Tyler Posey's net worth of $7 million, he can easily afford it.
SuperbHub for more News, Entertainment and Biography.