Emmy Award winning meteorologist Tucker Barnes comes each day, every morning on Fox 5 News Morning and Good Day DC. The AMS's charming member Barnes loves to enjoy nature, gardening, animals, football, the weather of course and be with his valentine and lady love Caitlin Roth. But is Tucker Barnes married to his girlfriend?
Well, neither Tucker nor Caitlin has officially stated about their marriage. But them being together every time sharing wonderful moments on and off their job and in their home gives hints that they might have secretly exchanged vows and tied the knot. Let's get into the love details!
Tucker Barnes married Caitlin Roth? Quiet possible!
Thanks to Fox 5 News morning and Good Day DC! It's the show that brought this lovebirds close to each other. Tucker was already working as the meteorologist in the show when Caitlin Roth joined the team in May 2015 also as a meteorologist.
Obviously, it might not be the love at first sight. But Roth and Barnes definitely felt the chemistry between them.  Tucker officially joined Instagram at December 7, 2015 and in December 19, 2015, he posted a cute picture with his colleague of six months Caitlin Roth.
Previously, Tucker was always in air rumored to be in relationship with other co-workers like Erin Como, the traffic anchor and reporter in the team. Fans believed Erin was quiet flirty with Barnes and she actually helped him set up his Instagram account.
But, the rumor proved wrong as she was then dating Good Day DC's senior producer Chris Smith.
After the couple's debut in Instagram in December 2015,  it was certain that the couple was dating when they started posting their lovey-dovey pictures in their social media.
The duo went for a 'Star Wars' movie date in January 2, 2016. Seems like they wanted to spend and know each other closely and they made the start with the new year.
In October 2016, Tucker and Caitlin attended the wedding ceremony of Kevin MacCarthy (founder of Nerd Tears). Tucker posted the group photo from the wedding on his Facebook.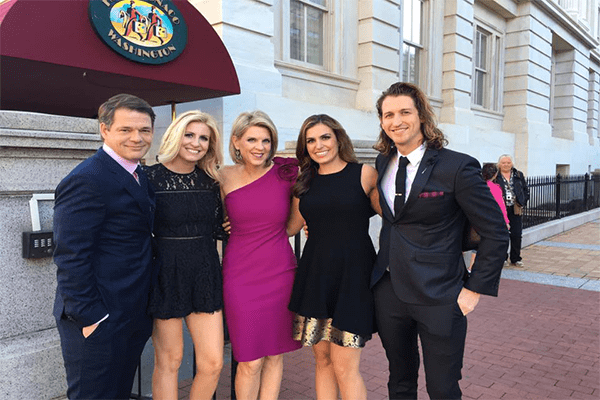 Tucker and Caitlin group photo in their friend Kevin's wedding. Image source: Facebook
They went to watch baseball matches, have dinner at Leukemia Ball, DC, went for skyline drive, rode on DC streets, spent holidays at the beach, celebrated each other's birthday, had multiple date nights.
And finally on February 14, 2017, the sweethearts posted their picture of kissing each other with caption, 'My Valentine.'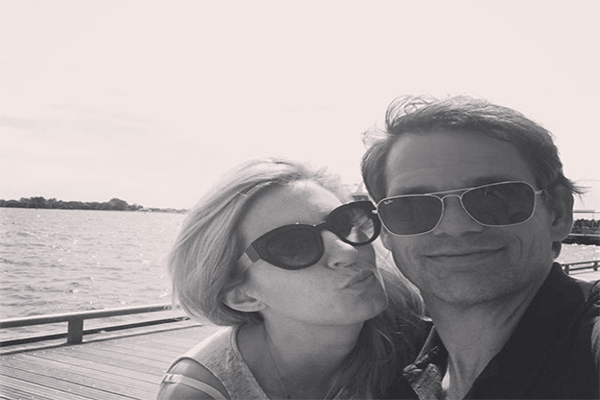 Meteorologist Caitlin wishing her man on social media captioning Happy Birthday to my favorite human. Image source: Instagram 
Then ,Caitlin Roth and Tucker Barnes was everywhere in Social Media officially as girlfriend and boyfriend. Soon there were queries if Tucker Barnes married Roth? Or when is the duo planning for their wedding?
Also Read: Net worth and salary of Caitlin Roth in 2018
And the speculations came forward when they were seen with each other every time, in every event and in each other's home. They spent thanksgiving together with a turkey and Christmas too. The picture hints they are celebrating together at home.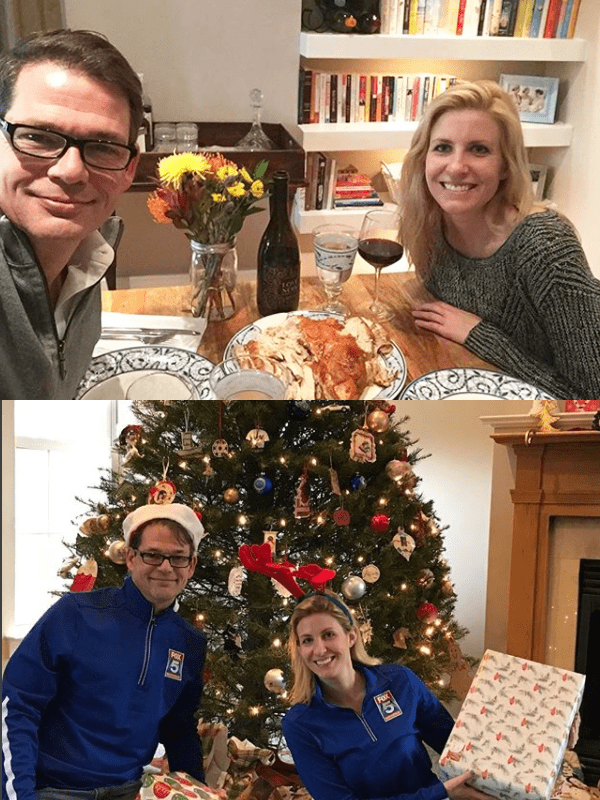 The couple Barnes and Roth spend Thanksgiving and Christmas together at home.
Now, it can also be assumed that the duo is in living relationship as they are seen together at home.
The couple then gave possible marriage signal when they have been traveling to different places together and collecting memories.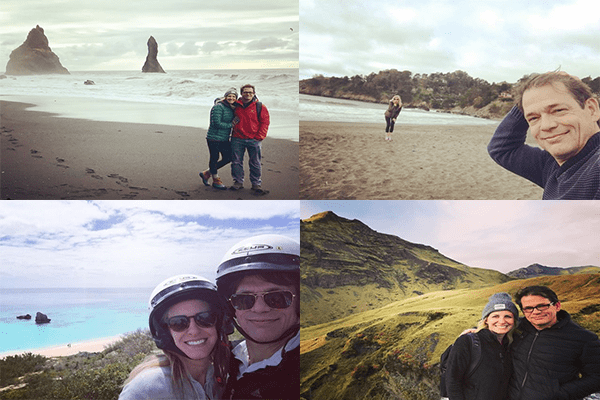 The couple Barnes and Roth spend Thanksgiving and Christmas together at home.
In one of the picture, Caitlin's friend had asked her to send honeymoon details and also suggest her( the friend) perfect destination for honeymoon. Now this signals that the sweethearts have taken their relationship to next level. They have also met each other's family.
But, since they have been open about their relationship in social media, from going on a date to being valentine. Why would they keep their marriage a secret?
Even if Tucker Barnes married Caitlin Roth privately, the duo is expected and certain to post their wedding pictures dressed as bride and groom in their love site, i.e their Instagram. So, let's not come to a conclusion soon!
For more Entertainment, Stay tuned with SuperbHub