The American reality TV personality, Toya Wright gave birth to her new daughter, Reign Ryan Rushing on the 8th of February, 2018. Toya Wright welcomed her new daughter with her baby father Robert "Red" Rushing.
Toya Wright also has a daughter before named Reginae Carter from her former boyfriend, Lil Wayne. Reginae is now 19 years old and was delighted with the arrival of her new sister Reign.  The news of Toya's pregnancy rumored in media since a long period but Toya confirmed about her baby only in September 2017.
Baby Shower Ceremony
The newly born Reign Ryan was already a little star while she was in her mother's womb. Everyone was curious regarding who is the father of Toya's upcoming baby. Later on, Toya revealed the name of her soulmate only after the baby shower of her adorable daughter Reign Ryan. She officially announced about her boyfriend Robert "Red" Rushing who is the owner of 2 Commas Clothing brand and a sports manager.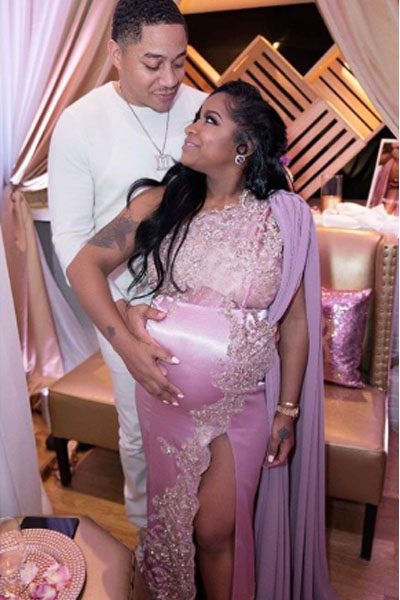 Toya Wright and Her New Boyfriend Robert Red Rushing posing with the baby bump at Baby shower party. Image Source: Toya Wright/Instagram
Toya celebrated her baby shower with the grand ceremony in presence several relatives and friends. She filled her Instagram feed with colorful photos of the event and shared it with the entire world. Toya looked super cute with her baby bump posing with her boyfriend Robert and elder daughter Reginae Carter.
View this post on Instagram
Meaning of Reign Ryan Rushing's name
The Reality star and author, Toya Wright, welcomed her daughter like a princess. Her name Reign holds the royal meaning, 'be the monarch, be queen, or sit on the throne.' No doubt the little Reign Ryan Rushing looks like a royal one with the life full of luxuries. The super cute baby Reign rarely started to walk on her feet and is already an owner of a little Mercedes-Benz SUV which is a fit for her size.
View this post on Instagram
The High-born child, Reign Ryan Rushing already has her own Instagram Profile with more than 240k followers to date. Her massive followers are the proof of her popularity among peoples at this infant age. No doubt, every mother dreams to give their kids a lavish life as Reign's living now. Reign was weighted 7 pounds 7 ounces at the time of birth and her mother Toya shared the pic of Reign's soft feet on social media profile.
SuperbHub for News and Entertainment