Television journalist, Tom Brokaw is the only person who has hosted the three main shows of NBC News  The Today Show, NBC Nightly News, and, Meet the Press. He is best recognised for being an anchor and editor of the NBC Nightly News for long 22 years from 1992-2004.
Apart from journalism, he has authored several books including Can we get Along, Life with father, The greatest generation speaks, A Lucky Life Interrupted, A long way from Home and many more.
Such a dynamic personality, at the age of 73, had to suffer from a deadly disease, Multiple myelomas, blood cancer.
Tom Brokaw's Cancer: Diagnosis of Multiple myelomas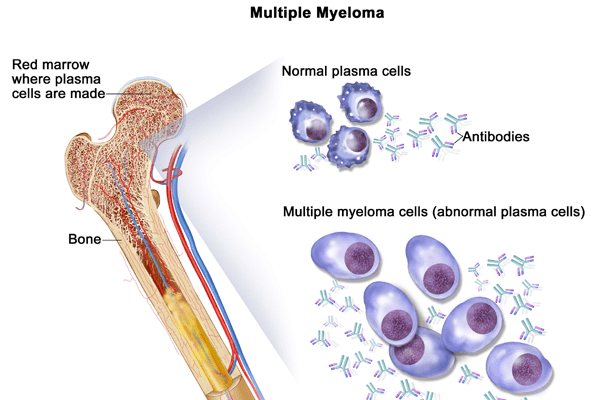 Source: National Cancer Institute
Tom Brokaw's cancer symptom couldn't be diagnosed at first.
In August 2013, Tom woke up early in the morning and felt very discomfort and unbalanced. Initially, he thought it was simply because of dehydration, so he took a cold shower and drank water but it made the matter worst, he could barely walk.
Tom went to the local hospital and did CT scan and MRI, where he was confirmed that he wasn't having a stroke and his heart was fine. However, the symptoms were very strange, no doctors had clue about the disease Brokaw was going through.
Dr. Andrew Majka, a haematologist, however, had some doubts about Tom's health. She took his blood and did some test on it and found that Tom has malignancy which is also Multiple myelomas (a rare form of blood cancer) according to NBC News.
During his treatment, Tom authored a book called A Lucky life interrupted which became the bestseller in New York Times. He learned cancer not only affects a person but the whole family. He also learned the huge difference of having good support. The book is to advise the families how to deal with such disease.
Tom's daughter Jennifer Brokaw who is an emergency room physician in San Francisco has become invaluable during his fight against cancer. Watch the video of Tom Brokaw's cancer experience, where he openly talked about his disease in media.
WBC (White Blood Cell) plays a very important role in our immune system. Multiple myelomas are cancer of plasma cells, a plasma cell is a type of white blood cell in the bone marrow. If a person has a cancer of plasma cell, his plasma cells multiples and becomes cancerous.

Cancer bringing Cancer patients together
Tom Brokaw's cancer brought many friends close to him.
Tom shared his experience of how the disease, Multiple myelomas brought the cancer patients together. Tom became even close with a family friend who had gastric cancer. His condition was however very serious and they worked together on a project of common interest via email. The friend couldn't survive and his last message was,
"I'm up to 17% oxygen without the tank."
Tom then learnt his another friend had multiple myeloma too. They were going through similar treatment but his friend suffered a stroke. She didn't recover. Saddened by her death, another question raised in Tom's mind;
"Do I now have to worry about a stroke?"
Tom learnt that multiple myeloma is common among people of his age. So, he came in contact with many people. Tom became email friend with a Southeastern college athletic director and compares notes on side effects of cancer, drugs, treatments.
To his surprise and better news, a man of his age who came into his contact recently said that he had multiple myelomas since 2002 and he is doing well still now. A great hope indeed!
Also Read: Tom Brokaw's net worth and Earnings from Bookselling
Tom's experience in treating incurable Cancer
Tom has learned to live with cancer. He still lives a busy life with normal activities like swimming, biking, bird-hunting, fly-fishing but in a different and new way.
He says the only reason for treating his cancer was his family. He said he is in more love with his wife Meredith Lynn Auld. He feels he has a deepened relationship with her after cancer experience.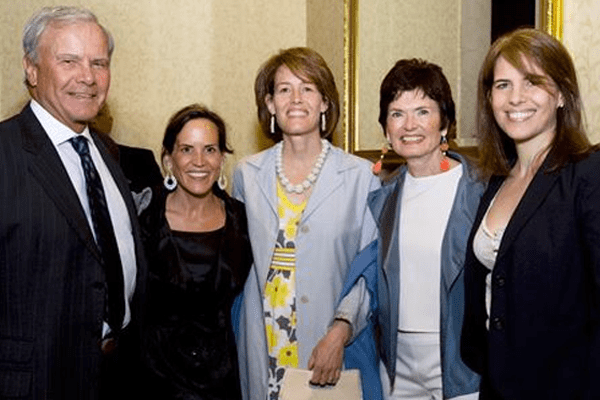 Tom Brokaw's cancer was treatable due to his loving family of wife and daughters.
Source: Gen Connect
He says he is blessed with a good family who is caring and very compassionate. But, he never wanted pity care nor he wanted headlines on the news about his disease.
The maximum lifespan of a person detected with Multiple myelomas is five years. After three years of continuous chemotherapy, Tom says the disease hasn't taken his life yet but he paid three inches of his height. He had to undergo a spinal operation. He uses bone supplements and drugs to prevent respiratory infection according to Sunday Review.
Even after being detected by the disease, Tom never thought of dying. Fighting against cancer was like a full-time job, he has to have 24 pills a day, with a very expensive cost of $500 a dose.
Tom says he had very good doctors by his side. He suggests learning to manage own is difficult and other patients are not fortunate like him. Tom advises the cancer patient to find a friend who is a doctor, they will guide you through everything. He added always be more focused on being well not on getting worst.
Diets to include when dealing with myeloma
Diet is the major thing to improve any disease. You should include healthy diet for proper nutrition. Proper nutrition cure illness but also, it prevents the side effects of treatment which makes hard to have an appetite.
Green foods and high fibre foods should be added to your diet to prevent the side effects from the treatment. However, raw fruits are not recommended as it can the cause of infections especially if you are a myeloma patient.
Stay tuned with SuperbHub for more Entertainment and Celebrity News.