Tessy Antony, the princess of Luxembourg has been in the news of late. She has caught the attention of the entire media after her divorce settlement with Prince Louis of Luxembourg reached court. Princess Tessy is fighting in court to keep her real name as well as get, in her eyes, a fair share of Prince Louis' wealth.
With the name Tessy always echoing around the tabloids and other media sources, people are keen to know about the Princess of Luxembourg. Here we'll give you everything you need to know about the 32-year-old Tessy, who has become one of the most talked royal family members in the world.
1) She Was Previously In The Army
Before she was the princess of Luxembourg, Tessy was a member of the Luxembourg Army. In 2002, she enrolled in the Luxembourg army at the age of 18. She eventually rose to the rank of Corporal.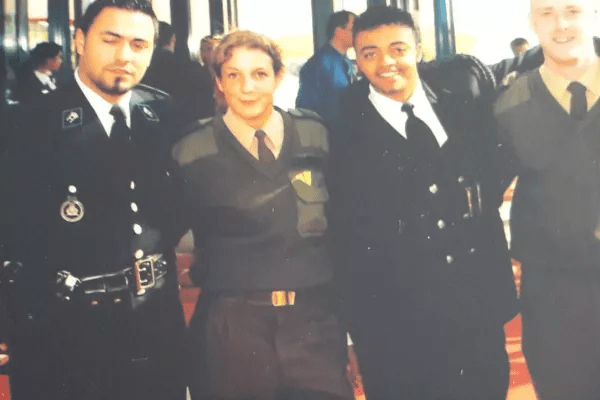 Tessy Antony was in the army, Image source: Royal Central
During her tenure in the army, Tessy served in many missions over the years. She participated in a mission in  Yugoslavia as a Sgt Icl Chauffeur C2. She also served in the KFOR in Mitrovica as well as in the peacekeeping force in Kosovo. She has established herself as a veteran of the army force.
During her time in the army,  Tessy was a subject of attempted abuse. While in a US peace-keeping mission in Kosovo, she was the only women in the group and was tried to be abused by the rest. But she recalls that she was able to defend herself against the advances of others.
2) Marriage to Prince Louis of Luxembourg
The former army member Tessy's fortunes changed pretty soon as she became a princess of Luxembourg after marrying Prince Louis, son of Henri, Grand Duke of Luxembourg.
Louis and Tessy first met when Louis was visiting the army. The two started seeing each other soon after. Louis and Tessy gave birth to their first child, a boy, on 12 March 2006. The boy was named Gabriel Michael Louis Ronny de Nassau.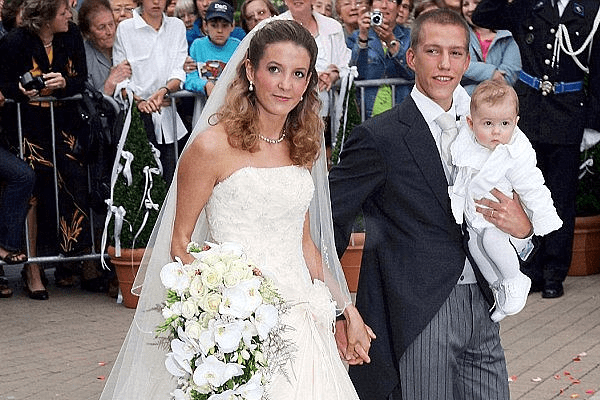 Prince Louis and Princess Tessa at their wedding with their son, Image source: Daily Mail
Prince Louis and Tessy got married on 29 September 2006 at a church located in Gilsdorf. They gave birth to their second child, also a son, on 21 September 2007 and was named Noah Etienne Guillaume Gabriel  Matthias Xavier de Nassau.
On 23 June 2009, on the National Day of Luxembourg, Tessy was granted the title of princess with the style Her Royal Highness. Her sons were also granted the title of Prince and the style Royal Highness, and to her possible future children as well.  In 2012, Princess Tessy was also handed the Order of Civil and Military Merit of Adolph of Nassau.
3) Divorce and Court Case
It was announced by the Luxembourg royal family on 18th January 2017 that Prince Louis and Princess Tessy had decided to divorce each other. It was also announced that Tessy would be stripped of all her titles and any connection to the royal family.'
But Tessy wasn't willing to give up her title and also wanted a fair sum of money as part of the divorce settlement. When it was not granted to her, she took the case to court, that too a special court located in London.
Details of the case have not been revealed as per court orders, but if Tessy wins the court case, she could receive as many as $200 million dollars. The media termed Tessy a gold-digger due to her demands in court. However, Tessy believes what she's asking is a fair sum of money as part of the divorce.
For more News, Biography, and Entertainment visit SuperbHub.