Steve Irwin's daughter Bindi Irwin is in a relationship with her boyfriend Chandler Powell. At the time of Steve's tragic death in 2006, his daughter Bindi was just 8 years old. Now after almost 13 years, she continues the legacy of her father as she works with wildlife in Australia along with her mother, brother, and boyfriend.
Steve Irwin was an Australian zookeeper, Television Personality, and conservationist. He is famous as "The Crocodile Hunter" which is his nickname. He was married to Terri Raines and had two children. After his demise, his family is carrying his legacy and Bindi Irwin's boyfriend Chandler has joined the zoo too.
Bindi Irwin Is Dating Chandler Powell
The gorgeous Bindi Irwin first met Chandler Powell in an Australia zoo. Powell was a professional wakeboarder who was visiting Australia from Florida. He was visiting the zoo where Bindi happened to be giving tours. From that day, the couple has been together. They are so much in love with each other and happy together.
Bindi Irwin is in a relationship with her boyfriend Chandler Powell. Picture Source: Daily Mail.
The adorable pair of Bindi Irwin and Chandler Powell are reportedly engaged. They had a secret family party to celebrate the imminent nuptials. As of now, the couple is living together at the Irwin's family's famous 100-acre property.
Bindi Irwin And Chandler Powell Relationship Approval
Chandler Powell loves wildlife and conservation so he decided to move in with his alleged fiance. According to Bindi's mother Terri, she hasn't heard Chandler swearing and doesn't even drink which is just awesome. Well, Chandler is the kind of man that every mother hopes for your daughter.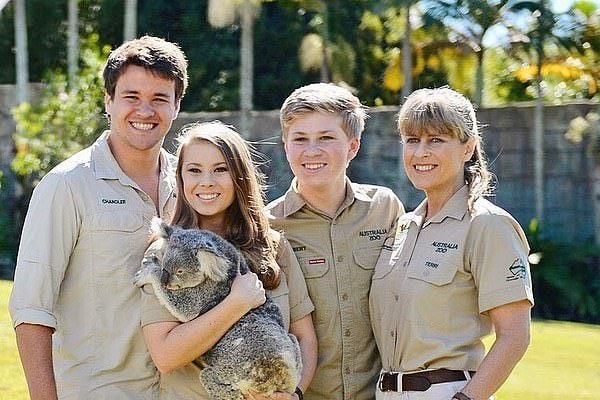 Bindi Irwin along with mother, brother, and boyfriend Chandler. Picture Source: Daily Mail.
Bindi's younger brother also made a test on him. Once when Chandler was visiting the zoo, he set up a test just to see what would happen. They had him feed alligators and Chandler did awesomely good. "I'm very impressed. He is great with wildlife so I approve." Bindi's brother Robert Irwin said. As for Robert, he himself is in an alleged relationship with Tess Poyner.
It seems everyone is happy with Bindi Irwin and Chandler Powell's relationship. So many people are eagerly waiting for their marriage.
Keep Connected with SuperbHub for more News, Entertainment and Biography.