Being a celebrity is tough, especially when the media is behind them all the time monitoring their day to day activities. Their dating life may see gradual involvement of expectations and some hypothetical theories based on various individuals as well.
There have been some speculations about Steve Irwin's son Robert Irwin, that he is in an alleged relationship with his rumored girlfriend Tess Poyner, a wildlife enthusiast, and nature photographer.
The rumored young couple is speculated to have come to know each other in August 2018 at the Australian Geographic Nature Photographer of the Year Awards in Adelaide. And according to Woman's Day, Irwin invited Poyner, the next month, to stay with him at the Australia Zoo.
There was an adorable photo of the two that was on Instagram, posted by Poyner, leading to the speculation that the duo was in a loving relationship.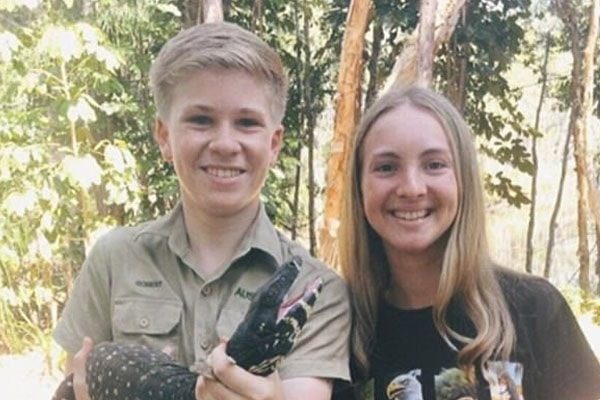 Rober Irwin's alleged girlfriend Tess Poyner had shared a cute photo of the duo together. Image Source: Tess' Instagram.
The caption of the picture included:
"I had so much fun with the best photographer, herper [an amphibian and reptile searcher] and buggy driver on the planet, @robertirwinphotography Thank you so much for such an amazing week."
The reply by Irwin was:
"Thank you so much for such an awesome adventure. I had a great time!"
The picture sparkled interests from various sources, but a rep for Australia Zoo told TheFIX, "This is just the rumor mill, definitely not real."
Several fans seemed hopeful for Robert Irwin and Tess Poyner to bond and to be permanent. Well, this is to be expected once your picture is the center of attention for the entire world!
There were comments on the picture praising how good the two of them looked together.
"Awww I see a crush," was one of the comments on an Instagram photo shared by Irwin.
"You'd be cute together," commented another hopeful spectator.
There are a lot of speculations that follow both Irwin and Poyner being in a relationship. But there is no concrete proof that they actually are. Who knows how the speculation may affect the duo and how they turn out to be in the future?
Plus going through both of their Instagram accounts, it looks like they are quite busy enjoying their life.
View this post on Instagram
But if Steve Irwin's son Robert Irwin and his alleged partner Tess Poyner are dating, then we must give the young pair props for hiding it from the media.
For More Entertainment, News, Biography Keep in Touch With SuperbHub.