Corey Taylor, Stephanie Luby's estranged husband, married twice in his life. After leaving two beautiful wives, Corey is again in another relationship. The Estranged husband of Stephanie is currently dating a member of Cherry Bombs and a professional dancer Alicia Dove.
Corey married Stephanie Luby on November 13, 2009, and separated after seven years in early 2017. In the present, the member of Slipknot Corey has gone public with his girlfriend, Alicia Dove.
Stephanie Luby's estranged husband, Corey Taylor dating
The frontman of Slipknot and Stone Sour Corey revealed his separation from his long-time ex-wife Stephanie and beginning of a new relation from his Twitter page. On December 29, 2017, Corey confirmed that he is dating another woman.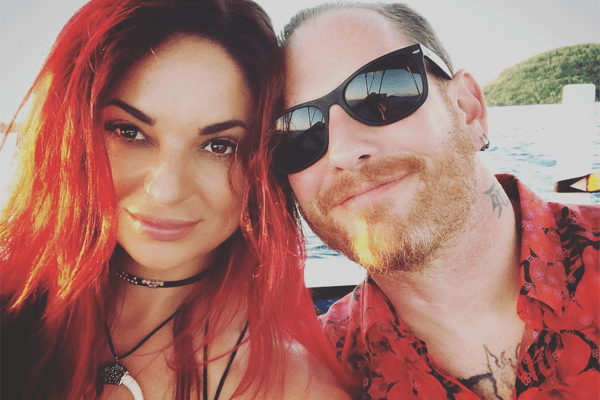 Corey Taylor, Stephanie Luby's estranged husband is dating dancer Alicia Dove. Photo Source: Instagram/ Corey Taylor
The rumor of Corey dating a dancer Alicia Dove proved into a reality when the two went on a tour together. The news became stronger when Taylor posted a photo of Dove on his Instagram page with a romantic caption.
Following the post of Taylor, Dove also uploaded a shirtless picture of Taylor on her Instagram page with a caption filled with love for the Slipknot's frontman Taylor.
Corey is living a happy life with his girlfriend, Alicia. He hasn't revealed the reason for his separation from Stephanie Luby yet. Both Corey and Alicia have not stepped out to announce whether they will get married or continue their relationship the way it is.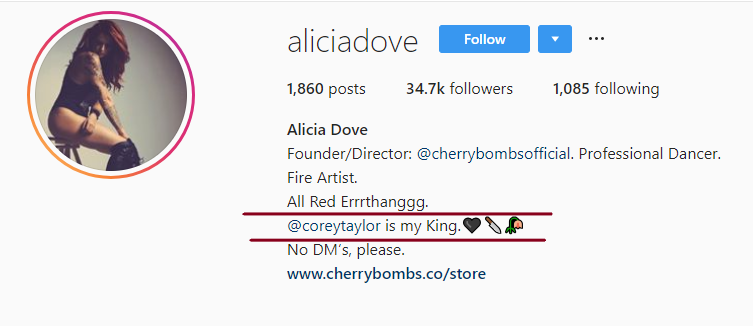 Alicia and Corey took their relationship to a new level by making a public appearance at the Kerrang Awards along with Corey's son Griffin. The duo has been public accepting their love and posting adorable pictures with poetic captions and sometimes a punch in the face to their haters.
Corey might ring his wedding bells again and marry his queen or his red world. On July 16 Corey's girlfriend Alicia had posted a picture with Corey and a cryptic caption stating "soon" which to decipher can mean either they are getting married or engaged.
Alicia Dove, Girlfriend of Corey Taylor
Alicia Dove is a professional dancer of an all-girl dance group named Cherry Bombs. Besides being the dancer, she is founder/director of Cherry Bombs and a fire Artist.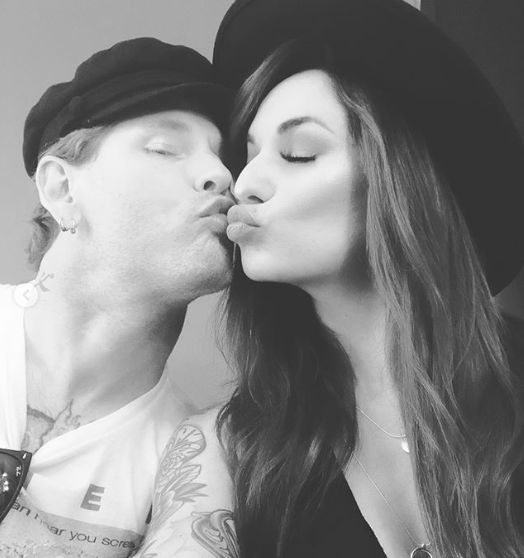 Corey Taylor Locking Lips with his girlfriend Alicia Dove.
Image Source: Instagram
Dove is active on Twitter and Instagram where she uploads photos with her boyfriend Corey frequently. Alicia's Instagram page is filled with pictures of her artistic fire performances and other stage performances.
Visit SuperbHub for more News and Entertainment.