Ski Mask The Slump God, born as Stokeley Clevon Goulbourne, is an American rapper and songwriter who rose to fame alongside rapper XXXTentacion.
Alongside 5.1 million followers on Instagram and rising on Billboard every year, Ski Mask has enjoyed a thriving career. But the real question people would want to know if he's dating someone, and if yes, who?
Hence, here we have tried and collect all the information about Ski Mask The Slump God's girlfriend and her whereabouts. Thus, enjoy.
Who Is Ski Mask the Slump God's Girlfriend?
Frankly, no one. Ski Mask the Slump God is possibly not dating anyone else at the moment. However, he has been very private about his personal life, and thus, his love life is also protected.
Also, as mentioned earlier, the 25-year-old rapper has amassed 5.1 million followers on his Instagram but has only uploaded a total of 8 posts and a few highlights.
All of the Slump God's Insta posts are purely professional and his selfies. Therefore, to think Slump God's girlfriend will surface anytime soon, we might be anticipating more here.
Ski Mask The Slump God Is In Relationship With His Work
Anyone might agree on how good Ski Mask's songs are and his undeniable dedication to making music. Hence, we might as well confirm that Ski Mask The Slump God is in a romantic relationship with his music and career.
Furthermore, Slump God's debut in the music industry was rather unusual. He was previously held in a juvenile detention center for around $10 worth of weed, where he met late rapper XXXTentacion.
As a result, the pair formed a rap group, "Very Rare," and released their first song, "Catch Me," on SoundCloud. Alongside the group, Ski Mask, aka Stokeley Goulbourne, also released several singles on the streaming platform, including Catch Me Outside, Stunt; Life is Short, Baby Wipe, etc.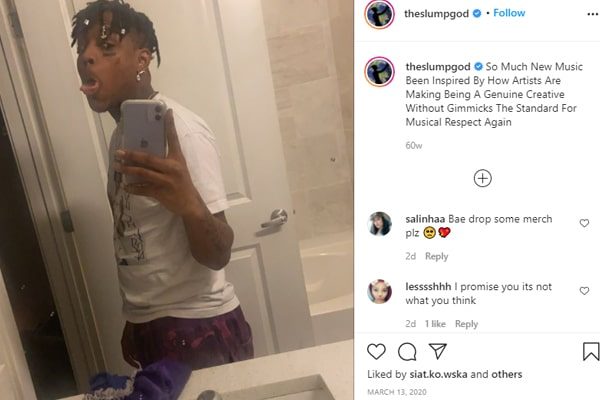 Ski Mask is currently dating his career. Image Source: Stokeley's Instagram. 
Also, Ski Mask's songs featured some of the prominent names in the current rap world, including Lil Pump, UnoTheActivist, etc. Some other artists he has worked with are Offset, Lil Yachty, Desiigner, Denzel Curry, etc. Additionally, he has also worked in collaboration with artists from the 88Rising laver, including Keith Ape. Besides, he also got an opportunity to work with his favorite producer, Timbaland.
Moreover, he also used the instrumental of Missy Elliott's 'She's a B*tch' for his song, Catch Me Outside. Also, Elliott praised his rendition via Twitter which was eventually certified Gold. Some other Gold-certified songs include Take a Step Back from his mixtape, Drown in Designer.
Ski Mask has also released a single, Burn the Hoods, in July 2020, and stated that he plans to release more music via his Instagram. Thus, it wouldn't sound unfair to say that Ski is in a committed relationship with his profession.
Ski Mask The Slump God Had To Go Through Rough Heartbreaks
Every man is tested in their lifetime and goes through heartbreaks. Stokeley was not spared either. In fact, he had two significant heartbreaks as he lost two of his best friends.
Although we do not know much about Ski Mask The Slump God's romance, words of his bromance with late rappers XXXTetacion and Juice Wrld have spread widely.
Aforementioned, Ski and XXXTentacion first met in juvenile detention, and both started rapping together. Although they'd parted ways in 2017, Goulbourne and Tentacion reunited in 2018. Sadly, on June 18, 2018, his friend was fatally shot. Sadder is that Ski Mask learned of XXXTentacion's death while on Instagram Live.
View this post on Instagram
A year after XXXTentacion's death, Ski Mask's other fellow rapper mate, Juice Wrld, died from an opioid-induced seizure on December 8, 2019.
Naturally, the death of Ski Mask The Slump God's two best friends' death had a significant impact on him. Moreover, following XXXTentacion's sad demise, Goulbourne honored him several times during his concerts.
Later, after losing Juice Wrld, Ski Mask vowed to honor his fallen friends while advocating for mental health.
In conclusion, Ski Mask The Slump God's girlfriend is nowhere to be found, and there are countless click baits on the Internet, but he's never addressed his love life. Despite privacy, we know he is one of the most loyal friends and a kind human being. And any person would be fortunate to have Ski as their partner.
Don't Miss To Follow SuperbHub For More Updates On Celebrity Entertainment, Biography, and News.