Known for movies like Gone Girl and Jack Reacher, the English actress, Rosamund Pike has an estimated Net worth of $9.5 million. Making her screen debut from the movie A Rather English Marriage in 1998, Pike has made a great fortune out of her acting career.
Rosamund Mary Ellen Pike or just known as Rosamund Pike has played numerous movies (over 30) including television series from which Pike has earned a massive sum of money. The income she received has added to her net worth making her one of the prominent actresses in the industry.
Rosamund Pike Net Worth and Earnings
The Gone Girl star, Rosamund Pike is worth an estimated amount of $9.5 million. The movies Rosamund Pike has played have been able to collect significant money in the box office which has helped Pike to increase her bank balance.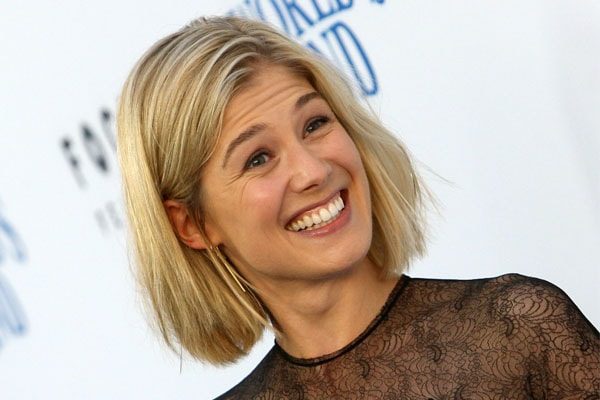 Rosamund Pike has earned a considerable sum of money in her film career. Image Source: The Hollywood Gossip
Gone Girl and Die Another Day are the movies that were able to hit over a $100 million. While Die Another Day was able to collect $160,942,139, Gone Girl made $167,767,189 in the box office. These movies can be credited for Rosamund Pike's huge income.
Pike's other movies also cannot be ignored as they have done a spectacular job collecting well over millions of dollars. Some of her other high earning movies are Hostiles, The World's End, Jack Reacher, Wrath of the Titans, Johnny English Reborn, Surrogates, Fracture, Pride and Prejudice, and Doom.

These movies collectively were able to collect well over $380 million.
Born in Hammersmith, London, England, Pike got to travel all over Europe as her parents, Caroline Friend and Julian Pike were concert musicians.
During the time span between the late 90s and early 2000s, Pike's career tangled between movies and television roles. Rosamund Pike appeared in the television projects such as Wives and Daughters, Trial and Retribution, Love in a Cold Climate, and Foyle's War.
View this post on Instagram
Rosamund Pike had also already acted in various plays when she was in college. Pike has developed her extraordinary and exceptional talent from her college days. This helped a lot to build her career as an actress, ultimately making her earn millions of dollars.
Although Rosamund Pike might not make it to the top richest actresses, for instance, Angelina Jolie, who make hundreds and millions of dollars, Pike had made enough fortune for herself that has helped her place a good position in the film industry.
Since 2009, Rosamund Pike is involved in a long-term relationship with English businessman and mathematics researcher, Robie Uniacke. Pike has mentioned in an interview that her partner, Robie has helped her a lot in her career.
View this post on Instagram
Robie Uniacke has assisted Rosamund Pike a lot to focus on her career. The credit of Pike's earnings goes to her long-term partner, Uniacke as well.
Now, Rosamund Pike is one of the most versatile and prominent actresses in Hollywood. Undoubtedly, Pike will make more money in the coming days due to her incredible talent.
For more News and Entertainment: SuperbHub