Published Date 15th Mar. 2018, 16:37 pm
Famous stand-up comedian, Rodney Carrington married his love, Terri Shae in 1993 after dating for many years. After marriage, the couple were together for long 19 years.
In 2012, all of a sudden, the couple took a decision to end their relationship at Oklahoma. However, the cause of their split is still a mystery as Rodney feels he has always done his best. He doesn't know the reason why Terri made the decision to divorce him.
Rodney Carrington's divorce with Terri
Rodney was completely scattered because he was so committed to Terri and his kids. He never thought that he will have to be separate from her one day. He tried his level best to save their relationship but unfortunately, he was unsuccessful. Rodney had always been a great dad to his three sons too.
Back in 2007, before Rodney Carrington's divorce, he had even left his own TV sitcom, Rodney with co-actor Jennifer Aspen because he didn't want to stay away from his family.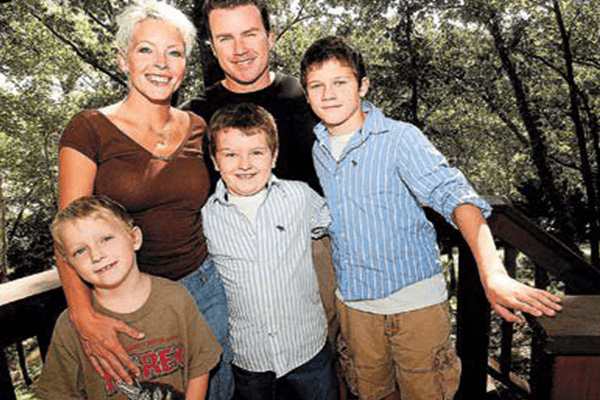 Happily Married: Rodney Carrington with his wife and three sons before divorce. 
Image source: Tulsa World
He said;
"I missed home. During the two years away from home, was a pretty good struggle for me keeping things together. Because I was out for three to four weeks a month while my wife and kids had to stay home."
He added praising his sons to be good boys;
Kids of today know more than you think they do. Specially with internet and 500 TV channels. There were only three channels when I was little. Having said this, my boys go to church on Sunday. They are good boys.
In an interview, Rodney spoke about the effort he made to save their marriage. He said, he was doing each and everything but Terri said she is leaving. He added, if their relationship didn't work then he doesn't know which relation will work for his ex-wife.
Rodney had also said, he was acting like a teenager for twelve months. He became so depressed that he gained 20 pounds during that time. Rodney Carrington's divorce however inspired Rodney to discover a new perspective on life.
Even after many years of divorce, there are still no rumours of Rodney's relationship and affairs so far. He seems to be single and not ready to mingle yet.
After long time, however, Rodney Carrington appeared in the Bob & Tom Show in April 2017. There he explained he is doing good, have lost about 30 pounds and is over all the past divorce stuffs.
He explains the benefits of being single like you don't need a plate but just a fork when you are living alone. Hilariously, he mentions he prefers to date big girls because they have a lot of energies.

Rodney and ex-wife Terri on Half Parenting
After many years of Rodney Carrington's divorce with ex-spouse Terri, they have maintained to be in a friendly relationship for the sake of there three sons; Sam Carrington, Zac Carrington, and George Carrington. Currently, the couple doesn't conversate much with each other.
After Rodney's divorce with Terri, the couple gets halftime to be with their sons.
For them, this might be the only reason to be in contact with each other. Rodney might have also provided spousal support to his ex-wife Terri Shae, the exact figures of which is not clear.
Whatever the case be in the past, Rodney gets to spend time with his sons and goes for vacation with them. His sons are cool and funny like him. Watch out the cool video of the father and sons on vacation, singing, dancing on the boat.
Mini Bios of ex-couple
American comedian Rodney Carrington was born on October 19, 1968. Rodney was active in his career since the beginning. He is an American comedian. Not only as a comedian, he is also a country artist who has released many albums of his own. Most of his album are RIAA gold certified for being the best seller in 2000.
Talking about Rodney's acting career. He has made an appearance in an American sitcom Rodney where he was seen romancing on set with his ex-wife Terri. He also has appeared in the movie Beer for My Horses of 2008. Rodney Carrington's Net Worth is estimated to be $6 million.
Born on 18th November 1970, in America, Terri is a speech-language pathologist. The ex-wife of Rodney Terri got her graduation from the University of Central Oklahoma. Terri worked at Captioncall, Senior Suites after her graduation. Currently, she lives in Oklahoma and she is active on social media.
For more Entertainment, stay tuned with SuperbHub.