Cody Orlove and Zoe LaVerne have been in a relationship since 2017. Cody and Zoe both are famous musers in Musical.ly, a social network app for live broadcasting and video creation.
Muser Cody is also a famous Instagram personality who got extra fame on YouNow too. Whereas Cody Orlove's girlfriend is a Musical.ly sensation who has over 3 million fans on the app.
The lovely couple of Cody Orlove and Zoe LaVerne run a joint YouTube account under their name, "Cody & Zoe". Their fans love to call them "Zody".
How Cody Orlove and Zoe LaVerne met?
The adorable pair of Cody and Zoe met with the help of the Musical.ly app. It was at that moment when Cody was about to reach 100K fans. Zoe commented on Cody's post hoping that he'll reach 100K fans soon and he deserves it.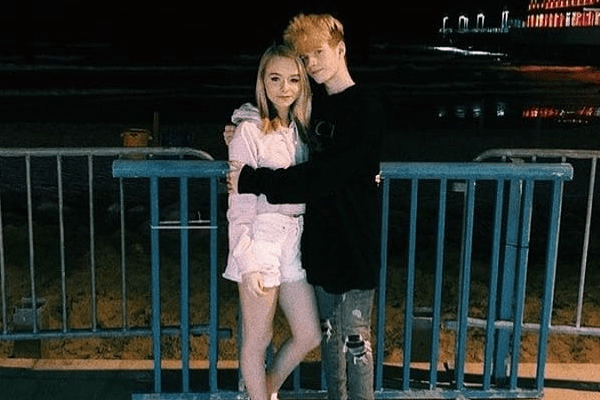 The lovely couple of muser Zoe LaVrene and Cody Orlove.
Photo Souce: Cody's Instagram.
Then Cody followed his about to be girlfriend Zoe on Musical.ly. The following day, Zoe added her to be boyfriend on Snapchat and immediately without leaving a single moment Cody added her back.
The pair kind of clicked at that very moment.
According to a video, Cody & Zoe uploaded and after viewing it we can presume that Zoe made the first move by giving her number to boyfriend Cody.
After that, the pair continuously kept on chatting with one another. A month later they decided to meet one another.
They live 4 hours apart, Zoe lives in Indiana and her boyfriend Cody lives in Chicago, a long distance relationship.
The couple wanted to keep it a private relationship but later on, decided to announce it amongst their fans.
During a Q&A with their fans, Zoe stated that she liked her boyfriend's eyes and he is a very down to earth person. And Cody loves his girlfriend Zoe's smile and goofiness.
It hasn't even been a year of their lovely relationship, but they way Cody Orlove and Zoe LaVrene are together it seems like they have been together for decades.
There have not been any ups and downs in their relationship an is going pretty smoothly for the time being.
For more News and Entertainment follow SuperbHub.