The American born rapper, Mario Mims, also known as Yo Gotti, is one of the wealthiest rappers in the industry. Born on May 19, 1981, the rapper started his music career around in the age of 14. Yo Gotti's  Net worth is estimated to be $5 million.
Yo Gotti was born and raised in Memphis, Tennessee. He had a very rough childhood and lots of family issues. His mother and aunts were charged with a crime and sentenced to jail for 15 years. He is one of those hardcore rappers who came out of hip-hop's Dirty South School in the late '90s. Before building his musical catalog in the early 2000s, the rapper used to perform around Memphis in the '90s. Now, he owns a production company, called CMG, and does tours, which help him to make a lot of money.
Net Worth and Earnings
The American rapper, Yo Gotti's Net worth, as of 2018, is estimated to be around $5 million. His musical career made him earn this sum of money. The base of his cash is producing hit music and selling albums. The albums he produces manages to stay on top of the Billboard's chart and has helped the rapper earn millions of dollars. His album, The Art of Hustle was sold 45,000 copies in a week and made his first number 1 on Top R&B/Hip-Hop Albums, according to Nielsen Music.
Moreover, this American rapper is the owner of the Collective Music Group (CMG) which has helped him earn more money. The production company spends loads of money on the artists to create good music through which CMG ultimately makes a huge income.
Besides his albums and CMG, Yo Gotti receives a massive amount of money from several brand endorsements. Some of them include Childplay Clothing, Hood America, PRIVE Resturant, Pure Atlanta, and Louge and Rocksmith.
View this post on Instagram
Back in October 2017, the rich rapper got richer after he signed a deal with Puma. Gotti was selected as the brand ambassador of Puma.

The American rapper, Yo Gotti also makes huge money from the shows and concerts. The rapper is said to charge from $50,000 to $80,000 per show.
Yo Gotti's Lifestyle / $10 Million Mansion
The American rapper does not hesitate to show off the money he has earned. He spends tons of money on his jewelry. He also has a lavish lifestyle that ordinary people can only dream of.
He lives in his $10 million mansion in Memphis with his family. The house consists of 5 bedrooms and six bathrooms. It covers a large area and includes a swimming pool and enough space to park his luxurious supercars.
Cars Collection
The American rapper, Yo Gotti is a super fan of fast and exotic cars. He likes to invest his money in his cars and their customization. Some of his vehicles include Lamborghini, Bentley, Mustang, Porche, Rolls Royce, and many more.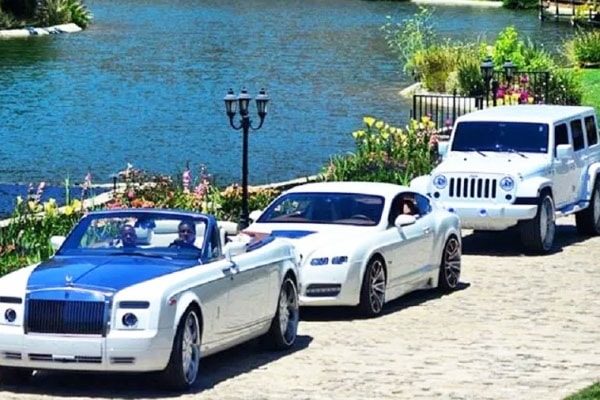 American rapper Yo Gotti shows off some of his cars collection.
Image Source: applestory
For more News and Entertainment: SuperbHub