The Bohemian Rhapsody lead actor, Rami Malek's Net worth is estimated to be $8.5 million. The American actor, Rami Malek has made this fortune out of his acting career and has earned a massive amount of money from the movies he has played.
Rami Malek, Sami Malek's brother was best known for his lead role as Elliot Alderson in the USA Network television series Mr. Robot until he slated the iconic rock singer and frontman of the band, Queen, Freddie Mercury in the movie Bohemian Rhapsody.
Rami Malek Net Worth and Earnings
Rami Malek, who is born to the Egyptian immigrant parents, has a net worth of $8.5 million. Rami Malek had collected a good sum into his accounts by playing in Mr. Robot series and other movies.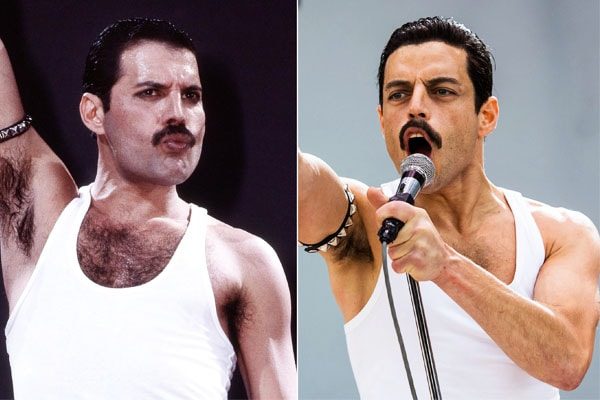 Rami Malek portraying the role of Freddie Mercury Bohemian Rhapsody. Image Source: People
The Bohemian Rhapsody's lead actor who portrayed Freddie Mercury made massive money out of it. The movie itself made an astounding amount of $608.7 million globally from which Rami Malek, the lead actor of the movie, was likely to make a good income out of it.
But Bohemian Rhapsody took his career to the next level and made him worth even more as Malek did a praiseworthy job in this movie.

The movie, Bohemian Rhapsody was able to attract thousands of people as it would showcase the life and details of the rock band, Queen, especially its lead singer, Freddie Mercury. Bohemian Rhapsody was the most awaited movie of 2018 because of which it was able to make hundreds of millions of dollars. Undoubtedly, Rami Malek would receive a large incentive from the movie.
Rami Malek Movie Awards
Rami Malek, without doubt, is one of the great actors of the industry. He has played in some of the greatest movies such as Bohemian Rhapsody, Mr. Robot series, Papillion, Night At The Museum, and The Twilight Saga: Breaking Dawn just to name a few.

In honour of his roles and talent, Rami Malek has been nominated in numerous awards for his role in Mr. Robot and Bohemian Rhapsody and even won many of them.
He won the Primetime Emmy Awards (2016), Critics Choice Television Awards (2016), Gold Derby Awards (2016), and Online Film & Television Asociation Award (2016) for his performance as the lead role in Mr. Robot.
Rami Malek did an outstanding job in Bohemian Rhapsody for which he received the Los Angeles Online Film Critics Society Awards (2018) as the best actor. Malek also received the North Texas Film Critics Association Award (2018), and Palm Springs International Film Festival Award (2018) for bringing it to life, the era of Freddie Mercury.
Rami Malek is also nominated for 2019 Golden Globe Award for his role in Bohemian Rhapsody as the Best Performance by an Actor in a Motion Picture – Drama.
All these awards Rami Malek has received has added to his worth. It has helped to increase Malek's value, which undoubtedly is going to multiply the financial status of Bohemian Rhapsody's star.
For more News and Entertainment: SuperbHub