The American beauty, Kate Upon is busy with her baseball pitcher husband, Justin Verlander on their pre-marriage plans. The super excited and happy couple, who have been engaged in 2016, are planning to party hard before tying the knot.
Plans and preparations have been set, not of the wedding but of the pre-wedding celebrations of the American power couple, Kate Upton, and Justin Verlander.  Verlander and Upton have revealed that they are set to get married at the 2017 Sundance Film festival. They are very chilled about their wedding but are super excited about their pre-wedding plans.
The Sports Illustrated Swimsuit model, Kate Upton was seen gracing the red carpet at the 2016 Me Gala. Unlike other times, this time the glance of the public was on her ring finger which donned a marvelous ring.
The couple has also bought a home together which is worth $5.25 million. Upton revealed that they will be getting married at the 2017 Sundance Film Festival in Park City, Utah. They, however have not revealed much about the wedding plans.
Upton began dating the Detroit Tigers baseball pitcher, Justin Verlander in 2011. The couple has been together since. Upon has been to many of his games and enjoys him play. After their engagement in 2016, the public has been excited for them.
Upton revealed in an interview on Live! With Kelly and Michael, that her favorite team is the New York Yankees, so while watching a game in Yankee Stadium while Verlander is playing, she cannot wear her Detroit Tiger's gear.
The couple is more focused on their pre-wedding preparations. While on a smooth talk for Golf Digest's The Gateway, Justin and Kate talk about Kate's driving and her first golf lesson. The web series, shows a new light at the couple's life, while they drive alongside the California coast in the 2017 BMW M760i xDrive.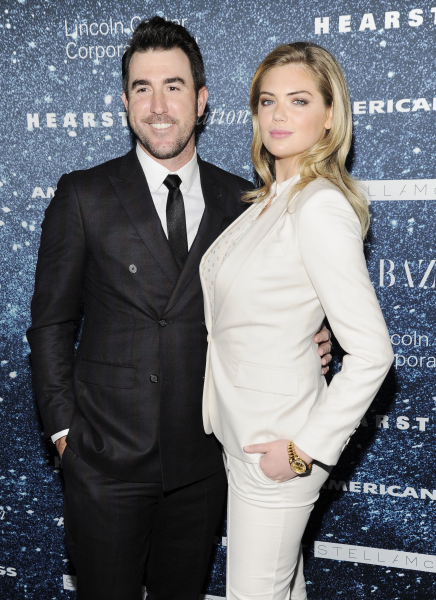 When in an interview with E! News, Upton said that she does not know much about the where and hows of the wedding. Justin furthermore added that they have got plans and that his "schedule is about to be ridiculously busy" before the wedding so they have plenty of time.
Upton and Verlander seem to be in so much love that they can't stop smiling while talking about each other. More power to the cute couple!