Patrick Dempsey and Jillian Fink married in 1999. The adorable couple has gone through thick and thin for two decades. Not many know this but Jillian was a fan of Patrick's work and he married a fan  of the show.
Though in January 2015 Patrick Dempsey announced the plans to get a divorce with his wife Jillian. But fortunately, the pair reconciled in May of that same year. Patrick and Jillian are a proud parent of three children, two sons named Darby Galen Dempsey and Sullivan Patrick Dempsey, and a daughter named Tallula Fyfe Dempsey.
Jillian Fink and Patrick Dempsey's Divorce
The Bridget Jones's Baby actor Patrick Dempsey announced his divorce with wife Jillian Fink in January 2015. The couple made a statement that their primary concern is the well-being of their children. They also said that privacy is necessary.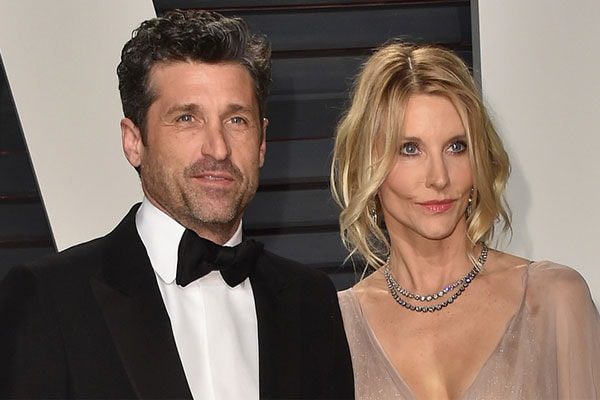 Actor Patrick Dempsey with his makeup artist wife Jillian Fink. Image Source: Hello Magazine.
The couple of Patrick and Jillian did not disclose the reason behind their willingness for separation. Fans were shocked as the couple was on the 15th year of their marriage. They were filled with speculation as to what tore them apart. Patrick Dempsey and his makeup artist wife Jillian Fink kept things private only to reconcile in May.
The amazing actor formerly known as McDreamy admitted that he never really gave up on the relationship. He stated that the couple was working on their marriage.
Patrick Dempsey and Jillian Fink's divorce was called off as the couple was working hard to get over their issues. Dempsey added that he and his wife wanted to be a role model for their children.
View this post on Instagram
Patrick Dempsey and his wife Jillian Fink brought the whole family to the premiere of Bridget Jones's Baby. Patrick Dempsey's wife Jillian stated that counseling played a huge part in paving the way for a new marital beginning.
The handsome actor Patrick Dempsey and his family at the premiere of Bridget Jones' Baby. Image Source: Pinterest.
 The actor mentioned that a lot of sex helped in avoiding their divorce. Patrick Dempsey was pulling back from his longtime hobby of car racing. He thought that it caused strife in the couple's marriage.
Patrick Dempsey claimed that his relationship with Jillian Fink and children is a priority. Dempsey also said that a person could do only one thing at a time.
After the devastating news of Patrick Dempsey and Jillian Fink's divorce lost its spark, the actor showed his appreciation and love towards his family in social media.