It seems that getting tattoos is all in trend now. Many people like to get tattoos just because they are cool. But there are some whose tattoos mean something special. There are many individuals with these kinds of tattoos, and of course, there are also celebrities.
Some celebrities just love tattoos and have quite a bit of them. But these tattoos all have some meaning to them. One of these tattoo loving celebrities is Power's Omari Hardwick, aka, James "Ghost" St. Patrick.
The actor is quite well known and so is his character. So, Let's find out about the only tattoo we see on the Power, along with all the other tattoos that he has in real life.
Number Of Tattoos
As stated prior, Omari Hardwick has several tattoos. While some people are satisfied with just one special tattoo, the same does not apply to Omari. The star must have several special moments, and each is represented by a majestic tattoo. But how many of these majestic tattoos does Omari have?
Back in 2016, the star had an interview with Latina. During this interview, he revealed that, at the time, he had 21 tattoos. But that was more than three years ago. The number of tattoos since then has also increased. And with Omari Hardwick's net worth of $5 million, he can get any design of tattoos he desires.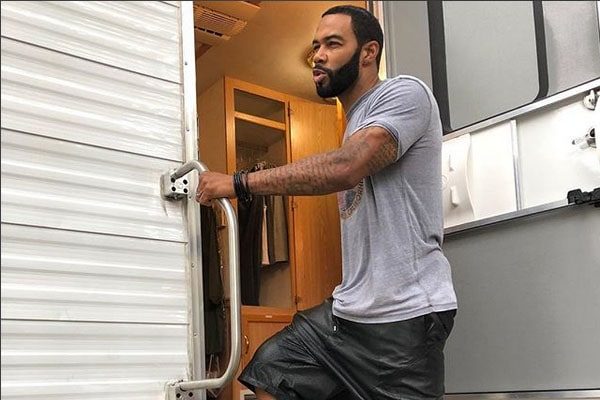 Star Omari Hardwick's tattoos easily outnumber 20. Image Source: Omari's Instagram.
In fact, Omari recently got another tattoo in 2019 by Joel MacDonald, with whom he has previously gotten tattoos done.
Meaning Behind Omari Hardwick's Tattoos
Aforementioned, most tattoos tend to have some kind of meaning behind them. The same can also be said for Omari's tattoos. Let's find out the meaning behind some of his well-known tattoos.
The Angel:
One of the tattoos that Omari is proud of is his Angel tattoo. This angel tattoo stretches over Omari's shoulder and his back. In fact, in the entire series of Power, this is the only tattoo that can be seen on the actor's body.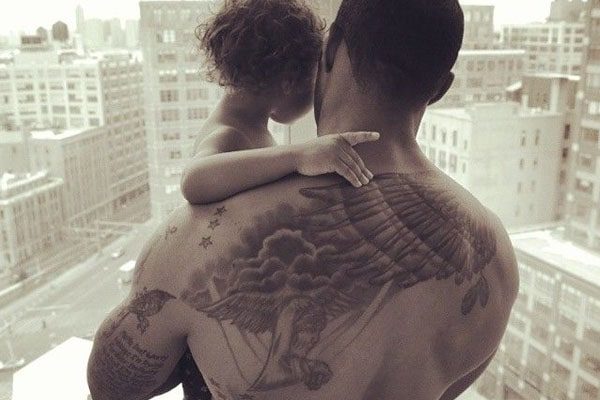 Omari Hardwick's angel tattoo is the only one seen in 'Power.' Image Source: Omari's Instagram.
The decision of not hiding this tattoo like the rest was also his own decision. He believed that the tattoo represented his character, James "Ghost" St. Patrick, and it was a decision that was and is loved by his fans.
The Lion:
One of Omari's favorite tattoos is the lion he has on his right arm. This is one of those special meaning tattoos that he got not too long after his son was born.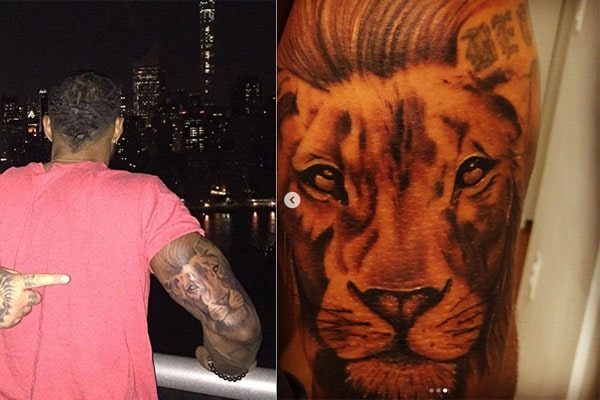 Omari got his lion tattoo sometime after his son was born. Image Source: Omari's Instagram, Joel's Instagram.
In his interview with Latina, Omari mentioned how the lion is the symbol of bravery. And so, it symbolizes his son, who is also named Brave Hardwick, whom he had with his wife Jennifer Pfautch.
Chilly Boots:
On his left leg, Omari hides a tattoo of a tree with the words 'Chilly Boots.' For all those die-hard fans out there, this name might sound familiar. Yes, it is the name of one of the songs that were released in Omari's 2017 album Later Decatur.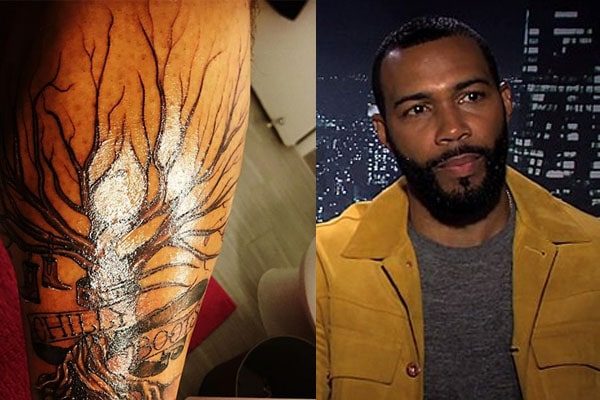 Omari Hardwick's Chilly Boots has a deeper meaning behind it. Image Source: Pinterest, Omari's Instagram.
This name too has a special meaning behind it and shares roots with Omari's grandparents. In his interview with Anthem Magazine, Omari reveals how one of his grandfathers calls him 'Chilly' while the other always gave him boots on Christmas. Because of this, Omari and his grandfather have a pun that they share; "Hey Omari. You got your boots."
These tattoos are all pretty close to the actor's heart and hold a special meaning. While Omari Hardwick's tattoos number is in the 20s, the number may increase as he makes new and precious memories.
Remember To Stay In Touch With Your Favorite SuperbHub For more Updates On News, Entertainment, and Biography.