As we know siblings are an exciting part of everyone's life as we share the same womb and grow up together. Besides the glamour and beauty, the former Miss Universe Olivia Culpo makes the unity along with her 4 siblings. The Beauty Queen has two older siblings, Peter and Aurora, and two younger, Gus and Sophie Culpo.
Olivia who won a Miss Universe pageant in 2012 is one among the 5 children of Peter and Susan Culpo. She was born on May 8th, 1992 in Cranston, Rhode Island. Olivia is one of the most praised beauty worldwide with her amazing facial features.
Olivia who recently broke up with an American footballer Danny Amendola is spotted with her look-alike younger sister Sophie. The two gorgeous sister looks exactly the same in front of the camera which could even deceive the people's eye.
View this post on Instagram
The world-class beauty Oliva brought her sister Sophie to the Bridgestone Arena in Nashville for the annual Country Music Awards. In the show, Olivia's style in a dress of in a stunning dress by AADNEVIK was quiet lustrous. Sister Sophie was surprisingly hot in the blue dress.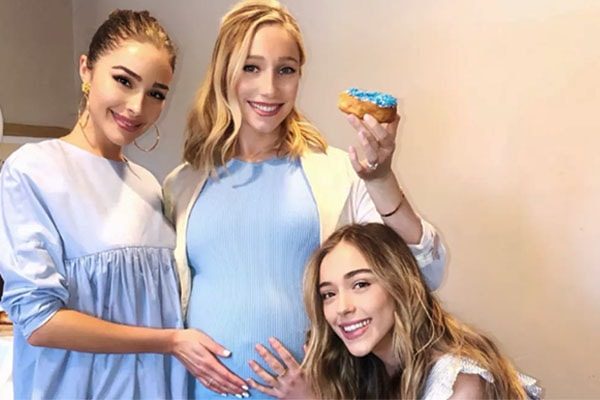 Olivia and Sophie with pregnant Aurora. Image Source: Us Weekly
Olivia, 26 and her sister Aurora, 29 were spotted in matching tracksuits were spotted together with her sibling's baby boy. The duo sister was seen trying out the gorgeous white gowns in Kinsley James Couture Bridal in Beverly Grove, LA. The two beautiful sisters wouldn't miss a chance to enjoy their sisterhood.
Brother Peter and Gus Culpo
Besides two gorgeous sisters, Olivia has two brothers Gus and Peter. As Culpo's father owns several restaurants in Boston, where her siblings also give the helping hands together. The glam up beauty Olivia's brothers is not much into the limelight like her sisters.
Olivia has also shared the pictures of her restaurant  Back 40 informing its opening day. Olivia Culpo's North Kingstown restaurant is an amazing retro comfort for family dinners. Back 40 came to Rhode Island with a lot of fanfare and popularity.
SuperbHub for Exclusive News and Entertainment.