Nicole Tuck has been together with American music producer DJ Khaled for almost 11 years now. The couple has a son, Asahd Tuck Khaled.
Nicole helps her husband Khaled in managing his career as a music producer and making appearances on runways and red carpets.
Beautiful family with Husband DJ Khaled and Son Asahd
Despite being together for 11 years, the duo didn't get engaged until 2016. They are yet to be married.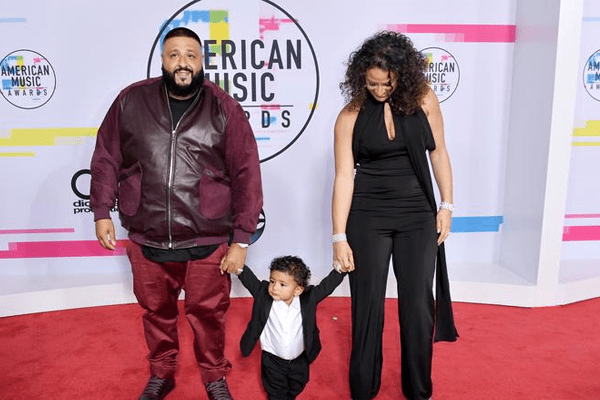 Nicole Tuck with husband DJ Khaled and son Asahd in the red carpet of American Music Awards. Image Courtesy: Hot New Hip Hop.
Tuck and Khaled met one another years before during the time when DJ Khaled wasn't famous at all. Now he is a millionaire and according to Celebrity Net Worth, American record producer DJ Khaled's net worth is estimated to be about $20 million.
Well thanks to his father DJ Khaled's fortune, the little rich boy Asahd also has some huge value over his head.
On October 23rd of 2016, Nicole Tuck gave birth to a beautiful baby boy, Asahd. Throughout the entire birth, Khaled kept on posting the videos of his wife's labor in his Snapchat. We must give something to Nicole for being all cool when Khaled was busy snap chatting their son's birth.

The couple doesn't talk about their relationship outside of their Instagram posts and Snapchat stories too often. We all know Khaled is known for and loves sharing his personal life on social media but his marriage with Nicole is something we don't hear a lot about.
In 2013 Khaled filmed a video with MTV which seemed like a legit proposal to Nicki Minaj. In the video, Khaled says that he wants to marry Nicki Minaj since both of them have got the same symptoms and are suffering from success. He further adds and pursues Nicki how she needs a man like him in her life and how he understands her hustle.

In response, Nicki Minaj said that it was just intended as a joke and was aimed to promote their song "I wanna be with you".
Also read: DJ Khaled's wife Nicole Tuck annoyed again and again.
For more News and Entertainment follow SuperbHub.