Celebrities are getting successful and powerful as they are earning in millions from their profession and investing in properties. One of those loved and rich celebrity is DJ Khaled. There are very few things that DJ Khaled cannot buy. He has every luxury like cars, super cars, house, mansion, Jewelry, assets, and accessories which makes Dj Khaled's net worth over $40 million.
Self-made man, Khaled is a Miami based DJ, rapper and radio personality. His 7th cash money labeled album, Suffering from success was a mega-hit. The album featured the big names like Drake, Rick Ross, Lil Wayne, Nicki Minaj, Akon, Meek Mill and John Legend.
Not to mention, DJ Khaled also once proposed to Nicky Minaj during the release of the album. He offered ten karat cut diamond ring from Rafaello & Co to his love. And the Diamond ring was valued about $500,000.

A diamond ring of $500,000 is just a percentage of DJ Khalid's fortune.
A rapper, Dj Khaled is an owner of $3.8 million home in Miami and $10 million Beverly Hills mansion.
What's inside Khaled's $10 million Castle?
The hip-hop star, DJ Khaled is a lover of luxurious life. He can afford to pay any cost for that. In fact, his Beverly Hills Mansion looks like a castle and why not, if it costs 10 million dollars. This California located mansion and Mulholland Estate covers 10,681-square-foot.
Furthermore, the mansion is decorated with ultramodern high ceilings, spacious rooms and entertainment areas. In other words, DJ Khaled's mansion looks like an expensive castle.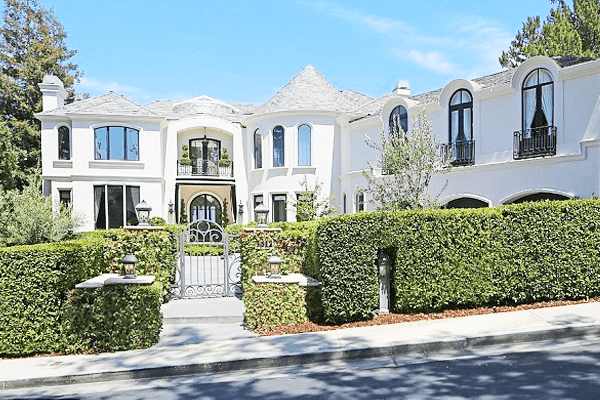 DJ Khalid has a Castle like mansion that he bought for $10 million. Image Source- Daily Mail
Originally, this Manson was listed at $11 million by British singer-songwriter Robbie Williams. But Khaled bought it at $10 million. Actually, Williams was living in this mansion since 2002, and he bought it for $5.45 million from Clint Black.
Also See: DJ Khaled Loves to Annoy His Wife
DJ Khaled's net worth includes another mansion that has a two-story entry with fancy staircase, a study/gym/ media room and a formal dining room with mirror wall and a chef's kitchen with wide center island. Furthermore, the luxury mansion has a fireplace and a swimming pool with a waterfall feature to relax.
DJ Khaled's Net Worth is $40 million. His Major Income Source are music production and album selling.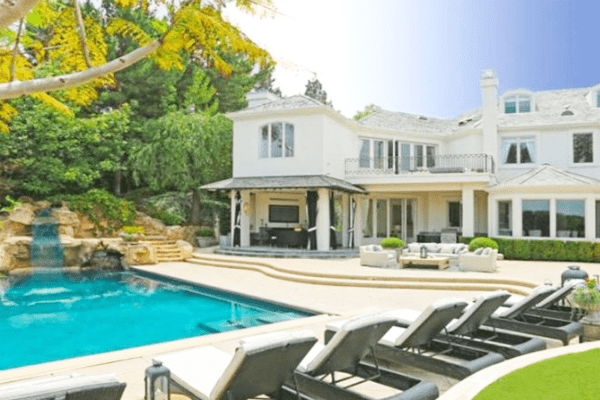 DJ Khalid's mansion has a swimming pool with a waterfall feature. Image Source- The Daily Want
Before buying, his $10 million mansion he was an owner of $3.8 million House in Miami. This 6,600 sq. Ft. House has seven bedrooms, an elevator, and an ocean-facing pool.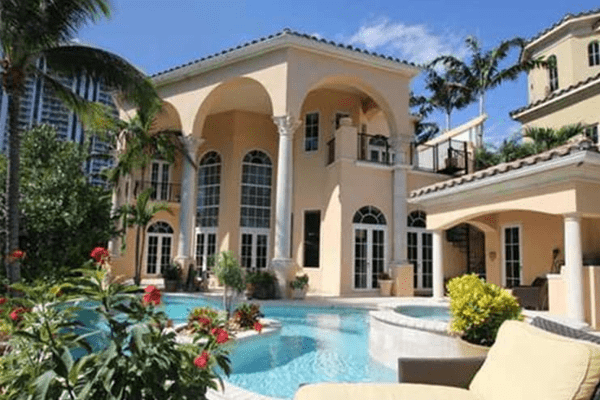 DJ Khalid's net worth also includes another luxury house in Miami of worth $3.8 million. Image Source-Complex
DJ Khalid live in $10 million mansion with his wife, Nicole Tuck, and Son, Asadh. Know More
DJ Khaled is a Car Lover
DJ Khaled calls himself a Billy because of his ambition in the near future. Not to mention, he is already a millionaire and owns million dollar mansion and House in LA and Miami respectively. That's not all. Khaled also has an expensive and luxurious, Rolls- Royce collection.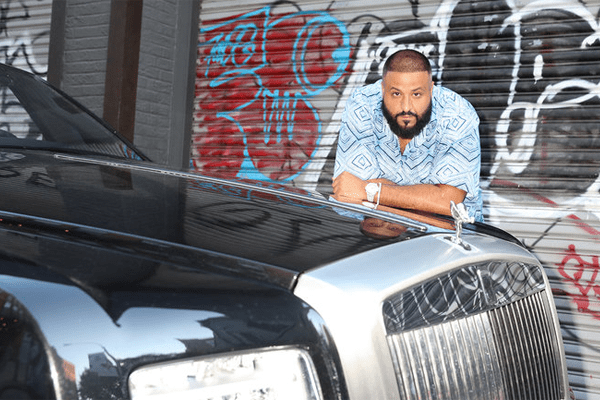 Dj Khaled's car collection mainly includes, costly Rolls Royce. Image Source- Billboard
Let's Begin with his First Car.
In the 1990s, Khaled wasn't that famous. Although, he was working hard to reinforce his DJ career, he was an owner of $30,000 red BMW M3. But that car fade away as it caught fire.
Hip-hop star, Khaled then bought a Honda Civic Car for about $12,000. After his collaboration with Nas and B.I.G, he again got himself a BMW M3, but it was Blue this time.
With his wife Nicole Tuck, Khaled became father of son, Asadh Tuck Khaled and he bought a Bently Coupe in 2010, the cost of which starts from$198,500.
Not to mention, this wasn't all on the bucket list of DJ Khaled's net worth and Car. Then he bought a blue colored Rolls- Royce Phantom for $400,000. It is a quite expensive deal but not for Millionaire, DJ Khaled.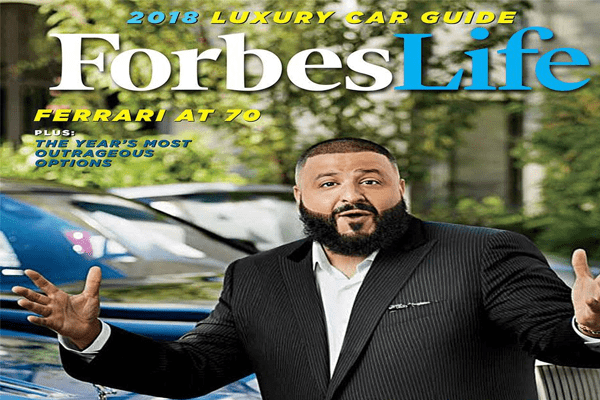 DJ Khaled seems unstoppable regarding the Rolls- Royce Car Collection. Image Source- Forbes
Since then, he has been a fan and very passionate about Rolls- Royce cars. In 2016, he became an owner of metallic-black Ghost Sedan and cost of it begins from $311,900. Afterward, he bought Arabian-blue Wraith Coupe to multiply his treasure.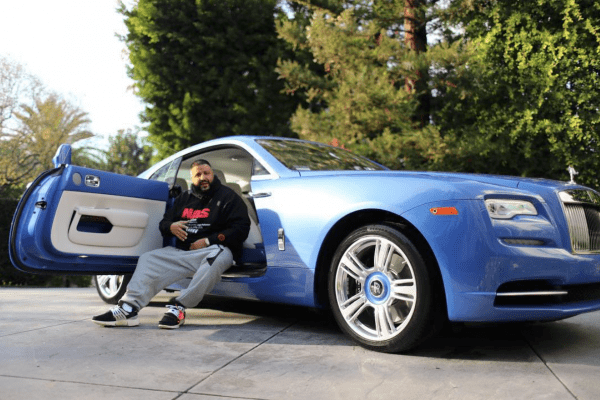 DJ Khaled's cars collection includes expensive Rolls Royce Wraith. Image Source- Celebrity Cars Blog 
In 2017, he added Convertible Dawn to his Rolls-Roye collection. Now he has a Rolls Royce similar to previous one. In fact, Khaled unveiled his new Rolls- Royce Phantom VIII which he bought for $430,000. Furthermore, the bearded, barrel-chested, Khaled says, Rolls is a just powerful machine, and it is smooth too.
He also gave the NYC tour with his half-million- dollar convertible Rolls Royce. He took the help of his iPhone to capture the ride which he shared via Snapchat.
DJ Khalid's Son, Ashad too have Rolls Royce
Not only Khaled but his a year old son too have a Rolls-Royce car. Though its electric and controlled by a remote. DJ Khaled controls the movement of car and says 'Yes Boy! I am Proud of you' to his son.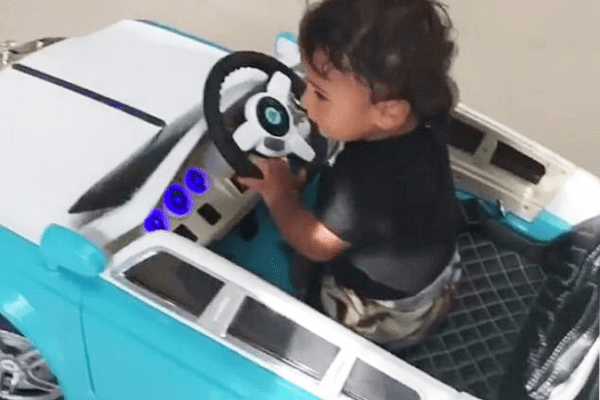 DJ Khaled's son too have a Rolls Royce car as his father have. Image Source- Daily Mail
See more about Rich Kid Asadh Tuck Khaled
DJ Khaled has got a Closet Full of Sneaker
Last Year DJ Khaled made an income of $24 million and was included in Forbes The World's Highest-Paid Hip-Hop artist ranking nine. Hip-Hop Star, DJ Khaled has a closet full of expensive Sneaker in his $10 Million mansion in  LA. As we know, Snapchat king DJ Khaled is a fan of Sneaker and loves to wear them.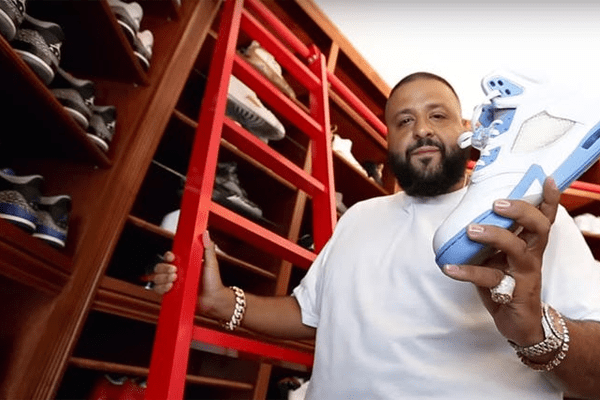 DJ Khalid's treasure includes his closet full of Sneaker and few of his sneaker costs around 75 thousand dollars. Image Source- The Richest
So, sneakers are not a big deal for Hip-Hop icon Khaled.Meanwhile, some of his favorite Sneaker costs around 75 thousand dollars. Along with costly, sneaker, the mansion has expensive assets and accessories like, Versace Pillow and a Moroccan-themed master bedroom.
DJ Khaled's net worth of $40 million allows Khaled to wear a Rolex watch and a massive gold chain. In fact, the gold chain he wears is made of 18- karat gold that he bought for $56,253.  Apart from Rolex, he also has a $300,000 watch composed of diamonds.
And DJ Khaled's net worth will obviously not end here!
DJ Khaled's Net Worth Includes his $10 Million Mansion.
Be in Touch with SuperbHub for Entertainment News and Celebrity Biographies.