Break up and Patch up are common these days, dating another person right after a breakup is not a new or shocking moment anymore.
Like most of the celebrities, Nicki Minaj also have had conflict with her exes. Nicki has been in three relationships so far. She began her career as a rapper with her ex-beau Samuel, later the couple ended their relationship after 12 years. That was a long time, indeed!
Nicky soon moved on in life, and dated rapper Meek Mill And then Nas.
Nicki Minaj and first ex-boyfriend Samuel's Break up
Nicki Minaj dating Safaree Samuel was a news since 2002. And it lasted till 2014. They were in 12 long years relationship. However, their relationship was bound to be kept private as Nicky was in a musical contract. Such contracts do not allow celebrities to disclose their relationships.  This matter certainly contributed to raising problems between the couple.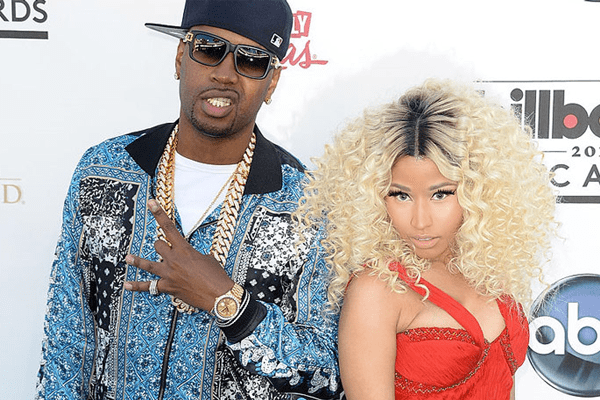 MotorSport singer, Nicky Minaj with her ex-boyfriend Safaree Samuel.
Source: Rap-Up
Safaree was introduced and known as Nicky's assistant. Samuel tried his best to be with his then-girlfriend and help her out. But they had arguments now and then.
Also Read: Safaree Coconut Oil
In 2011, TMZ reported that the couple had an argument at a hotel pool in Dallas. Then they went back to the room they shared where Nicki followed Samuel. Nicki reported to Police that while she was looking at the suitcase that had Samuel's stuffs too. Safaree grabbed the suitcase and while picking it up, he hit Nicky's chin and lower lip. But the case was closed.
The interesting thing is Safaree Samuels was reported as Nicki's assistant in the police records too.
Nicki was even rumored to be engaged to Samuel. According to E-News, Samuel opened up that he was the man to end their relationship.
Samuel might have had insecurities on Nicki's success, as he says he was feeling low in front of Nicki. People around Nicki were working for her, where Samuel felt he was ignored by everyone. He wanted to call her openly as his girlfriend, but he couldn't.
Even after break up, the two had been accusing each other, filing lawsuits of mentally and physically abusing, and even stealing money. Watch out the video.

In an interview with Wendy Williams, he said;
"The last year and year and a half got really different. Nicki and I just grew apart. At the end of the day, Meek had a lot to do with me and Nicki breaking up."
However, he added that he is also not an angel and admitted that he himself felt that he was already mentally out of the relationship before he physically left. He is not wishing to be back with her and wish his ex-girlfriend to do what's right.
Also Read: Safaree Coconut Oil
Nicki Minaj Dating Meek
Nicki released her album The PinkPrint where Meek was seen featuring her twice. Nicki and Meek came close since then. Though they didn't admit their affair officially at the beginning, they were spotted multiple times together.
Safaree Samuel had said that he was a part of the creative process of The PinkPrint album for like a last and last and half month. At the last month, he came to know that there were two songs of Nicky with Meek and he didn't know about it. Then he had an instinct that something was not right.
On 9th April 2015, Meek announced his relationship with Nicki for the first time by sharing Nicki's photo on Instagram.

In the midst of Nicky Minaj dating Meek, it was then rumoured the couple weren't together anymore. In order to prove the world that the rumor is wrong, the couple decided to shut the world, and they posed together on Instagram.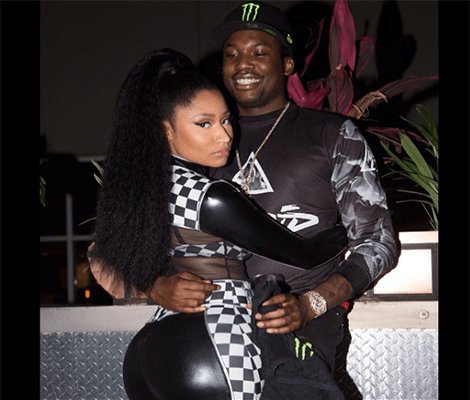 Nicki Minaj and Meek posing together to show that they haven't separated. 
Image source: Instagram
While Nicki and Meek, the two lovebirds were lovey-dovey relationships, there were lots of gossips including their engagement, Nicki pregnant with Meek's baby and more. But, in early 2017, Nicki confirmed through Instagram that, she is not with Meek anymore rather she is focused on her career. So, she is single.
Nicky-Nas Love Story
After break up with Meek in January 2017, Nicky Minaj dating Nas story was a sensation after 5 months in June, 2017. Though it was the early stage of their affair, Nicky shared her picture with Nas(Nasir) in 1oth May.

The sweethearts were doing great. And Nicky looked even happy and shy when asked about it in The Ellen Degeneres Show in May 2017.

However, they took a decision to split in just 7 months. There was a rumour on Nicky being pregnant with Nas baby, but there is no truth on the news according to TMZ.
Nicky and Nas said, they both respect each other and they are not going to trash talk.
Nicky Minaj's ex-boyfriend Love and Hip-Hop star, Safaree Samuel had also recently revealed that Nicky had some stuff going on with rapper Nas when she was still in a relationship with Samuel. As she didn't tell him anything about her kiss scene with him in her song, Right by my side.
Currently, Nicky Minaj dating anyone is not certain.  She is probably single as there are no topics on Nicki's affair these days.
For more Entertainment, stay tuned with SuperbHub.