During the early 90s, the generation was mad about the boy bands. People went crazy for bands like soulDecision, *NSYNC, Backstreet Boys, and many more. Yes, Backstreet Boys was a thing back in the 90s, and the group comprised of five handsome hunks. Among the five is Nick Carter, the youngest of them all.
Although he is the youngest, he became one of the most successful members of the band with multimillion dollars in his bank account. Nick Carter's net worth rocketed from a minor to a whopping $35 million. Furthermore, he is enjoying a luxurious life with his wife, Lauren Kitt, son Odin Reign Carter and daughter Saoirse Reign Carter.
Fans are interested in know about Carter's net worth, house, and cars. Stick with this article till the end if you are curious as well.
What is Backstreet Boys' Nick Carter's Net Worth?
Success followed Nick Carter from an early age. At a very tender age of 13, he joined Backstreet Boys and started his career as a singer. The group comprises of 5 members including Nick Carter. Other members are AJ McLean, Howie Dorough, Kevin Richardson, and Brian Littrell.
Nick Carter's wealth is rising with his career as a singer. Image Source: Pinterest. 
Since then, he has not looked back, and today, Nick Carter's net worth has risen to $35 million.
Furthermore, Carter also has a solo career as a singer asides from his band. He has released at least three solo albums during the breaks with Backstreet Boys. Among the three albums, Now or Never album debuted at #17 in its first week on the Billboard 200, selling some 70,000 copies during the first week in the U.S.
Carter's other album includes I'm Taking Off and All American, which was a great success and made a considerable contribution to his bank balance. Carter's fortune is also assisted by his reality show "I Heart Nick Carter." Furthermore, his other works, such as appearance as host on ABC's Boy Band has a considerable influence on his net worth.
How Does Carter Make Money From Backstreet Boys?
Nick Carter's wealth is rising every day with his growing career. Although the band took a break, they are back in the game and with a bang. Carter's account is filled with the money that is raised from their tours. In March 2016, the band announced its first concert residency Backstreet Boys-Larger Than Life.
View this post on Instagram
On March 1, 2017, the group started a Las Vegas Residency at Zappos Theater in Planet Hollywood Resort & Casino, Nevada. The last show was performed on April 27, 2019, to begin their world tour in May of the same year, called DNA World Tour. Backstreet Boys: Larger Than Life earned $36,230,259 collectively with a fan presence of over 200,000.
Nick Carter, along with his four band members, earns a massive flow of cash through the tours along with the bliss of entertaining their fans. The tour has managed to collect $62,023,488 by the end of 2019. Besides touring, Carter's bank account is garnished by his reality tv show, House of Carters.
Did You Know Nick Carter Sold His House At 4.075 Million?
Yes, you heard it right. Nick Carter is a very wise estate investor. Nick Carter and his wife put their estate Hidden Hills on the market for $4.075 million in 2016. Initially built in 1956, the beautiful contemporary home went through many updates since, and it sits on 1.32 acres of pastoral grounds and is accompanied by a newly built guesthouse and a matching chicken coop.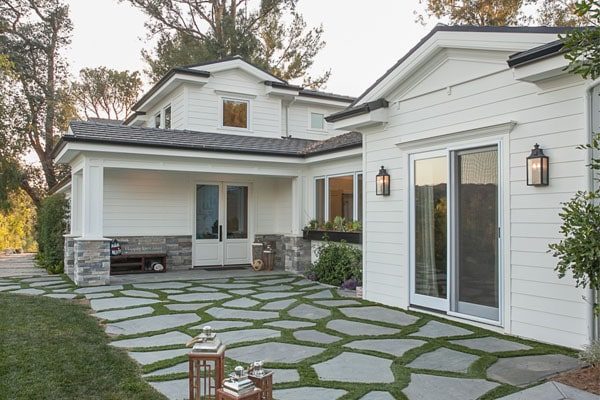 Nick Carter's house was on the market for a massive $4.075 million. Image Source: Keller Williams. 
According to the Los Angeles Times, Carter originally purchased the house at $3.65 million in 2013. He renovated and put the perfect home in the market for a promising $4.075 million. Nick Carter is living a blissful life with his newborn in his LA home.
Nick Carter's Charity Works
A human can never remain materialistic all his life. At a point where a person has earned a sufficient amount, they begin their philanthropic journey. The same goes for the Backstreet Boys' vocalist, Nick Carter. He started Nick Carter's Oceans Campaign in 2001 to help raise awareness about the ocean.
The campaign was a part of the Just Within Reach Foundation that was founded by fellow group member Kevin Richardson. The environmentalist had announced that all the proceeds he received from his new song would be going to the project.
Furthermore, he sold two of his paintings on eBay, where a part of the profit would go to the St. Jude Children's Hospital.
Let's hope Carter's fortune keeps on growing in the upcoming days and enjoys his life in luxury. Likewise, the public battle between the Carter brothers, Aaron Carter and Nick Carter, ends on a good note.
Don't Miss To Follow SuperbHub For More Updates On Celebrity News, Entertainment, And Biography.