Jimmy Donaldson, aka MrBeast's net worth, is estimated to be $6 million. The talented Youtuber has acquired such a massive wealth as a professional YouTuber. Plus, he is also regarded as YouTube's biggest philanthropist.
MrBeast is a famous YouTuber who was born on May 7, 1998, in Greenville, North Carolina, United States. He is dating model Maddy Spidell. MrBeast's main aim is to make people entertain and help those people who are in need.
Furthermore, he is using his YouTube platform for raising awareness about climate change and is planting 20 million trees with 600 other YouTubers.
View this post on Instagram
Let's see at how MrBeast earns an immense wealth.
Net Worth And Earnings
Previously mentioned, MrBeast's net worth is $6 million. He has managed to amass himself a hefty sum of money from his career as a professional YouTuber, from paid promotions of several brands, and also from his Merch store.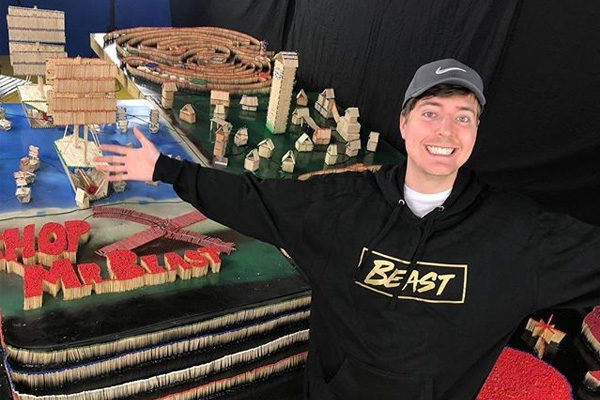 MrBeast earns money from YouTube, from paid promotions, and Merchandise store. Image Source: Pinterest.
According to Social Blade, MrBeast's monthly earnings range from $49.4K – $790.4K, and also his yearly earnings ranges from $592.8K – $9.5M, which is great. As per October 31, 2019, his channel has more than 25.4 million subscribers. Some of MrBeast's popular videos are:
Furthermore, he has promoted for Quidd, CSGO Lotto, Tik Tok, PUBG, and many others. With all that money coming in, no doubt, MrBeast has a grand net worth.
Earnings From Merchandise
Alongside earnings from YouTube, MrBeast earns most of the money from his official store, where we can find different clothing items from hoodies to the hat. Here is a list of some of popular MrBeast's merch:
25 MILL HOODIE- $55
BEAST MYSTERY TEE- $18
BEAST LOGO PHONE CASE- $15
FROSTED BEAST HOODIE- $44
Undoubtedly, MrBeast's earnings from his merchandise store contribute an enormous amount of money to his net worth.
Started Campain #TEAMTREES
MrBeast's subscriber's commented all over his videos, telling him to plant 20 million trees after hitting 20 million subscribers. He accepted the challenge and launched a tree-planting campaign collaborating with the Arbor Day Foundation for making everyone aware of global warming and climate change.
More than 600 YouTubers, including Faze Rug, Pewdiepie, Dude Perfect, Guava Juice, and many other famous YouTubers, are part of this campaign.
Every $1 donation people make,  one tree is planted. Surprisingly, the CEO of SpaceX, Elon Musk, donated $1 million for supporting his campaign. More than $8 million has been granted by people around the world so far to plant more than 8 million trees.
Above all, compassionate appeals always help. Upcoming generation will be heartily thankful to MrBeast for his great work. Best Wishes to MrBeast for his campaign, which has brought a smile to Earth's face.
Keep in touch with SuperbHub for more News, Entertainment, and Biography.