One of the most popular late-night hosts of America, Jimmy Kimmel, host of Jimmy Kimmel Live, has had quite the interesting love life. Having married and divorced Jina Kimmel and been in an affair with fellow comedian Sarah Silverman. Jimmy settled down with his new wife Molly McNearney, co-head writer of Jimmy Kimmel Live.
And the two's marriage has been very fruitful so far. Jimmy and Molly have given birth to two children, a daughter named Jane in 2014 followed by a son named Billy in 2017. Their relationship is overflowing with great love and affection and the two are bound to be together (For the love of god, don't divorce her Jimmy!).
Jimmy Kimmel's Marriage to Molly McNearney
Jimmy Kimmel finally found a girl to spend the rest of his life, colleague and co-head writer of his talk show Jimmy Kimmel Live, Molly McNearney. After divorcing his first wife Gina Kimmel in 2002, he was involved in a relationship with fellow comedian Sarah Silverman. They had an on again off again relationship lasted till 2009 as they broke up for good.
Soon after breaking up with Sarah, Jimmy started dating co-head writer of his show Jimmy Kimmel Live!, Molly McNearney. According to sources, both were single and clicked together. Though the two were dating, they kept things professional during work.
After dating for 3 years, Jimmy and Molly finally got engaged in August 2012. While on vacation in South Africa, Jimmy proposed to his long-time girlfriend Molly while visiting Kruger National Park. And Molly happily said yes and the two got officially engaged.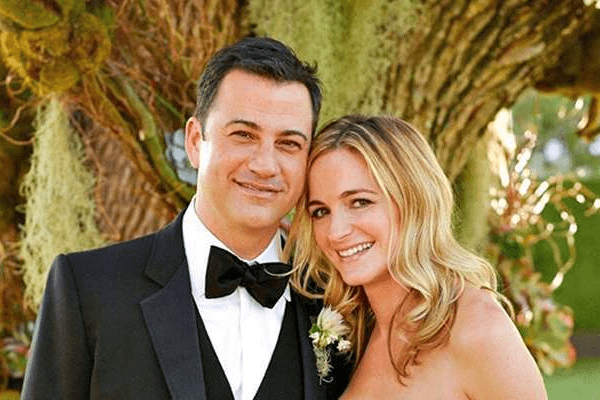 Molly McNearney and Jimmy Kimmel on their wedding day, Photo Source: Glamour
A year later, Jimmy and Molly became a happily married couple. The wedding ceremony took place in Ojai, California. The two exchanged vows in front of friends and family. Guests like Matt Damon, Ben Affleck, Howard Stern, amongst others.
With their marriage 5 years strong and still going on and the two are very happy together. They have given birth to two lovely children: a son and a daughter.
Jimmy and Molly's Kids, Jane and Billy
While Jimmy already had 2 kids, a daughter named Katherine as well as a son named Kevin, his marriage to Molly gave him two more kids. Their first kid together was a daughter and was born on July 10, 2014. She was named Jane.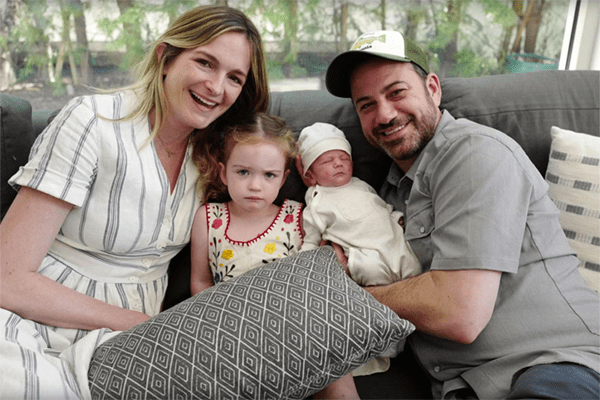 Jimmy and Molly with their kids Jane and Billy, Image Source: Instagram
3 years later in 2017, Jimmy and Molly had more joy as their second child was born. Their son named Wiliam (Billy) was born on April 21, 2017.
Billy's Heart Condition
Jimmy and Molly's joy didn't last long because their son Billy was born with a congenital heart defect, and was detected 3 hours after Billy was born. He underwent surgery. Jimmy was visibly distraught at his son's illness and expressed his grief on his show.
After his son was healthy again (well as healthy as he could be), Jimmy brought Billy to his show. Jimmy received great support from a lot of stars in Hollywood, including Matt Damon. His son will have to undergo another surgery at a later date.
For more News, Biography, and Entertainment visit SuperbHub.