Michael Strahan is a former NFL star who played as a defensive end in the New York Giants for 15 years. His outstanding career earned him a title of indispensable player. And after the end of his career, Strahan started hosting shows. Let's find out more about Michael Strahan's Family and his dear kids.
Michael Strahan's Family and Kids
Strahan is an awesome T.V. personnel and a proud father of four kids living around the country. Michael is a family guy and keeps his kids in priority. Four of Strahan kids are from two different mothers.
Michael Strahan's family is complete with his children, Daughter Tanita and Michael Jr. with ex-wife Wanda Hutchins and twins Sophie and Isabella with ex-wife Jean Muggli. Strahan says his kids give him strength and he loves being around with kids. To him, it's all about family more than anything.
Despite the fact that Michael Jr. and Tanita is raised in a different place from Sophia and Isabella, they blend really well and live in harmony. Well the NFL champion had an unfortunate adventure in his love life from two failed marriage and one failed engagement. Let's get into details about Michael Strahan's Family and his relationships.
Michael Strahan's first ex-wife Wanda Hutchins Strahan
Michael and his first wife Wanda Hutchins Strahan were married for five years from 1991 to 1996. They had met for one year before getting married in 1990 and marrying in 1991.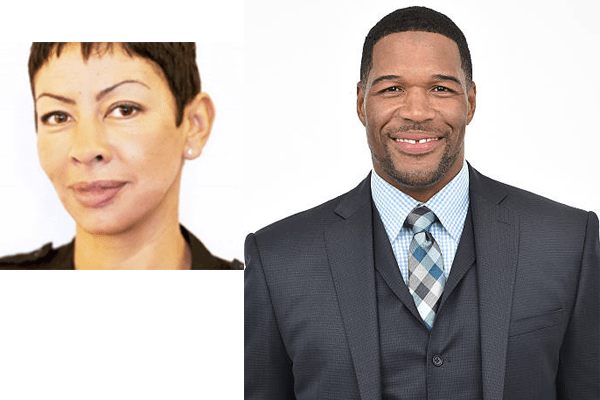 Michael Strahan married first wife Wanda Hutchins in 1991.
Together they had their kids Michael Jr. and Tanita and after their split, Hutchins stayed in Germany with Michael Jr. and Tanita. Michael says that people normally assume the mother to be responsible for their kids and he felt he needed to be more active to be a part of their life.
Michael used to be constantly on phones and planes and had felt hard to be away from his kids. He recalls the thing that he learned is to make time for what you actually want to make time for. His kids Michael Jr. and Tanita went high school in Strahan's hometown in Houston.
His daughter Tanita has a degree from Fashion Institute of Design and Merchandising in Los Angeles, she is a student of art. While his son Michael Jr. is studying Psychology, Michael Jr. who lived in Germany until age 11 has tattooed the country's eagle in his arms.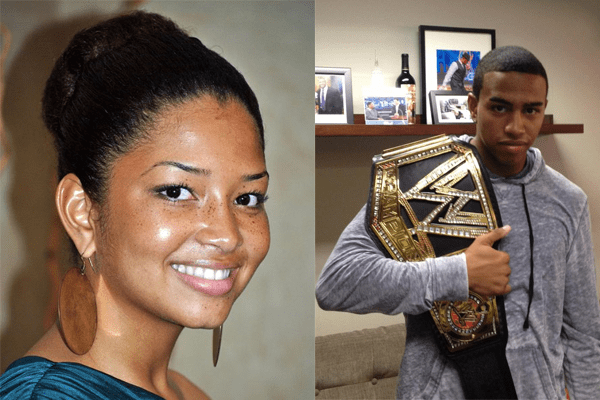 Michael Strahan's daughter Tanita and son Michael Jr. 
Image Source: Facebook 
On the Kelly Ripa Show, Michael said that his wife was a great woman and great mother to the kids.
Strahan's second ex-wife Jean Muggli
Jean and Michael met in a Spa and Skincare salon in Manhattan where she was the employee of the company. In their first meeting in 1994, Michael was having an aspiring career in football as a defender of New York Giants.
It took five years for them to date and get engaged to finally marry in 1999. The couple was blessed with beautiful twin girls, Isabella and Sophia.
Michael's father had known that Jean was not the right choice for his son and warned him that she would destroy his life.
"Michael was mad at me. My wife and Jean was mad at me. But I had to get it off my chest. Jean is sick. And I've been praying for her for years. It's a shame."
Just after a year of the twins arrival to Michael Strahan's Family, his wife Muggli accused Michael of abusing her. Muggli stated that Michael had threatened to beat her and was repeatedly cheating on her. And even ignoring the twins.
Michael denied those allegations and had to file divorce for his wife. Strahan says getting a divorce is one of the toughest things he's ever gone through.
Strahan's third ex-fiancee Nicole Mitchell Murphy
Following his hectic divorce from his second wife Jean Muggli, Michael started a relationship with a fashion model Nicole Mitchell Murphy, a model and reality star. Nicole, ex-wife of Eddie Murphy engaged to Michael on May 22, 2009, but called it off as they were both busy and couldn't make time for themselves.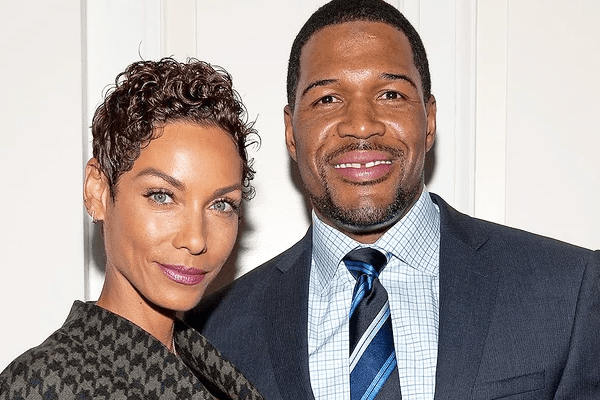 Michael Strahan with ex-fiancee Nicole Mitchell Murphy. 
Source: People
Another possible reason for the break -up according to Strahan was that he was tired of high profile romance and had learned the thing through hard ways.
Now, Michael is known to be hanging out with Kayla Quick. And she is his new girlfriend, and possibly wife number 3. Known to have a criminal past, Quick is more famous as Michael Strahan's girlfriend.
Also read: Kayla Quick's net worth | Worked as a stripper in Florida
Michael Strahan Parents
Former New York Giants star credits his parents, Gene and Lousie Strahan, for his success. Michael Strahan's family is really awesome. He has an amazing relationship with his father Gene and finds him as the most influential people in his career.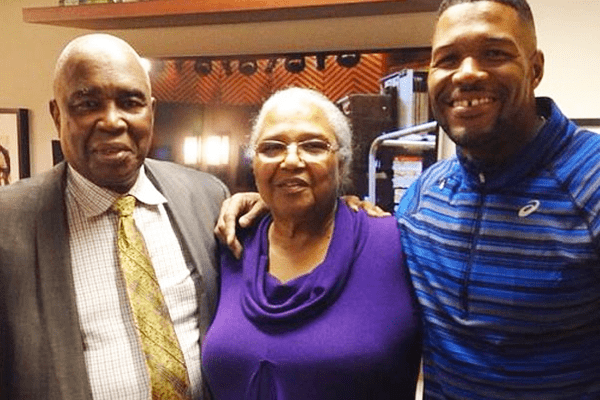 Michael Strahan with his proud parents. Father Gene Strahan and mother Lousie Strahan.
Source: Fatherly
His father wanted to become an army officer and needed to join college to do that with the responsibility of five kids including Michael. His father had taken the chance on himself and graduated cum laude at 30 years of age and became an officer. Michael's father attitude of not giving up and working the solution inspired him.
Michael loves to be the person his kids can depend on and be an example for them just like his parents were to him. He believes to have confidence in his kids so they can have confidence in themselves.
For more Celebrity News and Entertainment stay with SuperbHub