Miss South Dakota native in 1959, Meredith Lynn Auld is famous as American journalist and television anchor Tom Brokaw's wife.
Married for 55 years of their life, the beautiful couple share three daughters named Jennifer Jean Brokaw, Andrea Brooks Simon, and Sarah Auld Brokaw. And now the Brokaw couple are already grandparents.
The ideal couple's long and strong relationship has even deepened after Tom Brokaw's cancer experience. Yes, Tom Brokaw was diagnosed with rare form of blood cancer, Multiple myeloma in August 2013. And his biggest support during his toughest hours was his wife, Meredith and family.
Tom said to Parade Magazine,
" The cancer experience has deepened my awe of  Meredith. I love her more. This has deepened our relationship. We have always cared for each a lot. But I am so depended on her through this time."
Meredith Lynn Auld and Tom Brokaw's Marriage
Meridith Lynn married the most respected journalist Tom Brokaw on August 17, 1962. She met her future husband Tom for the first time at Yankton High in South Dakota.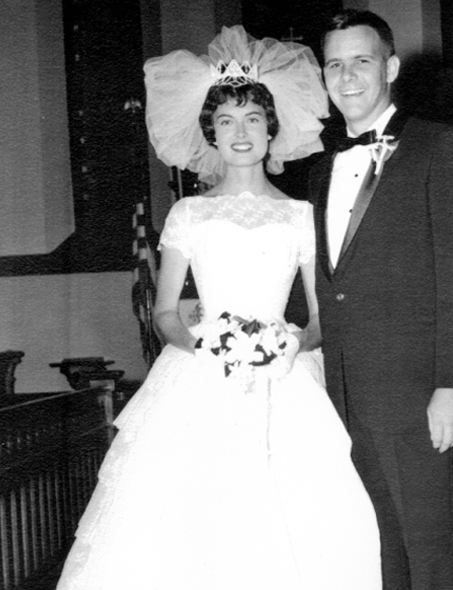 Groom Tom Brokaw with beautiful bride, Meredith Lynn Auld. They tied knots in August 17, 1962.
Source: Pinterest
The hottest day turned wonderful with the presence of 150 friends and family in the church. The nuptials between beauty queen, Meredith and charming groom Tom made the entire wedding memorable.
Sarah Brokaw, daughter of Tom and Meredith in her guest blog have mentioned that it was her mom, Meredith who proposed her father Tom in June 9, 1962. Then Tom went and asked Meredith's hand for marriage with her parents in a traditional way.
Sarah added that every bachelor's eyebrows raised when they knew her mother Meredith's decision to marry her father Tom. As Brokaw has yet to pursue a good career. And Meredith was the beautiful and graceful lady who attracted every bachelor in Yankton community.
The couple's wedding story is really beautiful and more lovely is their indestructible bond.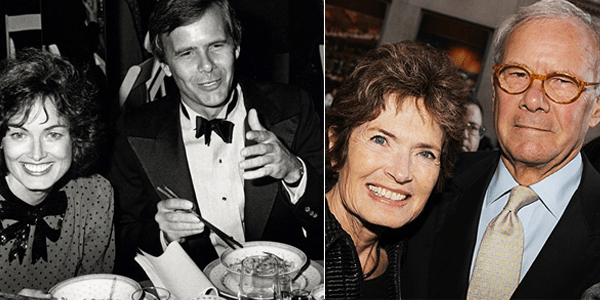 The ideal couple, Tom Brokaw and wife Meredith Lynn together since 1962.
Source: Today, Broadway Shows
Meredith and Tom Brokaw's Children
Tom Brokaw has a beautiful family and Tom Brokaw's wife, Meredith gave birth to three lovely daughters. Jennifer Jean Brokaw, Andrea Brooks Simon, and Sarah Auld Brokaw. Just like their parents, Brokaw's children are successful in their professional life.
Jennifer Jean Brokaw
Their eldest daughter Jennifer is a doctor, who received a medical degree from Dartmouth College at the age of 27. She had graduated from Stanford University and became resident in University of New Mexico Hospital in emergency medicine. She is happily married to Dr M. Allen Fry, who graduated from the University of Oklahoma. They married in 1993.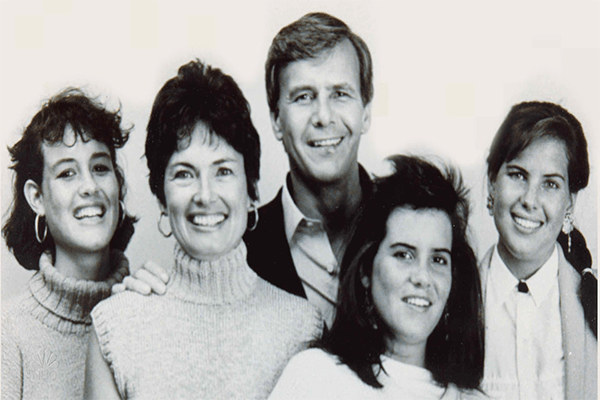 Meridith with husband Tom Brokaw and their three daughters Jennifer, Andrea, Sarah. 
Image source: NBC News
Andrea Brooks Simon
Meredith Lynn and Tom Brokaw's second daughter, Andrea Brooks Simon graduated from the Unversity of California, Berkeley. She is known to work in Warner Brothers records in New York as vice president of marketing. Andrea is married to Charles Andrew Simon, deputy director of criminal justice in New York, working in Albany and New York. The couple married on January 10, 2004.
Sarah Auld Brokaw
The youngest daughter of Brokaw couple, Sarah is a licensed therapist and also an author. Sarah has graduated from New York University earning Masters in Social Work. Sarah loves to write and guest blogs often. She also has her own blog site. The writer of Fortytude, Sarah has mentioned about therapy and coaching in her website. She was unmarried till 40 but in 2015, she is reported to have a son, Archer.
Meredith Lynn Auld Net Worth
Being the better half of the successful journalist, Meredith Lynn Net Worth can be estimated to be $70 million from her husband's earnings. Meredith did an excellent job of a homemaker. However, her role is not limited there.
Meredith owned a Penny Whistle Toys Incorporation in New York till 1998 which is a toy -store chain.
And Meredith is an author. She wrote many books including The Penny Whistle, Any Day Is a Holiday. Normally, the average salary of an author in the USA is $61,240 per year. She is also co-author of Big Sky Cooking, a cookbook in 2006.  Her authored books also are the source of her income.
Tom Brokaw's wife also contributed as a trustee of WNET, Channel 13 and vice chairwoman of Conservation International in Washington for 16 years. She also worked as a director in Gannett Company for 18 years.
Quite Impressive!
Meridith reported that she is currently involved in tomato canning project initiative with Kwithu Women's Group. Watch the short video of Meridith tomato business in Malawi.

Tom Brokaw takes pride of his wife as she is a very busy and smart woman. Meredith Lynn Auld net worth individually might be quite impressive too.
Tom Brokaw's wife Property
Meridith Lynn Auld Net Worth include her Park Avenue Apartment which was sold by her husband Tom Brokaw in 2011. The selling price of the house was $12 million, however, it was sold for $10.5 million, $1.75 million less than demanded price.
In 1999, Meridith's husband purchased a house of $4.25 million in Pound Ridge, New York. The house has 56.74-acres compound and its total area is 4,184- square-foot.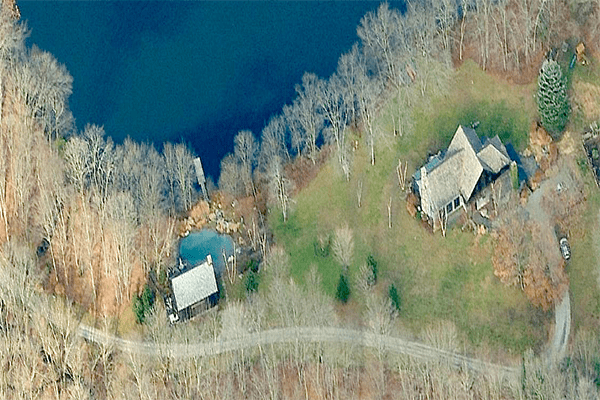 caption
Meridith Brokaw house in Pound Ridge, New York.
Image source: The Thomas Trail
Meridith's husband Tom, daughter and son-in-law purchased the apartment worth $3,267,650 in 2003. The apartment has 686-square-foot with a long balcony.
The buying price for that apartment was $3,975,000 which was reduced to $3,675,000 and the final was $3,575,000, however, they paid $310,350 less price than asking price.
Early life
Meridith went to Cottey College in Nevada in 1958 -1959 for her education. She is best known for being an author and Former South Dakota native in 1959.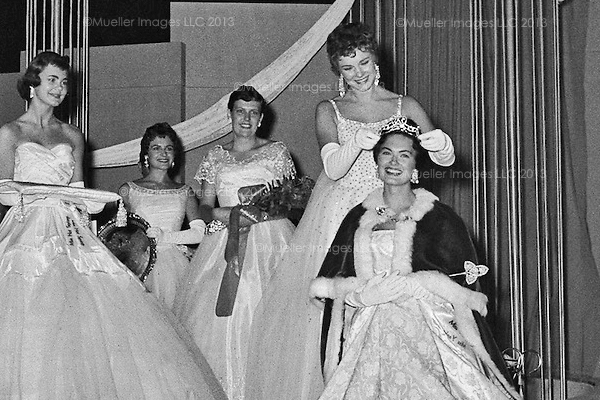 Tom Brokaw's wife Meredith Lynn was crowned South Dakota native in 1959.
At the very beginning of her career, Meridith taught English to foreign diplomats families. Meridith had also taken part in New York Marathon where she completed her race in four hours and ten minutes.
For more Entertainment, Stay tuned with SuperHub.