Samantha Wallace was the supporting cast member on season 7 of Love & Hip Hop: New York. She is music producer Mendeecees Harris' baby mama, for the present Wallace is dating DJ self.
Samantha Wallace and Mendeecees Harris were in a relationship before Mendeecees got married to Yandy. They even had baby name Lil Mendeecees known by Mendeecees Jr.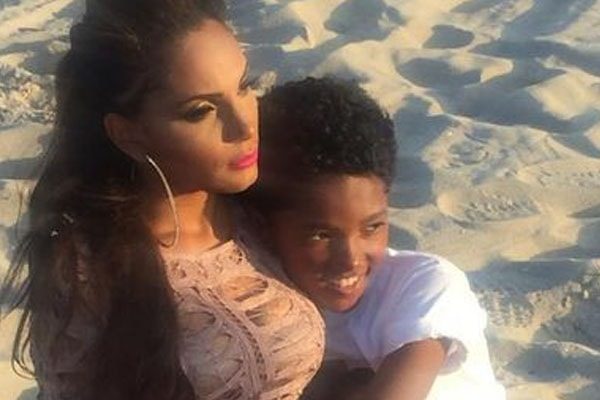 Samantha Wallace along with son Mendeecees Jr. Picture source: Vh1
In season 7 of LHHNY Samantha had a beef with Yandy Smith who is the wife of Mendeecees Harris. Things got so explosive that Samantha ended up being assaulted by Yandy's sister and a male friend at the reunion.
DJ Self and Samantha Wallace Dating
Samantha Wallace was first introduced as the mother of Mendeecees Harris's child in season five. During the season Samantha and Kim(mother of Samantha) debuted on the show.
DJ Self is known as "The Prince of NY" who joined The Love And Hip Hop cast in season six, he also had involvement with Cardi B.
Well, they first met through the show. This two have been seeing secretly to each other. They are dating right now and possible of being in the season 9 of Love And Hip Hop.
Samantha Wallace along with boyfriend DJ Self. Picture source: Instagram 
DJ Self's Ex-girlfriend
Dj Self was dating Yorma Hernandez before dating Samantha. Yorma Hernandez is a dancer from the Bronx who is a single mother and was hoping to settle down with a supportive man who can be role model to her daughter.
They first met on the club and Yorma wanted to take their relationship to next level but they had to break up soon. Yorma finds DJ self was cheating her through her sister.
Samantha Wallace and Yandy's Beef
As soon as she was cast in Love And Hip Hop: New York, she had a beef with Yandy Smith. Smith wants Mendeecees Jr. to live with his siblings but Samantha doesn't trust Yandy. Sam even mentioned that Yandy is a crackhead stepmom. Samantha doesn't want Mendeecees Jr. to live with Yandy.
Yandy finds out that Mendeeecees Jr. is living with Kim mother of Samantha and she is so upset about it. She thinks that Lil Mendeecees should live with their siblings instead of with grandmother. Yandy's sister even mentions that Samantha is trying to extort for money, dispute resulting in a fight.
Click SuperbHub for more News and Entertainment.