Enough with men leading the pack, make way for this female-led fictional superhero-Captain Marvel! As the rise of empowered women hits the decade, female-led movie characters are also at a rise. It might just seam that DC is close to the leaderboard with its first female-led superhero movie, Wonder Woman, but Marvel has found its way to compete with DC with its female superhero Captain Marvel!
Looking at the current issues and preferences of people, Marvel has finally come to comprehend that the world needs a hero and not just male heroes but a new female superhero! So, lastly, the wishes of Marvel fans has come true, a female-led superhero flick- Captain Marvel!
The cast of Captain Marvel
In April 2017, Marvel made the big revelation that our very own Brie Larson was going to be the main cast of Captain Marvel! Yes, Brie might not look like Wonder Woman-Gal Gadot with a muscular physique and tall height, but she is on her way to showing the world that cute looking babes can get the job done! Standing at the height of 5 feet 7 inches, the 27-year-old Brie Larson's Academy Award winning role in the 2015 movie, Room, showed off her exceptional acting skills.
Samuel L. Jackson is also known to be one of the cast members of Captain Marvel. Not much about rest of the cast members have been revealed. But 2019 is a long way down, so we will just have to wait until they eventually unveil the entire cast!
Recently, Marvel revealed that directors Anna Boden and Ryan Fleck will be directing the movie. We now know that Captain Marvel is going to be a super hit with Brie's acting skills and the duo's ingenious concepts!
The exciting plot of Captain Marvel
It is uncertain where the plot might take us but as per the comics, Carol Danvers is Captain Marvel. The plots might be modified but the basic frame of the comics sees Danvers as a high-level Air Force pilot. Yes, Danvers does not possess an inborn power like other superheroes.
She is more like Iron Man who acquires his powers later. However, the main difference between the two super heroes at the present context is that Iron Man's power lies in his iron suit while Danvers powers are inducted inside her!
Carol Danvers is known to spend most of her active superhero life outside the human civilization. She is very much like Superman in this aspect where she not only uses her powers on Earth but in the distant worlds.
The plot is credited to the comic book writer Gene Colan and the screenplay will be credited to Meg LeFauve and Nicole Perlman who is known for her work in Guardians of the Galaxy.
The dreamy costume of Captain Marvel
Costumes are an integral part of any superhero movie and Captain Marvel is no different. A group of press members along with CBR and Nerdist were invited to the Marvel Entertainment's headquarters in Burbank, CA.  They were taken to the Marvel's creative department, where they went to concept artist Andy Park's office.
There, the group was introduced to the workshops with action figures, classic comics, of superheroes and of course to Captain Marvel's costume. Well, the actual costume has not been prepared but a general concept has been given to it. The fans of Captain Marvel will not have to look further than their nearest Captain Marvel comic! The aspired costume looks pretty much like the costume in the comics.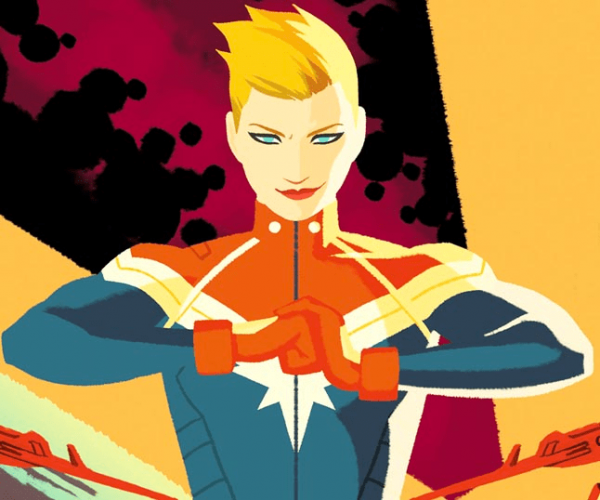 A few of the differences are the "sash" that is not included in the artwork but it is replaced with a dark red belt. The belt perfectly matches her boots, her gloves, and the upper shoulder part of Captain Marvel.  The armors are said to look a little light but could be exceptionally sturdy. Of course like the plot, the costume may also be modified if necessary as per the script.
Powers possessed by Captain Marvel
Let us get into how Carol Danvers gets her powers at the first place. Marvel fans may know the alien Kree from Guardians of the Galaxy, who created a device that later malfunctions and explodes. Danvers who is also engulfed in the explosion with Kree has her human genes fused with Kree's biology.
This eventually leads to Carol Danvers getting her superpower without changing her human abilities. Although the plot might change, but the basic frame of how Danvers gets her superpower is most likely to stay connected to Guardians of the Galaxy.
Now, let us get into the actual powers of Captain Marvel, some of which are:
Carol Danvers dubbed as "Marvel's mightiest Avenger" is a huge feminist icon who is independent and strong which in itself is a superpower. Isn't it?
Another general superhero characteristic that Danvers displays is that she lift an enormous weight. Yes, around 50 tons! And yes, of course, Danvers can fly through the air. But the twist is that she can travel at six times the speed of sound!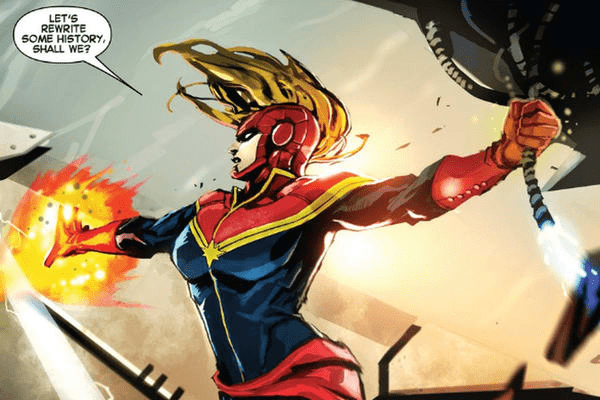 Like many animated movie heroes, Carol Danvers can eject concussive flares of beaming energy through her hands. Also, Danvers body can absorb various types of energy from her surrounding!
Of course, Danvers has a high endurance level so she will last for more than 24 hours in the battlefield. May it be day may it be night, Captain Marvel will keep fighting. Captain Marvel is certainly not to be messed with!
Unlike many superheroes, Captain Marvel is also said to have a seventh sense. So we guess that she can anticipate your next move before it happens!
The hype about Captain Marvel
Brie Larson, our Captain Marvel has a huge responsibility falling on her shoulder after each passing day. Thus she has been keeping herself occupied with physical exercise. In an interview with CBR she shared, "Anything that's the physical side, from past experience, you hire specialists to help you understand that and quantify it and pace you out and figure it all out."
Brie will soon be seen as Carol Danvers in Avengers: Infinity War but her main concern is Captain Marvel's solo movie which is why she has been preparing physically.
Regarding the hype of the movie, when rated out of 5 on ComicBook.com's anticipation rankings, Captain Marvel scored 3.77, which is outstanding for a movie that is to be released two years later.
A Twitter user questioned if Marvel had gender problem behind the scenes as well. So, our Captain Marvel- Brie Larson came to the rescue and defended Victoria Alonso.
It is good to see that Brie Larson is already taking her character very seriously!
Brie also posted a twitter picture where she was seen reading the Captain Marvel comic which was captioned "LARSON INDUSTRIES R&D DEPT." It seems like she has been doing her homework.
No teasers have been released for Captain Marvel movie since the production has not begun vigorously.
Captain Marvel release date
Kevin Feige, the president of Marvel Studios shared in an interview, "Assuming everything stays on schedule, we start filming … Captain Marvel in February." However, there are many Marvel flicks up on the line in the coming years like Guardians of the Galaxy Vol. 2, Spider-Man: Homecoming lands, Thor: Ragnarok and so on. Thus Captain Marvel's release date was shifted to March 8, 2019.