Mark Wahlberg is one of the most promising names in Hollywood. The Fighter star, Mark Wahlberg, is enjoying his successful career and happy marriage with model wife Rhea Durham. The couple got married on August 1, 2009, at the Good Shepherd Catholic Church in Beverly Hills. 
Moreover, the long-term couple had welcomed three children- Ella Rae, 5, Michael, 3, and 10-month-old Brendan before marriage. Wahlberg's wedding was intimate and attended by their children, family, and a few friends. By now, the couple has welcomed four children and is living as proud parents.
Let's find out more about Mark Wahlberg's children in this article.
Mark Wahlberg's Kids Are His Joy
Children are very precious, and they change a couple's life for good. So did Mark Wahlberg's after the arrival of his four children as his focus now is to provide better experiences and raise them well. Mark and his wife, Rhea, started dating since 2001, and two years into the relationship, Wahlberg's wife was ready to welcome their first baby to the world.
Mark Wahlberg's Daughter Ella Rae Wahlberg
Welcoming the first child is the life-changing moment, and Mark Wahlberg experienced the monumental moment of his life in 2003. He and his girlfriend at-the-time, Rhea, welcomed their first baby-girl, Ella Rae Wahlberg, on in Los Angeles, California, USA.
Wahlberg's daughter Ella is often seen on red carpets games, movies, and shopping with either or both parents. She is growing up to be a fine girl with good morale and attitude. Furthermore, Mark Wahlberg revealed that she is scared of driving after a golf cart incident in Hawaii.
While Mark appeared on Jimmy Kimmel Live! to promote his latest film, Spenser Confidential, told his daughter is not driving because of 'bad experience' involving a golf cart and dry lava during their family trip. He further explained that before the incident, Ella would ask him to drive around but has been mum since the event.
Additionally, Mark is somewhat grateful for the incident, as Ella would not listen to his safety tips. As of now, the eldest of the family is enjoying her teen with her siblings.
Mark Wahlberg's Son Michael Wahlberg
Mark Wahlberg welcomed his second child in March 2006 and named him Michael Wahlberg. The 13-year-old boy enjoys good family time and loves spending time with them, especially with his father. Mark Wahlberg's son, Michael, is an enormous soccer enthusiast, and his father attends all of his games ritually.
There is not much on him but loves gaming and watching games with his pa. Michael attends games with Mark Wahlberg occasionally and appears on his Instagram. It's a no brainer that Mark and Rhea are proud parents.
Branden Wahlberg, Mark's Third Child
The beauty of parenting is experiencing the joy of seeing your child grow to laugh and learning. Guess, Mark got intoxicated for that joy and welcomed yet another child, a baby boy Brendan Wahlberg, in 2008.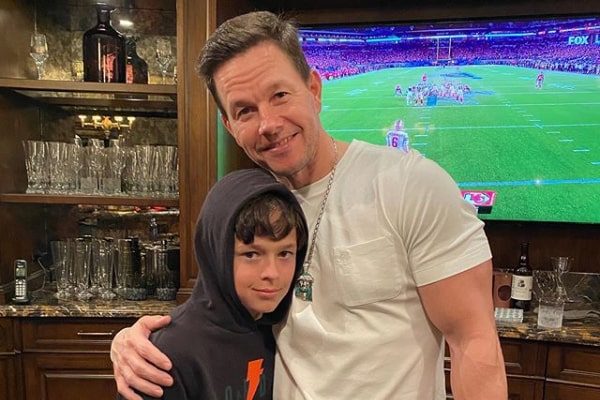 Mark Wahlberg's son Brendan is a great sports enthusiast. Image Source: Mark's Instagram. 
Mark and Brendan love to hang out with one another. As a responsible father, he divides his time equally for both his daughters and sons. According to DailyMail, the trio was seen playing soccer in Brentwood, California, in 2014, which shows that Mark balances his bond with his sons.
The young one loves soccer and shares a strong bond with his brother, Michael. Brendan is falling for soccer like his brother but is equally into fitness as well. Mark praised his little guy via a handful of videos on Instagram.
Mark Wahlberg's Star, Grace Margaret Wahlberg
Actor Mark Wahlberg's daughter Grace Margaret Wahlberg is the youngest of all four, born in 2010. The little one is a wholesome package of fun and is daddy's girl. There's no doubt Mark shares an exceptionally close bonding with Grace.
View this post on Instagram
As aforementioned, Mark Wahlberg's youngest daughter is a wholesome package of fun and power. At a very young age, she has managed to charm horses and has become a very competitive horseback rider. Mark congratulated his beautiful daughter for winning both her competitions via Instagram.
In an interview with Ellen DeGeneres, Mark revealed that his little one is not a fan of Marky Mark. He further cleared that if Grace were ever to see it again, she wouldn't talk to him. Tough love!
Parenting In A Nutshell
Well, all of Mark Wahlberg's children are special for him, and they are very talented. But being a parent is adamant as they are responsible for raising a capable human. The bliss and the hassle are unbelievable, even more, when one is the Mark Wahlberg.
Along with being a successful businessman, Mark believes that he needs to become a good parent, or else his hard works would mean nothing. As he grew up in harsh surroundings, he is determined to give them all and raise down-to-earth children at the same time.
In an interview with People, he confessed that he dreads the teenage years with his daughters and won't be easy for them to go on dates. While regarding boys, he reveals that they are obsessed with everything sports.
Mark Wahlberg does an outstanding job of being a father and a husband while balancing his career. The Wahlberg family is complete and happy. Let's hope the hustle and bustle continue in the family for a long time.
Don't Miss To Follow SuperbHub For More Updates On Celebrity Entertainment, Biography, and News.