Photo credit: E!Online
SVU stars made Christmas brighter. A Christmas present no one would have thought of.  
  
Mariska Hargitay and Christopher Meloni made Thursday night more charming. The Christmas season got more special and brighter for Law and Order: SVU fans, as two of the unforgettable co-stars reunited.  
  
Seems like we are already ready to see Christopher Meloni and Mariska Hargitay again?  
  
Sharing their selfie to an Instagram, Mariska Hargitay captioned it, "Tis the season… ran into this #HAPPY



There is more of it. Christopher Meloni posted a more clear photo of them, he captioned with hashtag, #Friends #Seehappy#jingleHells  

  
Regardless of their hectic schedule these two took out time to the reunion and posted the moment on social media.  
Both were happy to see each as they gave a sparkling smile at the camera. They looked happy as they cuddle their arms around each other. Let's say it the friendly hug.  
SVU stars Christopher look was a bit greasy stubble, and Mariska looked beautiful with simple makeup on her face.  
They had acted together for 12 seasons as Detectives Elliot Stabler and Olivia Benson.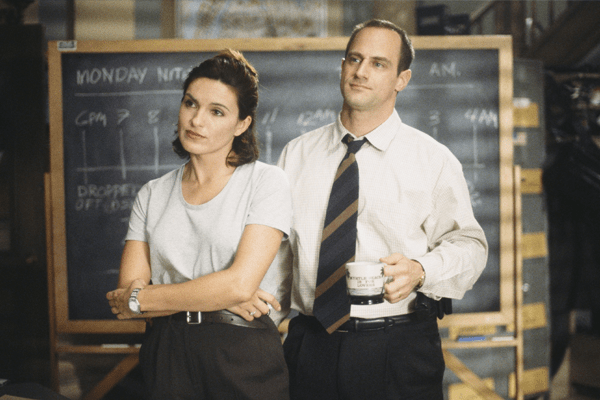 Photo credit: Closer Weekly
  
When the strapping detective decided to leave Law and Order in 2011 all of the fans were sad. He left the show after falling to come to the adequate contract agreement.  
  
Mariska is still there and has become the life-force of SVU and with her character being promoted to Lieutenant. Lieutenant runs the entire bureau.  
  
The extremely popular NBC show is now running 18th season and has millions of fans remaining one of the popular show in the network.  
Christopher once discussed his relationship with his on-screen partner with Insider the Actors Studio,  
"She would be always ready for a new thing. There was an unspoken shorthand to our tasks. That made it easier, and off camera as well was fun."
Christopher added.  
Fans were always eager for this pair to get involve in on-screen chemistry, but the show didn't go there.  
  
Producers have been discussing to bring Christopher back for the series finale.  
Law & Order: SVU and SVU stars are coming with new episodes on Wednesday, January 4 at 9 pm on NBC.